For expats considering a move to Malaga, Spain, know you are on the right track. Be open to possibilities of moving overseas, and Malaga becomes a destination worth considering. Many parts offer a wide range of attractions and features. Malaga, a Mediterranean delight, sits in the Andalucía province.
As well as the traditional tapas, whitewashed houses, Spanish gastronomy like delicious paella, flamenco dance and sangria, it offers copious amounts of sunshine thanks to its ideal Mediterranean-climate. Indeed, if the beachfront and a morning stroll along the Promenade excites you, more delights await you. Here are reasons to move for serious potential expats who want a new life in Spain.
Move to Malaga: Expat Living in Spain
1: Best Beaches on the Costa Del Sol
Life in the UK can get boring, so moving to an area with glorious summers and stunning sandy beaches makes sense. For sunbathing and swimming, it is off to the beach, and off to the sea we go! Expect days lying on sunbeds seated on blue-flag shores and then lunch in beach bars. La Malagueta, the most famous coastline in Malaga draws in crowds.
Estepona is also a fantastic destination to enjoy Playa Galera, Playa Baha Dorida, Playa Arroyo Vaquero, Playa Costa Natura, Playa Guadalabon, Playa El Cristo and Playa La Rada. Expats enjoy a beach-club lifestyle in Malaga. There is a vibrant community centred around these areas, so expats tap into lively entertainment and chances to socialise. As the name suggests, Playa Costa Natura accommodates nudists, which either suits you or it doesn't!
2: Living and Exploring Malaga
Sometimes, we need a change of pace. We enjoy seafront activities, but a varied social life and interests is best for our well-being. For expats focused on unwinding and escaping from it all, Mijas is perfect. This Andalusian village has welcomed guests over the years with its pleasant climate all year round, and the town doesn't feel like a major tourist resort. Sitting just 10km away from some livelier options in Malaga, Mijas is the place to head to for tranquillity in your home life. This genuine opportunity means embracing the Andalusian culture by moving here. For expats drawn to giving it all up and trying something new, Mijas should be on your list of potential new homes.
3: From Sunshine to Nightlife to Golf
For a resort that promises the best nightlife, cafes, bars, and restaurants. Malaga delivers in bucket loads. Nightclubs stay open till the early hours, and for fun-filled siestas, visit clubs like Olivia Valere, Nikki, La Suite Club and Buddha Marbella. Each club has its theme, mood, and clientele; therefore offers social diversity. Then again, some expats moving abroad might prefer sit down, conversation focused socialising. In Marbella, music bars and pubs open later and give socialising opportunities in a more relaxed setting. All expats have plenty of options to stay up past the witching hour. Some say Marbella is the epicentre of the golf-club in Malaga because 15 highly regarded golf courses allow expats who relocate to play as many courses as possible, making Marbella is an idyllic setting.
4: Affordable House Prices in Malaga
If you like the sound of Malaga, you will join one of the biggest expat communities in Spain. This area grows in popularity every year as increasingly more expats set up a home here. Whether you want 2 or 6 bedrooms, a traditional villa, or a new home, when relocating to Malaga, expect the best of the Spanish housing market.
New build properties include little touches like a jacuzzi, swimming pool, terraces with overlooking views, balcony breakfasts, a fantastic sea-view. Some properties also sit within walking distance to the bus service, taxis, shopping-centre, shops, cross country buses, banks, bars, and restaurants. Browse apartments and villas for sale in Malaga. Each listing contains all information including price, location, and home features. Simply use the enquiry details to find out more via email or to arrange a viewing.
5: Where to Move to in Southern Spain
The Andalusian Malaga region boasts picturesque villages and town to choose from when relocating. Covering a large part of the Iberian Peninsula, in the south of Spain, popular places for expat living include Torremolinos, Nerja, Mijas, the busiest city-centre, the beach resort of Fuengirola, Benalmadena, and the famous golden mile and marina of luxury Puerto Banus. While some expats prefer an inland location offering up lower house prices, many live near the Mediterranean Sea coastline. Otherwise, properties in Estepona, Marbella, and Mijas, offer more affordable relocation options.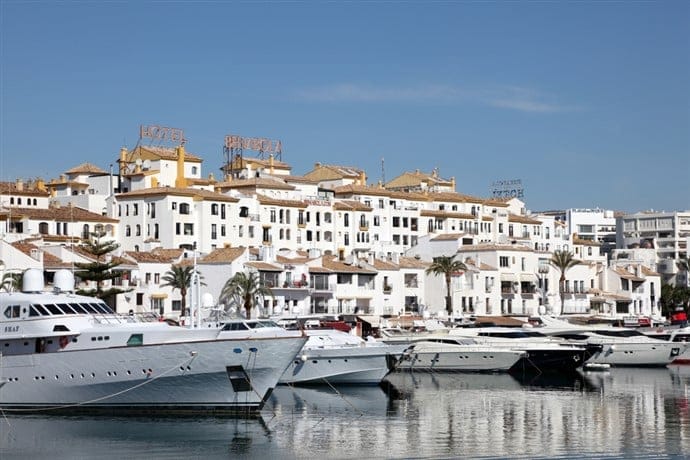 Regions of Spain: For travellers who holiday in Spain and expats, this article talks further in-depth about all the areas of Spain and what makes them unique, including the bullring, Spanish riviera, municipalities, cost-of-living, countryside, roman ruins, seaside destinations, monuments, bullfighting, beach bars and how far your euro will stretch.
About Us: We are Spot Blue International Property, and our portfolio of apartments and villas for sale in Spain covers many areas for anyone looking to move to Malaga. Moving abroad does not have to be stressful. Our years of experience and local knowledge means anyone moving to a new country can do so in a stress-free manner, and as well as enjoying summer months, live there all year round.