Anyone with a keen eye on overseas real estate markets will know investment property in Antalya, Turkey is taking centre stage. Its recent performance isn't just a flash in the pan because for many years, it has ranked as the second most popular place to buy a home, both for foreigners and Turks.
In 2018, overseas nationals purchased 8000 apartments and villas in the region, generating a staggering amount of revenue. Antalya is also proving to be an international favourite because buyers' nationalities include Europeans, Brits, Middle-Eastern, and Asian. Indeed, anyone who wants an investment home overseas would do well to consider the region for many reasons.
Antalya Property Investment: 4 Good Reasons to Buy
Wide Choice of Districts: When the Turkish government collects stats, they include the broader region of the same name and not just the city centre. Therefore, buyers have many locations to consider including bustling Alanya, a growing metropolis that includes hotspots neighbourhoods like Mahmutlar.
Side, a smaller resort is known for its historical ruins, Kemer for its beaches, Kalkan for high-end luxury villas, and Belek wears the crown as the golfing capital. There is then the city centre of which neighbourhoods like Lara beach and Konyaalti, home to Turkey's best beaches, draw in admiration from around the globe.
Affordable Property Prices and Appreciation Potential: People assume the market hype has pushed prices up, yet another reason Antalya comes up trumps for foreign buyers is a surplus of new and off plan homes keeps prices low, and provides much future potential for capital appreciation.
Off plan properties also come with pre-construction prices and a staggered payment plan making it more accessible for budget buyers. The main city centre commands a higher price per square meter, but buyers who want to join at the lower end of the market should consider locations like Side, Alanya and Kemer.Further Reading: The best areas to live in Antalya.
An Extensive Property Portfolio: Including resale, new build and off plan apartments and villas, buyers can tap into an extensive portfolio stretching across all districts. Prices start at £50,000 and extend upwards to six digits for luxury villas in places like Kalkan. For an idea of what is on the market now, see our portfolio of apartments and villas for sale in the region, and fill in the enquiry form for more details on any of them.
Ideal Market Conditions: With hundreds of properties sold every month both to foreigners and Turks, Antalya's market is an ever-revolving merry-go-round, that won't slow down. This ensures high liquidity should you need to convert your bricks and mortar investment back into hard cash, and the bonus is that your potential market is global.
Buy-to-let Investment Property
As the second most popular holiday destination in Turkey, it's no surprise that Antalya attracts buy-to-let investors. Holiday rentals generate a higher income than long-term tenants, and one recent report suggested that 30% of Turkey's tourism market revolves around self-catering apartments. From this figure, Antalya can take a large chunk of responsibility because it provides buy-to-let investors with many reasons to choose it. They include…
Antalya Airport is the top touristic air travel hub in the country.
Unlike other destinations, tourism is a year-round trade
It is part of the Turkish Riviera, with sailing tourism generating a large chunk of revenue
There are countless attractions, things to do, excursions and tours.
Beaches like Lara, Konyaalti, and Kaputas are famous across the globe.
The diversity accommodates both budget and luxury travellers.
Its shopping, and nightlife scenes are one of the best in the country.
Need to Know About Holiday Rentals
In 2018, Turkey introduced new laws for proprietors renting their properties out as holiday homes. The system, aimed at preventing terrorism requires all homeowners to register passport details of their tenants. While landlords living here all year round do it themselves, many use companies to handle it for them. Turkey also requires anyone generating an income from holiday rentals to pay tax once that income reaches a specific limit. Once again, many proprietors use accountants to help them do this.
Citizenship by Investment in Turkey
Foreign sales surged ahead in 2018 and broke records. While the lucrative exchange between the Turkish lira and other currencies can take part of the credit for this, another major factor was when the Turkish government lowered the investment level for their citizenship scheme. All buyers have to do is purchase property worth $400,000 and keep the property for at least three years.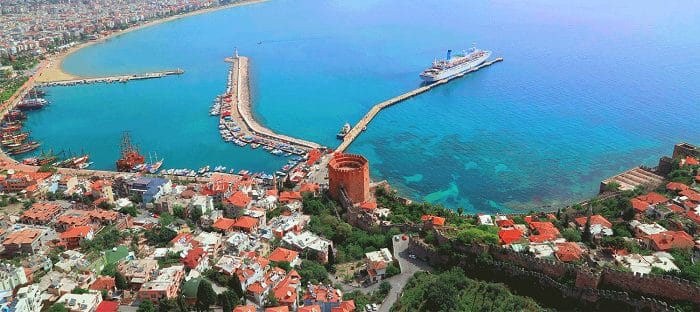 Further Reading
For more information on making an Antalya property investment either for long term appreciation, a rental income or potential citizenship, call us today and speak with an experienced overseas agent. In the meantime, the following articles will also be of interest.
Prices of Homes in Turkey: We look at Turkey's real estate market and which areas present the best prices for foreign buyers. Discussing Istanbul, Antalya, and other regions, it also includes information on financing your purchase.
Property Investment in Turkey: A look at factors driving sales countrywide, the best areas to invest in and the process for buying Turkish real estate.