Fethiye in Mediterranean Turkey is one of the most prominent regions for domestic and international property sales. Over the years, as the Turkish real estate market has grown, many people have bought homes in the area to either use for their holidays or to live in the country all year round.
Indeed, there are many excellent reasons to buy property in Fethiye, Turkey and we are yet to find one property owner who has regretted their purchase. However, what is it that makes Fethiye unique?
Why do property buyers choose the region over other famous places like Antalya, Bodrum and Istanbul? Why do many permanent expats decide that Fethiye will be the place to live out their retirement? The answers are plentiful.
9 Reasons to Buy Property in Fethiye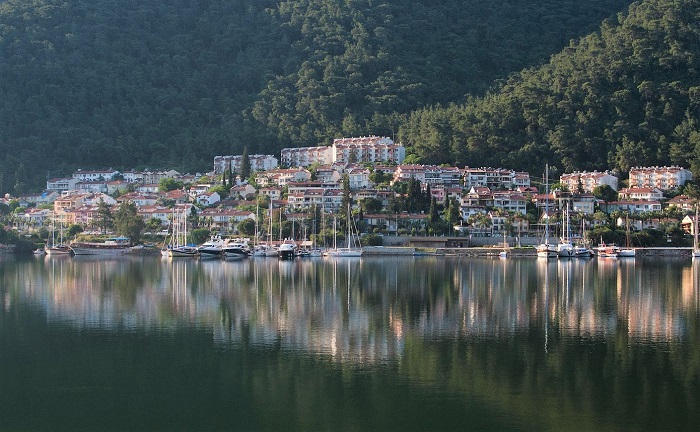 1: A Worthwhile Investment
Money experts say that real estate is one of the best long-term investments to make, and with some of the lowest prices per square meter in the Fethiye region, property buyers will be immensely pleased with what they can get for their cash.
With prices starting at roughly £40,000 for a two-bedroom apartment, buyers are joining a real estate market that is still in its infancy and can expect favourable long-term returns.
2: Extensive Choice of Neighbourhoods
The Fethiye region separates into smaller districts like Calis, Hisaronu, Ovacik and the town centre. Buyers seeking a mountain location also opt for Uzumlu with its more rural ambience. Each of them has their own character, community vibes and selling points that appeal to property buyers.
Calis is a popular expat coastal destination especially for the Brits, while a variety of nationalities live in the town centre, and Hisaronu and Ovacik appeal mainly to buyers who want a holiday home. Read more in our area guide to Fethiye here.
3: Excellent Transport Network
Fethiye is at the heart of the Mediterranean coast and the bonus is that getting there is easy. Transport links in and around Fethiye, as well as to other places in Turkey, are plentiful. It is just one hours drive from Dalaman airport that has an extensive flight schedule during summer. During winter, this scales down, but most expats use connecting flights with Istanbul. The central town bus station also has cheap, frequent routes to other places in Turkey and independent travellers also hire diesel cars to get around at their own pace.
4: English is Widely Spoken
Buyers looking for a comfort zone will be pleased to hear English being spoken everywhere. Established expats communities are a valuable source of information, while the broad diversity of foreign nationalities is the norm to English speaking locals in shops, bars, restaurants and hotels. To live or buy property in Fethiye, you don't need intense knowledge of the Turkish language.
5: Large Real Estate Portfolio
Given the vast distance that the Fethiye region covers, naturally, its real estate market has an extensive choice of properties for sale. Opt for a simple 2-bedroom apartment in a residential area or buy a 5-bedroom duplex on a holiday complex.
Choose a traditional, stonework villa or buy a luxury, modern home with all mod cons and the latest in technology. Alternatively, buy your own land and build your dream home to your specifications. The choice is endless. See the Fethiye property portfolio here.
6: Favourable Exchange Rate to Turkish Lira
The foreign currencies and Turkish lira exchange rate are exceptionally favourable at the moment. Expats living in Turkey who receive a UK pension are getting more Turkish lira for their cash than ever before, and property prices are eye-catching. With low taxes to pay as well as a more streamlined purchasing process than that of other countries, buying property in Fethiye now is a wise move to make.
7: Gorgeous Landscapes
There is a strong reason why Fethiye is one of the top holiday and expat destinations in Turkey, and that is the gorgeous landscapes. With the blue Mediterranean Sea, long sandy beaches, and green mountain backdrop, the region often adorns the covers of travel magazines and brochures.
Oludeniz is one of the most photographed places in Turkey while Butterfly Valley, sitting in a deep canyon is often sought out by round the world backpackers who have heard of its rustic beauty. Calis Beach has a gorgeous sunset, and Kayakoy Ghost Village is one of the world most mysterious villages. The list goes on and on as to why Fethiye's beauty is unmatched.
8: Ideal Weather Climate
Fethiye has a typical Mediterranean climate, so property buyers enjoy hot summers and mild winters. Although the holiday season typically runs from May to October, expats living there all year-round experience warmer temperatures than that of the UK, and sitting beachside in a t-shirt during November, March and April isn't unheard of.
9: Fethiye is a Major Hub of the Turkish Riviera
The Turkish Riviera runs around the coastline from the North Aegean to Antalya and Fethiye is one of the most critical hubs on it, hence its famous marina and many yachts and boats that dock in bays or sail the coastline.
This adds another dimension to the area's portfolio alongside the expat and holidaymaker communities. Indeed, the diversity of Fethiye strangely blends together to ensure that every day will be as different as you want it to be.
Further Information: Our list of reasons to buy property in Fethiye speaks for itself but if you would like more information on the region or a portfolio of current homes for sale in the area, contact us today.