The delayed opening of Istanbul New Airport, a megaproject that will change the face of travel in Turkey has been set for March 3rd, 2019. Previously scheduled to open in October 2018, the airport is currently running a skeleton schedule of domestic and international flights via Turkish Airlines, the country's national carrier. After the official March 3rd opening, all other airlines will swap to the new hub instead of using Ataturk.
Opening of New Istanbul Third Airport
Kadri Samsunlu, CEO of IGA, the company who won a 25-year contract for the new air travel hub covering 76 million square meters says since November 2018 when the first phase opened, it has already handled 100,000 passengers.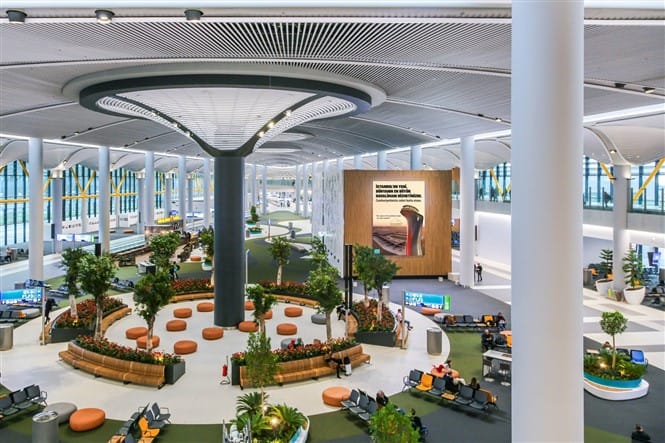 Once the final phase opens in 2023, 200 million passengers a year via flights to over 300 destinations all over the globe will pass through. Five hundred check-in desks and self-service options will reduce waiting time and get passengers through efficiently. Car parking spaces also total 40,000 vehicles.
A statement by Funda Ocak, General manager of DHMI (General Directorate of State Airports Authority made at the phase 2 opening of the duty-free area in January said once the new airport works at full capacity, Turkey will be the "main base of aviation between the east-west and north-south axes, in the transit passenger market."
The duty-free area, operated by the Heinemann and Unifree partnership will cover 53,000 square meters, create 3000 jobs and be the world's largest retail space.
Survey Results
IGA has released survey results of the first phase opening. Handled by Era Research and Consultancy firm, who interviewed 421 passengers at the departure terminals, they revealed a majority were on holiday while business travellers clocked in at 25% for domestic travel and 27% for international.
Other results between domestic and international passengers, revealed satisfaction levels of 98 and 99% for architectural style, and 97% and 91% for general hygiene. Security scored 93 and 95%, while check-in services scored 92% and 89%.
What Will Happen to Ataturk Airport?
Ataturk airport, which handles 68 million flyers a year, is Turkey's busiest air transport hub. For some, it is the end of a bygone era, but it will continue to handle cargo until those operations transfer over by 2020. After that, the government has plans to turn it into a green park area to host events, fairs, and be a community feature.
End of year reports show air traffic in 2018 increased by 8.6%, and as Turkey carries on with its 2023 Vision plan to be a tourism, economic and business global hub, Ataturk airport could no longer cope with a rise of air passengers.
In desperate need of modernisation and with a lack of space to expand, the Turkish government launched the Istanbul New Airport Plan. Although it has suffered setbacks, the March 3rd opening will be a new path for Turkey's aviation and air travel industry.
For more business, travel and tourism news from Turkey, follow Spot Blue on Facebook.