Knowing where to buy on the Costa Del Sol is about doing your homework. As well as finding a place to fit in with your property budget, and cost of living, it is important to match your lifestyle preferences for a long-term move and not a swift flight. The good news is plenty of places and existing communities of ex-pats all along the coastline make a move easy.
The name means coast of the sun, hence explains the 100 kilometres of beaches, coves and bays headlining the Andalucia region. Sitting in Spain's southern region and bordering the Mediterranean Sea, property buyers are near world-class beaches and vibrant shopping and nightlife scenes.
Other reasons to love the Costa Del Sol include a gorgeous weather climate, delicious local cuisine, culture, and art in significant centres like Malaga and a typical Spanish laid-back lifestyle. With Malaga airport and its year-round flight schedule, being just a 30-minute drive away, getting there is easy whether you are looking at a semi-detached townhouse for year-round living or a summer holiday home.
Presenting a diverse range of towns, villages, and typical holiday coastal resorts, buying property in Spain need not be a stressful experience, and homebuyers can take their time to research the real estate market which area suits them best. Here are our recommended picks of where to start.
Where to Buy on the Costa Del Sol
1: Marbella: Property Market Hotspot
Marbella, a hang out destination of wealthy celebrities and influential business people, garners worldwide fame. The Golden Mile leading to upmarket Puerto Banus features high-end bars, restaurants, and shops before finishing near the state-of-the-art marina with large luxury yachts docked in. Despite its glitzy lifestyle, Marbella still does middle class with the average price of property for sale starting from £200,000.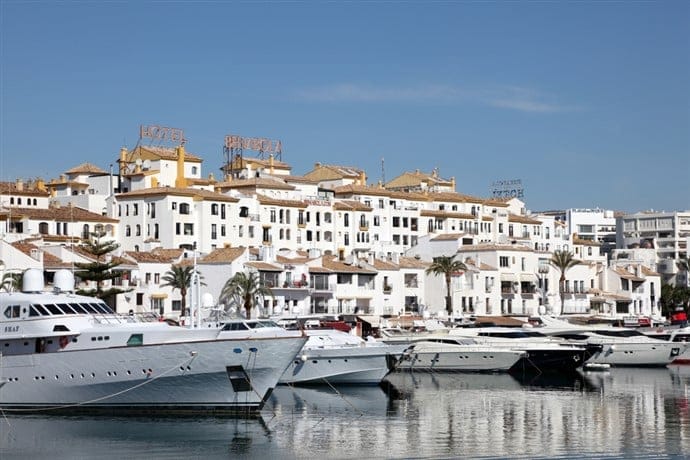 Backed by the Sierra Blanca mountain range, there is also more to the region than brand name, luxury designer labels. World-class golf courses like Santa Marie and La Quinta lure in avid golfers from around the world, while water sports and enthusiasts and beach lovers adore 16 miles of coastline featuring famous stretches of sand like Nikki, Puerto Cabopino, and Funny beaches.
Art, history, and culture also feature in the historic old town, Orange Square, La Alameda Park, and many events throughout the year. There is always something to do in Marbella, and any potential retiree or holidaymaker need never worry about boredom. If you want a luxury villa or penthouse, Marbella is an excellent place to search for properties for sale in neighbourhoods like Benahavis, San Pedro de Alcantara, and Elviria
2: Estepona: Darling Gem of the Costa Del Sol
Surrounded by the sea and mountain, Estepona's all-rounder attitude attracts buyers from many countries, but especially Brits. Lured in by diversity, this shines through in restaurants selling many types of cuisines and a palm tree-lined promenade leading the way to traditional tapas eateries, and seafood restaurants. Meanwhile the old quarter and the Coleccion Garo Art Gallery in Plaza De Las Flores square displays its cultural heritage, and 31 top-class golf courses also make it one of Spain's most popular golfing hotspots.
Backed by the Serrania De Rhonda mountain range, villa and apartment owners enjoy 21 kilometres of coastline featuring gorgeous beaches like Playa Rada, and El Cristo, on their doorstep. Meanwhile in Mediterranean sailing circles, Estepona is on every itinerary because of excellent marinas sitting within its boundaries. Houses for sale in Estepona start from £250,000.
3: Beautiful Mijas
Mijas is a tale of two stories. The old part known as Mijas Pueblo offers stunning views over the surrounding landscape and displays unique Andalusia in all its charm. Think narrow cobbled streets lined by whitewashed houses that portray a traditional Spanish heritage. Sitting close to Fuengirola, it attracts a steady stream of tourists and ex-pats eager to tap into its time-honoured charm.
New Mijas, known as La Cala or Mijas Costa, is the beachside district boasting of top-class golf courses, blue flag stretches of sand and a promenade lined with cafes and beach bars. The result is two different areas providing every experience on your doorstep, whether you want traditional or touristic. With plenty to see and do including tourist attractions, historical sites, festivals, parks, and gardens, it is ideal for both buyers looking for perfect homes for the summer or a year-round residence. Apartments for sale in Mijas go on the housing market at £230,000.
4: Malaga City
Not to be confused with the larger province of the same name, Malaga city, the king of southern Spain suits buyers looking for an urban lifestyle. Called the Costa Del Sol's capital, and surrounded by famous destinations like Torremolinos, the collection of gastronomy, art, culture, nightlife, and shopping makes it perfect for buyers seeking a faster pace of life.
With an average population of 600,000, this swells during the tourism season, making it Spain's sixth-largest city. Primary sites include the Sacred heart and San Felipe churches, the La Concepcion botanical gardens, La Malagueta Bullring, and Pedregalejo fishing district. While other areas attract non-working retirees, Malaga city is a hub for working professionals eager to tap into a remote location lifestyle.
To speak with an international real estate agent about where to buy property in the Costa Del Sol, call our main office on +442083396036 or use our contact forms to request a call-back. Our news articles about Spanish property prices and living there also provides lots more hints, tips and advice.
Spanish Property for Sale: Our portfolio of apartments and villas for sale in Spain covers many regions. Featuring budget apartments, penthouses, luxury villas, townhouses, new build, resale, and off-plan homes, browse each listing and use the contact form for more details or arrange a viewing time and date.
Also Read
Where Expats Live in Spain: Foreigners make up 12% of Spain's population. Most buy on the southern and eastern coast, and in this article, we look at popular places and why they stand out. Covering the Costa Blanca, Brava, Del Sol, Calida, and central cities, it is a useful resource for anyone looking to buy their dream home overseas.