Turkish Property Viewing Trips
Mediterranean Coast
Getting to Antalya International Airport on the Turkish Mediterranean is easy and takes about 4 hours with direct flights all year round from Gatwick, Stanstead and Manchester. From early spring to late autumn there are direct charter flights from most UK regional airports; Glasgow, Belfast, Bristol, Birmingham, Cardiff, Newcastle, East Midlands etc.
There are daily scheduled flights from Heathrow, Manchester & Birmingham via Istanbul, but landing over Istanbul is worth the extra time.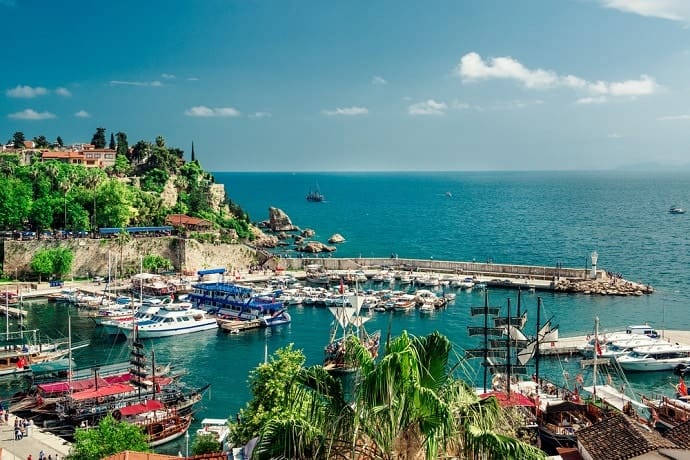 The new airport at Gazipasa (just a thirty minute drive east from Alanya) has been granted a license (2007) from the Turkish government to receive international flights. The opening of this airport in the second half of 2008 is already having a positive impact on property prices on this part of the Mediterranean Coast.
Aegean Coast
During the summer months getting to Dalaman or Bodrum on the Aegean coast is easy with frequent flights from most regional UK airports. During the winter it can be a little more problematic with fewer direct flights. The northern Aegean coast can also be reached through Izmir Airport, with direct flights throughout the year, and there are daily scheduled flights via Istanbul to Dalaman and Bodrum from Heathrow and Manchester.
Booking A Viewing Trip
We will arrange your flights with our ABTA bonded travel agent from your nearest possible international UK airport. In Turkey, you will be met by one of our members of staff in Turkey and driven to your hotel. You will be staying, typically, on half board, i.e. bed, breakfast and dinner.
We normally have a light lunch out on the road as returning to the hotel would most likely be impractical.
An Enjoyable Made To Measure Viewing Trip
Once you have arrived from the airport and had a chance to unwind, one of our friendly English speaking sales staff will visit you for an informal chat. We will discuss what you are looking for and find out if anything has changed since we last spoke. Although your details and budget have been given to our Turkish office before you arrive we may still need clarification on certain points in order to understand your needs fully. Buying a home or investment abroad is a big step and we want you to get the most from your stay with us.
What We Normally Include In Our Viewing Trips
Direct return flights from your chosen UK airport. All transfers from and to the airport in Turkey. Half board hotel accommodation – dinner, bed and breakfast. One to one viewing trip of the area and viewing as many properties as needed. When you find a property you wish to buy, we will give you an initial introduction to furniture shops, and help you with all documentation including your tax number and opening a bank account, so please bring with you four passport size photographs per person and a little money for your new bank account.
What Happens On A Viewing Trip
Our aim is to fit around what you want to do, how quickly you want to do it and how long you want to go for. Most of our clients find the property they want to buy within 3 days, some have bought an apartment within the first 24 hours and others have taken 5 days. Some other UK based agents in Turkey operate on the rushed "high pressure" inspection tour method. We do not believe in this high pressure approach, we would not like to experience this ourselves and we do not believe our clients should.
"No Thanks, We Are Going To Turkey Under Our Own Steam"
Some people prefer to make their own arrangements to visit Turkey. The main drawback to doing this is which company in Turkey should you use to find a property? Is that company authorised to sell property there? Will they be reliable? What happens if there are problems whilst I am at home in the UK? Because we have offices both in the UK and Turkey, we can take away the worry and solve problems for you.
Why not call us and arrange for us to meet you while you're on holiday so we can show you what property is available within your price range. We will arrange to meet at your holiday hotel at a time to suit you, and show you around the properties in the area you wish to see. However, because of the high demand for these property viewings we do need to make this arrangement before you go on your holiday to Turkey.
What Do You Do Next?
Whenever or wherever you want to go, simply pick your date/s and the airport you wish to fly from and call us on: 020 8339 6036
WE WILL DO THE REST!!
Visas
When you arrive in Turkey you will need to buy a tourist visa, which costs £10 GBP or 15 Euros, and lasts 90 days. The visa can be used as often as you like within the 90 days. You have to show this visa again when you leave Turkey. Your passport must also be valid for more than 90 days. Alternatively you can purchase your visa in advance online using the following site : https://www.evisa.gov.tr/en/
Just In Case
For peace of mind we recommend always having current valid travel insurance before you travel to Turkey. Many people will have this on their credit cards, but if you don't please let us know. We are able to recommend a travel insurance company (See links).
Why not call us and find out how to see the properties and locations for yourself? Telephone: +44 (0) 208 339 6036 or to email us, click here