Ah, the Alicante property market, an ever-revolving circles of buyers and sellers. Taking pride of place in the Costa Blanca of Mediterranean Spain, many foreigners flock there to find their dream home, and for some, live in Spain permanently. Over the years, market trends of the residential property market have gone up and down, affected by external world factors that, in turn, impacted house prices.
Additionally, homebuyers preferred new builds over resale properties simply because of better building standards as well as the chance to personalise the interior design and décor. This makes Alicante one of Spain's key property investment destinations. For potential property owners buying overseas and those looking to invest, taking a keen interest in the housing market is strongly advised. So let's look at overseas property to buy in Spain and future predictions.
The Alicante Property Market
In 2018, a report by Place in the Sun said the residential property had bounced back, and like other markets of property in Spain, Brits played a massive part in the revival of sales. Year on year, property buyers evoked a 40% increase in sales, the highest jump since the slump in 2008 that saw dramatic falling house prices. Meanwhile, Property Wire said Spanish property prices in the region rose by roughly 10 to 13% during 2017. Local agents said the real estate investment portfolio heavily featured off-plan and new home sales, with more than 6000 home constructions taking place at the end of 2017.
According to Kyero data which get their stats from government and market data sources, in Quarter 4 of 2017, international buyers accounted for nearly 50% of all property sales. Fast forward to 2020, and this has dropped to 40%. However, 2020 saw the start of the coronavirus, which impacted travel and foreign house sales worldwide. There is also one other factor to consider: British presence since they account for many foreign buyers, and how Brexit affected sales.
British Property Buyers in Alicante
Brits have always loved Spain, and the abundance of cheap flights and a short distance from the UK plays a significant part in their decision to buy there. Brits are the top nationality of foreign buyers and commanded a strong presence in the property revival of the Valencia region. Stats also say 204,000 foreign residents live in Alicante, of which Brits total nearly 70,000 people. Generally, British buyers want a holiday home, but many also have long term plans to retire in Spain, despite the consequences of Brexit. Favourite places for Brits buying in Alicante are Torrevieja, Alicante centre, and the old favourite Javea.
British Buyers who Rent Out Their Property
Since rules following Brexit only started in January 2021, it is difficult to determine what effect it had on the housing market without considering the Corona Virus. One inevitable result is British buyers renting out their homes in Spain, either for holiday lets or long-term rental. Before Brexit, they paid 19 per cent tax on rents because they were EU citizens, whereas that is now 24%. This is something British buyers should consider if looking at buy to let property. Additionally, you will still have to abide by the legal laws for tenants.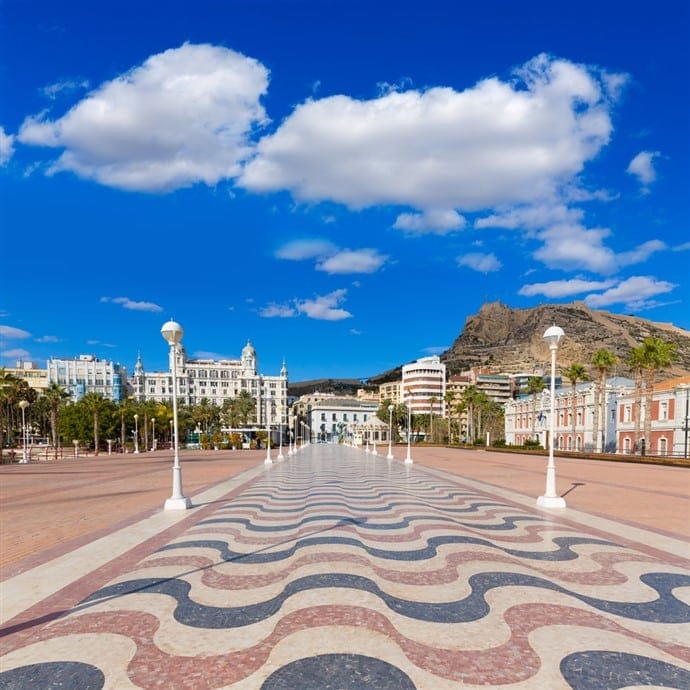 Moving to and Living in Alicante
Likewise, the other rule impacted by Brexit is long term residency. As of now, non-resident British buyers cannot use their property for longer than 90 days within 180 days. If you want to stay longer, you need to get permission to remain as an expat resident. More about moving to Spain.
Property Prices in Spain
Naturally, home buyers want to enter the real estate market to increase their house value. Since 2017, investment property the house price index rose each year between 1.2 to 6.5%. However, in 2020, they remained the same and saw no real growth. Given all housing markets worldwide are experiencing a downturn, this is natural in Alicante, primarily since it relies on international buyers.
However, expert predictions like Fitch say both the Spanish economy and house price growth will take a slight dip, then return to normal around the second half of 2022. In which case, homeowners can expect to see the average house price growth experienced over the last five years. Until then, affordability remains the main reason to buy.
Where to Buy a Property in Alicante
Foreign buyers have a mass of neighbourhoods and suburbs to choose from. However, as expected, residential property prices vary, and certain places stand out more than others. Know though, there is a lot more to Alicante than popular Benidorm, whether you want a bargain buy or are looking at luxury villas for sale. Both Javea and Toerreijva stand out as other popular destination for foreigners. Other places to consider include up and coming Guardamar for capital growth, Grant Alacant, and Villa Martin. Find out more about popular places to buy property in Alicante.
Find Property for Sale in Alicante
If you want to buy a house in Alicante, start your research by browsing our portfolio of properties for sale. Each listing contains everything to know, including house price, the number of bedrooms, bathrooms, property type like luxury villa, apartment for sale, new build, resale or detached, and home features like terrace. Just use the contact details to find out more via email or telephone or to arrange a viewing.
About Us: We are Spot Blue real estate agent, and we specialise in the Alicante property market and other areas of Spain. If you want to buy property, either for use as a second home or to live in Spain all year round, contact us to speak with a local agent about the housing market and owning a home. Alternatively, see our blog to read more articles about local real estate in Spain and how to invest in property wisely. You might also like to read our area guide on what to do, where to go, dining out and beaches in the area.