Experts at On The Beach holiday company have been crunching numbers, and in a recent press release, they say the Antalya region of Mediterranean Turkey offers the best value for blue flag destinations in Europe.
Cross-referencing, the number of blue flag beaches of which Antalya has 194, with the average cost of a one-week holiday for two people, the online holiday company says Antalya delivers more choice and diversity than other holiday hotspots including Spain and Portugal.
Turkey is already a favourite beach holiday destination thanks to its 8000 kilometres of coastline in the Aegean, Mediterranean and Black Sea regions. Every year, coastal resorts such as Bodrum, Marmaris, Fethiye and Antalya kick into action from May to October (main tourism season) as thousands of holidaymakers arrive to experience its sandy havens.
Many of these holidaymakers prefer to book hotels near blue flag beaches which must meet a series of set criteria before qualifying. They include displaying information about environmental aspects, adhering to global water standards and providing facilities such as waste disposal bins, toilets and public safety control measures.
Antalya's Famous Beaches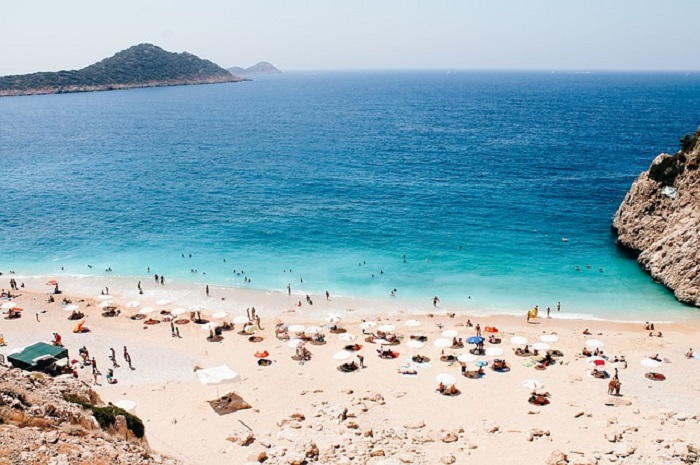 Antalya, is the second most popular tourist destination in Turkey. The region includes the smaller coastal resorts of Alanya, Side, Belek, Kemer, Cirali, Kas, Kalkan and Patara. Naturally, given its enormous size, the choice of beaches is endless, and some have garnered more fame than others. They include…
Kaputas
Often featuring in mainstream travel brochures as the idyllic beach location, Kaputas sits in a small cove, fronted by the crystal blue waters of the Mediterranean. It is a popular beach with Turks and foreigners despite its lengthy distance from the main tourist resorts of Kas and Kalkan
Patara
When mainstream tourism first came to Turkey in the 1980s, Patara was one of the leading holiday resorts thanks to its 18-kilometre-long beach, which also happens to be Turkey's longest. Although it isn't as popular these days, the long stretch of golden sand is also home to endangered Caretta turtles who nest in the sand during breeding season.
Lara And Konyaalti Beaches
Lara beach owes much of its success to the themed hotels backing it. Holiday companies have collectively nicknamed them, the Las Vegas of Turkey thanks to their all-inclusive concept including food, drink and entertainment. Sitting nearby, Konyaalti beach, also in the central city of Antalya does a roaring trade from locals and holidaymakers alike.
Trip Advisor also included Kaputas, Patara, and Lara beaches on their list of the top ten beaches in Turkey for 2018. Altogether, Turkey has 435 blue flag beaches which ranks it fourth in the world after Spain, France and Greece and for a beach holiday with loads of choice, the country is a worthy contender.
For more tourism, expat and business news coming out of Turkey, follow Spot Blue on Facebook.