If you want to know the best places to buy property in Dubai, get ready to be impressed. Home to stunning buildings, Dubai offers unique neighbourhoods aside an architectural showground. These days, many expats buying homes enjoy an unparalleled lifestyle, and Dubai attracts many real estate investors looking at places for mid to long term property investment. Think palm tree islands and world-class style. Boasting luxury homes, certain areas recorded double-digit buying growth last year, which puts them on hotspot maps of ideal places to invest in.
For example, Arabian ranches ranked 35% increases in property value, and other notable places include Palm Jumeirah. Homes in Dubai also command respect thanks to their cosmopolitan style that promotes the future of real estate markets, as no longer just somewhere to live or something to invest in, but masterpieces. Therefore, apartments for sale in Dubai are plentiful and most people look to places like Dubai Marina, Downtown Dubai, and International City. While luxury home buyers often turn to Palm Jumeirah and Arabian Ranches.
Reasons this UAE real estate market stands outs include rich heritage, stable economy, and cultural diversity, thanks to the 85% of the population who are foreigners. For investors, the stable housing market gives buying power. Undoubtedly, Dubai is the UAE investment capital. Attracting Brits, Indians, Chinese and other gulf state investors, who rely on high, global liquidity, Dubai is a place to watch in the next five years. So, lets' look at popular areas for buying real estate.
Best Places to Buy Property in Dubai
Places in Palm Jumeirah
Popular among investors, Palm Jumeirah, boasts of exciting real estate projects that deserve admiration. Residential prices have remained steady, but a premier location attracts villa buyers. Although Palm Jumeirah ranks highly for prices, the place delivers potential for investors buying property for passive income.
As expected from an upscale location, property owners enjoy the best in shopping and restaurants facilities. Additionally, choose from numerous places offer relaxing facilities, including Aquaventure Waterpark and Palm Jumeirah Boardwalk. The 3 miles long and 3 miles wide artificial palm-shaped island with beautiful Gulf views is a tourist hotspot. To understand this place's prestigious status, just look at famous names who have stayed here, like Boris Becker and Tiger Woods.
2: Downtown Dubai
Known for massive skyscrapers, Downtown Dubai features the Burj Khalifa, the world's tallest tower and a popular tourist attraction. Studio and one-bedroom apartments are popular here, but once again, high yields easily lure investors. Although prices are more expensive, Downtime Dubai offers an ambience found nowhere else. There is nothing low key about it, especially when tourists arrive to see Burj Khalifa.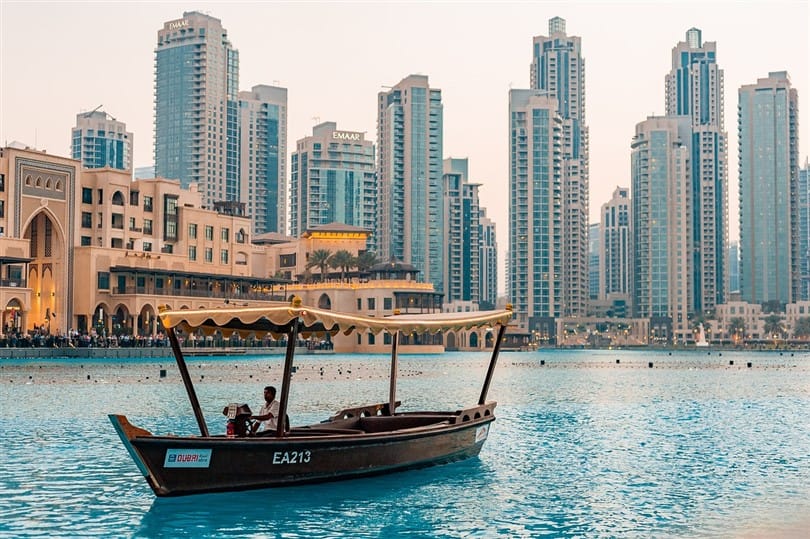 Downtown Dubai also includes a massive shopping mall where it is easy to empty your bank account. Given the enormous, new skyscrapers, for stunning views, pick the location carefully, especially if there is an area around that is open for development. Other attractions include the chic cafe scene of Emaar Boulevard, the dancing Dubai Fountain, and the Dubai Opera hosting dance, opera, and musical shows.
Jumeirah Village Circle
Sitting close to Jebel Ari and Dubai Marina, Jumeirah Village Circle offers lower prices than Downtown Dubai and Palm Jumeirah, and being coastal residential, has much potential. Many working expats in Dubai and families prefer this place because it offers quiet, residential ambiences away from city hotspots.
Featuring roughly 6000 properties, including townhouses and villas, green spaces, and social amenities, make this more of a town rather than a property investment area. Another advantage is that Jumeirah Village Circle sits 25 minutes from Dubai International Airport. Apartment buildings are lower than typical high skyscrapers, which attracts people from other areas. With prices coming in at roughly 170 pounds per square foot, it is affordable to buy a Dubai property at nearly half of the marina area.
4: Best of Dubai Marina
As to expect, the name says everything, and Dubai Marina offers upmarket nautical lifestyles for any person seeking that. Think luxury villas, penthouses, and fine shopping and dining establishments. The shopping mall alone provides up to 140 areas to spend your cash. House purchasers like the marina because of high rental yields, and because it is a highly sought-after area for Dubai property, they rely on the ever-coming portfolio of home buyers should they want to sell up. As a result, Dubai Marina, nicknamed the "pearl of Dubai," is the second most popular area to buy a property after Business Bay. That record speaks for itself. As well as amenities, the central location makes it a property hotspot, especially with young working professionals.
5: Places in Business Bay
Sitting in the heart of Dubai, Business Bay promotes big trade, property and luxury living with style. 240 towers feature city offices, residential apartments and penthouses. The commercial and retail aspect alone makes it a great property market, but locations and proximity to the world tallest towers are other reasons. Much potential to buy is here, and it is more of an emerging area for property rather than established. Working professionals love this area with affordable property prices than downtime Dubai and profitable rents for apartments. Residents have easy access to Sheikh Zayed Road and Safa Park. Sitting aside the Dubai water canal, set cycling and walking tracks are popular at weekends, as are the waterfront restaurants offering international cuisine.
6: Jumeirah Lake Towers – Ideal for Investment
This property perfection is a good choice for budget investors. Tall rise apartments opposite the Dubai marina offer luxury facilities at half the price, including gyms, pools, restaurants, and shopping delights. Large, spacious studios are a core property feature but apartments deliver just as good decor and design. Last year, the ROI on Jumeirah Lake Towers was 6.82%, so you can understand why real estate pundits flock here. In addition, three shopping malls are within a short drive away, and the Dubai Metro passes through, while another road connects it to Abu Dhabi. With four artificial lakes and much green space, this is an easy decision for real estate investing in apartments in Dubai.
7: Buy Luxury Villas in Arabian Ranches
Apartment living in Dubai city is a core feature, yet if villas are your preferred choice, look at Arabian Ranches, an ideal community that attracts families, who want to buy. With an expected 5% investment, several new future projects make this an exciting area to purchase a home. As well as offering off-plan and resale properties, it has already clocked up an impressive record of accomplishment.
As a gated villa community on Dubai outskirts, it sits far away from the hustle and bustle yet a short drive to be in the heart of the action. For pastimes, the Equestrian Club and colossal golf course sit nearby. First opening in 2004, the second part of the project opened in 2012, proving the long-term sustainability of these excellent property choices.
8: Dubai International City Area
Spread over 800 hectares and featuring attractions, businesses and residential homes, regional countries inspire architecture in International City hence the name. Districts include China, England, France, Persia, Greece, Russia, Spain. Morocco, Italy, and Emirates. In addition, a 240,000-metre car park inspired by Beijing is planned. With the potential for 60,000 residents when complete, Dubai International city sits opposite the fruit and vegetable market in the Al Warsan area.
More About Property in Dubai
The United Arab Emirates of Western Asia has seven Emirates, including Dubai, Ajman, Abu Dhabi, Sharjah, Umm Al Quwain, and Ras al Khaimah. But are you looking at property for sale in Dubai? Dubai, a dynamic Middle Eastern city, has a fantastic selection of investments and family homes, apartments, penthouses, and duplexes for sale. Dubai also benefits from hot weather, stunning architecture, and European and western Asian food. See our property portfolio for sale in Dubai, and use contact forms to find out more or arrange viewings.
About Us: Spot Blue International Property is based in London, UK. We offer first-class services to our valued clients. We are an award-winning company, and leading global newspapers and news channels frequently quote Spot Blue. We pride ourselves on expert knowledge that we pass on to our clients. Contact us today and speak with an agent if you want to know more about the best places to buy property in Dubai.