To golf in Turkey is to spend your time on world championship courses. The days when Portugal and Spain led the way in golfing tourism that satisfied every player are long gone, as Turkey's reputation continues to grow. Proof of its roaring success is seen in recent stats that say Turkey's golfing industry contributes 135 million euros to the economy every year.
Over the last decade, Turkey's vision plan for 2023, that aims to make it one of the world's most popular touristic destination, concentrated on diversifying niches and nationalities to aid in a year-round tourism industry. Golfing was one sector that enjoyed mass worldwide promotions as companies like Turkish Airlines and people like Tiger Woods came on board to boost its appeal.
The Appeal of Golf in Turkey
Cahit Sahin, president of IAGTO, the International Association of Golf Tour Operators Turkey and Antalya Golf Sports Club says each person arriving in Turkey to swing their club on the green, spends 1200 Euros in a week.
This is a lot more than the average beach tourist, hence why Turkey has been promoting its courses. These people include golfers from the US, Asia, the far east, and Europe, who alongside golfing also enjoy downtime in the five stars plus hotels and clubhouses attached to courses.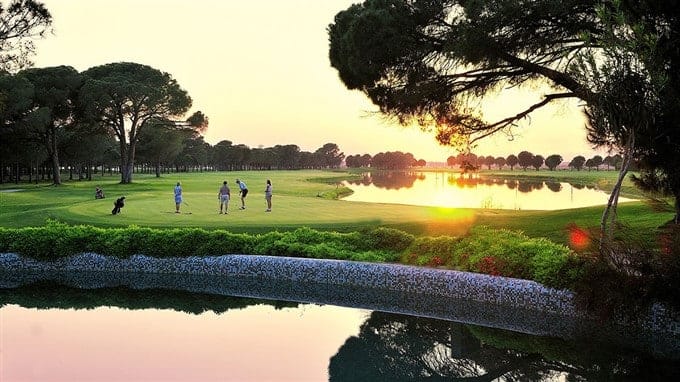 Golfing isn't new to Turkey since the first club sprang into action in 1895, but it wasn't until 1994, that the sport gained traction, and organisations started to build world-class destinations. A pinnacle point in its international appeal was in 2013 when The Turkish Airlines tournament took place.
This tournament still continues to be one of the world's most prestigious events hosting players like Lee Westwood, Justine rose and Tiger Woods battling it out for a prize worth millions of pounds. With high-level players like this competing, the promotion speaks for itself.
Officials hope there is more to be gained out of Turkey's golfing popularity though. As well as hosting famous players, they are training future generations to be world-class players and compete in international events.
Golfing in Antalya: The King of Them All
Out of all the golfing destinations in Turkey, the Mediterranean Antalya region leads the way as the king of them all. Part of its success is that the ideal weather climate allows it to be a 12-month tourist destination whereas golf courses in the Aegean and Istanbul region, have colder weather from November to April, the non-touristic months of the year.
It is specifically the small Belek resort of Antalya that is home to the sport. Out of 22 courses in Turkey, Belek is home to 16 of them. The world-class golf courses of Belek are…
Gloria Old, New and Verde Courses.
Montgomerie Maxx Royal
Cornelia Faldo
Sueno Pines and Dunes courses
Carya, Titanic and Pasha courses
Kaya Palazzo
PGA Sultan
National Golf Course
Likya Links
Robinson Nobilis
Which Golf Courses are the Best in Turkey?
The website Top 100 Golf Courses ranks Carya as the best, followed by Cornelia and Lykia Links in second and third places. Carya, a heathland style 18 hole, 7,186 yards, par 72 course also includes an academy and a new clubhouse, but the bonus is night-time lighting turning it into a day and night course.
Meanwhile, Likya Links rates as one of Europe's top courses by making full use of its seaside location. Famous architect Perry O Dye designed the 18-hole, par 73 course, covering 6950 metres of the coastline.
Golf Real Estate in Turkey
Without a doubt, Turkey's golfing success will continue, and one market enjoying the knock on effect is real estate. Although apartments come on the market, many properties for sale in Belek are large golfing villas, of which some are part of exclusive developments.
With a large range of on-site facilities including swimming pools, children's playgrounds and the nearby world-class golf courses, they present an ideal real estate investment for any fan looking for a summer holiday home or buy-to-let investment.
Belek also belongs to the large Antalya region, offering endless shopping, nightlife, and leisure activities, so when buyers want downtime off the course, they have plenty of choices. Read more about the golfing Belek region of Turkey in our area guide.
You Might Also Like to Read
Turkey Area Guide: Find out what makes golf in Turkey, and other niches, one of the top touristic and real estate markets of the world. From the gorgeous climate to cultural heritage, it has many reasons to class itself as a world leader.
Antalya Area Guide: After Istanbul, Antalya is the second most popular destination for tourism and foreign real estate sales. In this area guide, we look at what makes it a world-class destination attracting nationalities from all over the world.
For more tourism and international real estate news and articles, follow Spot Blue on Facebook or sign up for our monthly newsletter.