From old and traditional to new and modern, the design of Turkish houses has changed drastically over the years. Whereas in the past, Turks built houses based on local resources, these days, it is all about comfort and practicality. Over the last 20 years, Turkey invested much into modernising its housing market. As a result, new developments and builds have sprung up all over the country.
However, Turkey has not turned their back on old Turkish housing styles because they gained iconic status since their design and layout are rare. While some home buyers in Turkey dream of buying one as a renovation project, other houses like those in Safranbolu gained UNESCO World Heritage status. Let us look at the timeless iconic houses in Turkey and where to find them.
Designs of Turkish Houses
1: Ottoman Designs
Wander the streets of old towns like Safranbolu or Beypazari to see iconic Ottoman housing designs. Recognised by stone bottoms and white tops with brown window frames, these houses' layout promoted the Turkish family atmosphere.
Situated over two levels, rooms on the upper floor featured a central space with many functions, including a place to eat and sleep. Large windows also let in lots of natural light since residents did not have electricity in those days.
2: Turkish Stone Cottages
Scattered all over Turkey's western and southern coasts, these days, renovated stone cottages fetch a tidy sum. Recognised by whitewash facades and blue window shutters, a perfect place to see them is the small coastal resort of Alacati in Izmir.
The white Turkish cottages are also an iconic site in Bodrum town centre, as they appear like sugar cube houses scattered over the hillside. Kayakoy in the Fethiye region is another place where renovated stone cottages dominate the Turkish housing market. The difference with these houses is that they all feature a large, shaded courtyard to elevate summer temperatures.
3: Cave Houses in Cappadocia
This is where things get interesting. The Cappadocia region of Turkey is known for the tufa rock, and in history, locals carved houses out of it. The style is also seen in Goreme Open Air Museum that features old 14th-century cave churches.
These days, most houses are under preservation status, and should you buy one, you must adhere to strict regulations as to what you can change and features to keep. To get an idea of what it is like to live in a cave house, stay in one of the many famous cave hotels scatted throughout Cappadocia.
4: Yayla Plateau Houses
Head to the Kackar mountain range of Turkey, and the design style changes completely. Locals always built houses using wood from surrounding forests. Additionally, they made them on stilts with the living quarters on the first floor for two reasons.
The first is that livestock lived in the bottom, and heat rising from them warmed the house. Second, they wanted to protect themselves from bears and foxes that came down from the forest looking for food. Perfect places to see yayla plateau houses are Ayder plateau and Uzungol.
5: Wooden Houses of Istanbul
Certain preservation groups in Turkey strive to preserve the old wooden houses of Istanbul. These were all built using wood, but authorities banned the material in the 19th century because it increased the risk of fire; hence these houses are open-air museums depicting the old days of Istanbul.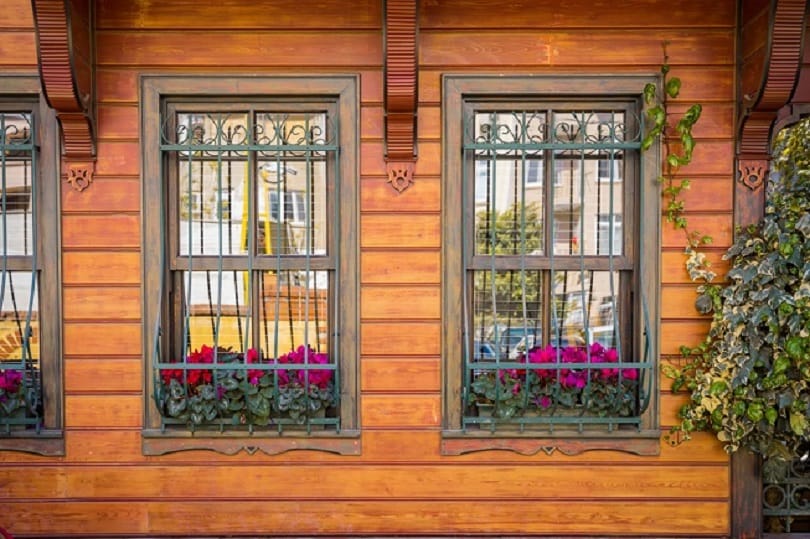 The UNESCO World Heritage site says labelled them a global cultural influence, alongside being a part of Turkish heritage. Other experts say the layout of one central room stems from when Turks were nomadic. So far, 55 homes have been restored, but many more await work and the clock is ticking before they eventually become a hazard. A perfect place to see the old wooden houses is Sogukcesem street.
6: Ottoman Yali Mansions
These houses belong to the group of old wooden houses in Istanbul, yet they deserve a special mention because of their iconic status. Lining the shores of the Bosphorus, these are luxury mansions, or also known as Yali houses. Built during the Ottoman period by high-ranking dignitaries, some were summer residences.
One feature that makes them stand out is that they are Turkey's most expensive houses, and in some cases, like the Erbilgen yali mansion, the world's most expensive houses. One Turkish yali mansion even sold for 115 million USD. Some were renovated into hotels, restaurants, and museums, while others are private residences of wealthy Turkish families.
More Reading
So, as you can see, Turkish houses are an integral part of Turkish culture and history. To learn more about Turkey and its housing market, browse our blog about Turkey. We have taken our team's collective knowledge and experience to inform readers about everything they need to know if they want to own a house in Turkey.
About Us
We are Spot Blue international real estate agents. We have helped thousands of buyers invest in property abroad to find their dream homes. Get in touch with us today if you are thinking of buying a house in Turkey, otherwise follow us on Facebook to stay up to date with owning a house abroad.