Spain's third city is an underrated jewel on the Mediterranean coast. The city is cooler, and more popular amongst the Spanish than the more traditional places that you might consider buying property in Spain. With its pretty gardens, white and terracotta buildings, and the long beach that gives you acres and acres of sea and sand, property for sale in Valencia is hugely underrated.
So, what makes Valencia such a great prospect when you're looking at buying property in Spain?
Property for sale in Valencia is a little easier to come by than in the better known Barcelona, further down the coast. The city is also a more interesting choice than the holidaymaker's favourite Alicante. Somehow though, it seems to get lost amid all the talk of those more internationally famed cities.
What is it about Valencia that's so appealing?
Valencia: A City on the Rise
As with many cities across Europe, Valencia is taking steps to become more environmentally friendly. The city is investing in its' public transport links, opening new bike lanes, and making huge strides in eliminating the need for a car. Buying property for sale in Valencia means you hardly need to worry about getting to and from your beautiful Spanish home.
As a fairly youthful city, Valencia is a vibrant and exciting place to live, filled with new businesses, cafes, bars, and restaurants. As opposed to some other parts of the Spanish coast, the population is far from retirement age. The Street Art in the city is well known amongst art-loving tourists, and there are vibrant local festivals throughout the year.
If you're looking for more than just a nearby beach to peg yourself out onto, looking at property for sale in Valencia is the perfect choice.
Living in the home of Paella
Yes, the city of Valencia has a distinctive claim to fame. It is the birthplace of the popular Spanish dish, paella. Unlike variations you might find elsewhere, Paella Valenciana chefs follow strict rules about what can and can't be included in their paella recipes. Traditional Paella Valenciana is made using chicken, rabbit and sometimes snails.
Chorizo, seafood and other classic ingredients that we commonly associate with a paella are rarely found in a traditional Valencian paella. Anyone interested in a property for sale in Valencia will be buying in a city that has its' own culinary traditions, and an identity that is independent of the rest of the Spanish Mediterranean coast that surrounds it.
You might not be getting the tourist trap version of the dish, but it's always worth considering the local culinary traditions when you're buying property in Spain.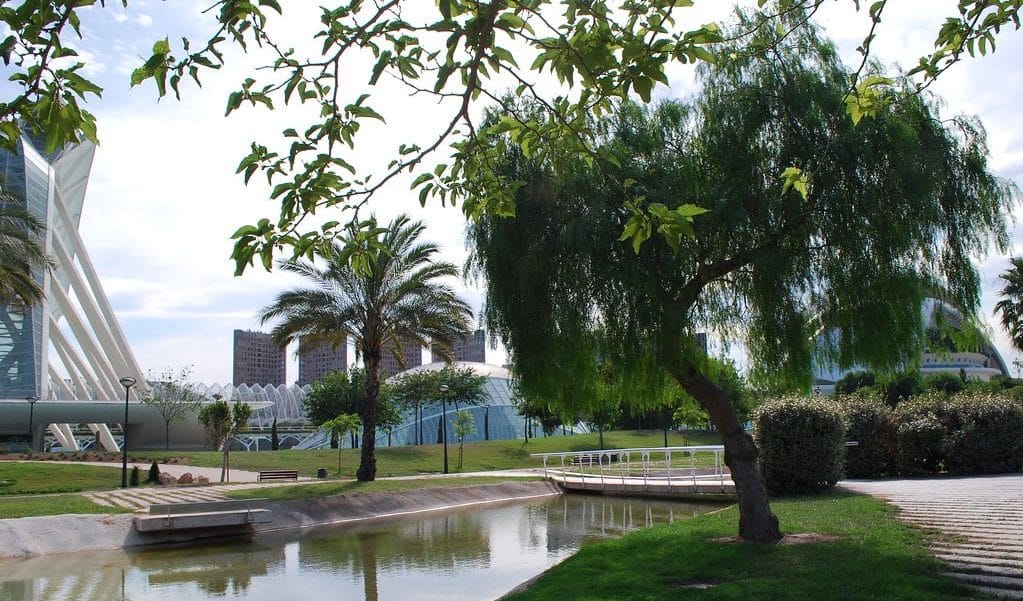 The Turia Riverbed Gardens
Once upon a time these gardens, which ribbon through the heart of Valencia, formed the Turia River. When, after the floods of 1957, officials decided to divert the river to the south of the city the Turia Riverbed was turned into a beautiful, lush garden in the heart of the city. It's one of many green spaces that you can find through the city.
If parks and green spaces are on your list of priorities these gardens are a great reason to look for property for sale in Valencia. The Turia Gardens are a favourite amongst runners and cyclists, and along the banks of the garden, you will find many of the city's popular museums and monuments. It's a fairly tourist-heavy spot, but the size and nature of the gardens make them a unique and interesting part of an already stunning city.
As many of the museums in the city are very inexpensive or free to enter, anyone interested in buying a property in Spain will be able to fully immerse themselves in the culture of the region.
Looking at Property for Sale in Valencia for the Climate
As the largest city on the southernmost Mediterranean Costas, Valencia is more temperate than the larger Barcelona and Madrid during the winter months. If you're looking to move to the Spanish coast for health reasons, be they Seasonal Affective Disorder, or Arthritis, looking at property for sale in Valencia is an excellent choice.
Valencia is far enough south to be a balmy 28 degrees during October, and around 15 degrees in the deepest darkest winter months. This suits those for whom the long, dark winter months are a painful slog, but who don't wish to move to the small, retirement communities living in towns along the southerly coast of Spain.
In terms of buying property in Spain for health reasons, Valencia sits on the most sheltered part of the Mediterranean coasts and maintains a mild temperature that will always be a draw for sun-seekers.
A Historic Old Town, and New-Build Developments
The city has a beautiful, historic old town that includes the famous Valencia Cathedral, narrow medieval streets and old buildings that are well preserved and stunning to look at. The old town is an attraction in and of itself and offers plazas and squares filled with cafes, restaurants, and shops.
Happily, there are several new-build developments further away from the bustling centre of town that offers modern convenience and sea views in Spain's famous third city. It's a blend of modern and historic that suits buyers who want every convenience in their Spanish home, but who enjoy traditional Spanish culture and architecture too.
If you are interested in finding out more about the property for sale in Valencia, please don't hesitate to contact us. Find our selection of Valencian properties here.