Kalkan, Turkey
As a rich and vibrant resort of Mediterranean Turkey, Kalkan has established an upmarket and elite reputation.
Situated a four-hour drive from Antalya airport and a two-hour drive from Dalaman, discerning holidaymakers return year after year and the small but quaint town also attracts foreigners of all nationalities and Turks, with an interest in buying Kalkan property. This lovely old fishing town is a harbour and is found between Kas and Fethiye, famous for its whitewashed houses with stunning bougainvillaea draping the walls.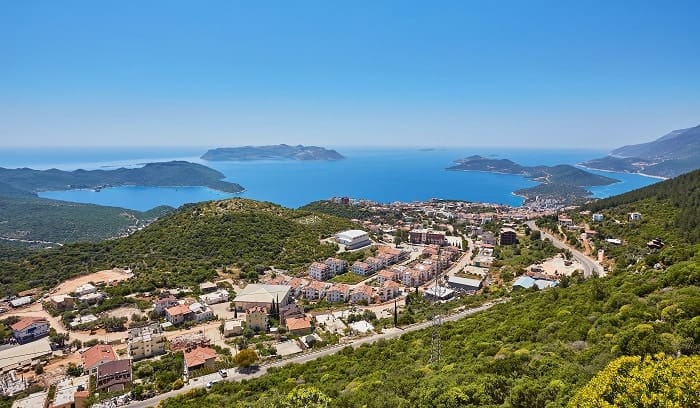 Until the 1920s the population were mainly Greek and the Greek influence is seen widely today. Kalkan averages over 300 days of sunshine per year making it a firm favourite for sun worshippers. This picturesque historic town is the ultimate for those wanting a stunning property in the perfect location.
Kalkan is found on the Mediterranean coastline and overlooks the beautiful bay; this particular stretch is known for its amazing panorama. This enchanting town is indeed a gem in Turkey's crown, its narrow streets wind down to the bay, it's an unspoilt haven for those who want to get away from it all and enjoy the beautiful azure blue sea and breathtaking beaches. It doesn't stop there; it seeps with ancient history and majestic architecture. It's the perfect upmarket destination and investors and holidaymakers choose Kalkan because quite simply it ticks all the boxes, Kalkan is also considered one of the most romantic destinations in Turkey.
History of Kalkan
The historical timeline of Kalkan has never been well documented, leading historians to believe that for hundreds of years, it was just an unimportant fishing village with no major events or cause for illustrious fame.
History experts have established though, that the Lycians, who were a courageous but peaceful civilization, dominated the coastline from the 15th to the 5th century BC. Unfortunately, by the time, Roman rule had descended on the area, piracy was rife, and locals had deserted the village to seek safety and security inland.
When piracy eventually diminished, people settled in the area again and they were mainly of Greek descendant, which explains much of the current architecture of the old townhouses. However, in 1923, the Treaty of Lausanne signed by Turkey and Greece, forced Greek descendants to return to their homeland and vice versa.
The population exchange unsettled the community but daily life eventually returned to normal. When mainstream travel became popular in Turkey during the 1980s, more foreign visitors descended on Kalkan and the introduction of the Internet encouraged independent travel and living, so it is also a popular destination for British and American expats.
About Kalkan Today
It has a typical Mediterranean portrait with traditional seaside houses, covered with wooden shutters and pink bougainvillaea tumbling down whitewashed walls. Daily life revolves around the beachfront and the well-constructed harbour where fishing boats ply their trade.
Coastal restaurants promote the concept of Mediterranean dining and due to the hillside leading away from the beach; most restaurants provide a romantic, rooftop-dining experience of slow music, and tasty cuisine while the sun slowly sets on the horizon.
Small boutique shops, modern restaurants, and traditional bars line both sides of the cobbled streets and at the entrance, to the resort is an averagely sized bus station, with transport to neighbouring towns and bigger bus stations that operate transport to other destinations within Turkey.
Thanks to the influx of expats, the current population is approximately 3,500 people but during summer, this increases because of tourism. All facilities and amenities exist within the town including doctors, post offices, banks, and supermarkets and for serious medical attention, expats use the private hospital based in nearby Fethiye.
Kalkan can also boast of its inclusion on the Lycian way, a historical walking trek covering ancient ruins along 516 kilometres, of the Mediterranean coast. It is also a favoured destination on the Turkish Riviera, evoking many domestic and international yachts to dock into the town for overnight stays.
Kalkan has a pebbly town centre beach with all facilities including sunbeds, umbrellas, toilets, and showers. Many locals also recommend visits to the nearby scenic beach of Kaputas, situated 30 minutes away or the long and sandy beach of Patara, that is also a half hour drive away. There are beach clubs close by where one can sip on a cocktail or two whilst relaxing soaking up the sun and taking in the stunning vistas. Boat trips to nearby coves, bays and caves can be taken so you can experience first hand the spectacular bays and feel the sea breeze. Special cruises are available, why not try one the famous Gullet (a gullet is a wooden Mediterranean Turkish yacht) boat trips that usually last from anywhere from three days to one-week cruises. If you want something more energetic, how about trying the bays water sports? There is an array of water sports available including scuba diving; speed boat trips, water skiing, wakeboarding and mono-skiing, Jet Ski and paddle boarding to numerous inflatables are available. Literally, anything you can think of, it's a possibility. So to shopping, whatever it is you're looking for you can find it here. There are exquisite gold and diamond jewellery. If you collect fine art, then you can find original prints and artwork by local artists and by some of Turkey's top artists too, also available are glass, ceramic and woodwork for you to take some great souvenirs home.
Buying Areas and Property
Although many duplex Kalkan apartments for sale often appear on the real estate list for Kalkan property for sale, the most popular type of property for sale in Kalkan is luxury Kalkan villas. Prices range from an average of £120,000 for a two-bedroom apartment to £390,000 for a four bedroom detached villa with infinity pool. Thanks to the sloping landscape, it is easy to secure a stunning view of the Mediterranean Sea and coastline. With 2 airports to choose from to reach Kalkan, Dalaman is the closest with just a 2-hour drive away.
Areas of Kalkan
Zeytinlik is an ideal location in the heart of Kalkan. It is just ten minutes' walk downhill to the sea and 15 minutes to the marina, shops and restaurants.
Kalamar Bay is 1.5 kilometres or 5 minutes' drive from the town centre and it is popular because of its beach club, water sports and stunning views. A few restaurants, situated on the main road serves traditional and international cuisine.
Kiziltas is also known for the stunning views over the coastline and neighbouring islands. For a large variety of restaurants and bars, the centre of Kalkan is just a ten-minute walk away.
Kisla is a quiet area on the outskirts of the town, around the bay and coastline. The town centre can be reached within a 25-minute walk, along hilly roads or occasionally, a water taxi operates and heads to Kalkan harbour. This area is particularly favoured for its sunset views.
Ortalan is the furthest area from the town centre and coast. Property in this area is generally more luxurious and there is still much open land surrounding it.
Kalkan is the place to go if you want an upmarket resort offering the finer things in life. It's a haven of peace and tranquility retaining its unspoilt charm and ideal to explore Turkey from here. It's traditional Turkey at its best with spectacular panoramic views and a colourful harbour that comes alive in the evenings with an array of cosy bars and excellent restaurants and the air is filled with music.
Apartments for sale in Kalkan, Turkey
Villas for sale in Kalkan, Turkey
Property for sale in Kalkan, Turkey