Kusadasi is a popular holiday resort town on Turkey's beautiful scenic Aegean coast. It is only 80km (50 miles) from Adnan Menderes Airport in Izmir. In Turkish Kusadasi translates to "Bird Island" and is perhaps more popular for its turquoise sparkling sea. Generous sandy beaches and 300 days of sunshine per year make Kusadasi a favourite holiday destination for Turkish locals and foreigners alike. The sensational marina has a capacity for 600 boats and this famous port which is the busiest in Turkey. It's a favourite of the large cruise liners to stop over usually for a 2-day visit with thousands of tourists from all over the world wanting to visit Kusadasi and the ancient ruins of Ephesus.
Today hundreds of thousands of visitors flock each year to marvel at the sheer scale of the site at Ephesus and its historic ruins. The wonderful monuments of the Roman Imperial period include the Library of Celsus and the Great Theatre. One of the Seven Wonders of the World, The Temple of Artemis is here although little remains now of this magnificent temple which pilgrims from all over the Mediterranean would come and worship.
Since the 5th century and just 7km from Ephesus is The House of the Virgin Mary a small domed chapel it is believed that the Virgin Mary made this her home in her later life and spent her last days at this shrine. This serene and peaceful area is visited by thousands of people of all religions and at the large stone wall close to her house visitors write messages of prayers or love and tie them to the wall in the hopes their messages will come true. It is also believed that St John wrote his gospel here and the importance of Ephesus has been clarified with its award of UNESCO World Heritage Centre status.
Tourists flock to Kusadasi mainly because it's the largest city closest to Ephesus often referred to as the Gateway to Ephesus however, it has become a major player in one of the most visited tourist areas of the Aegean. It has been developed over the years but it still retains a certain charm and Kusadasi flourishes due to the cruise liners with the many shops, restaurants and bars doing a brisk trade. There is a good range of shops including souvenir shops and market stalls with leather goods, bags, purses, wallets and belts including a vast selection of watch shops.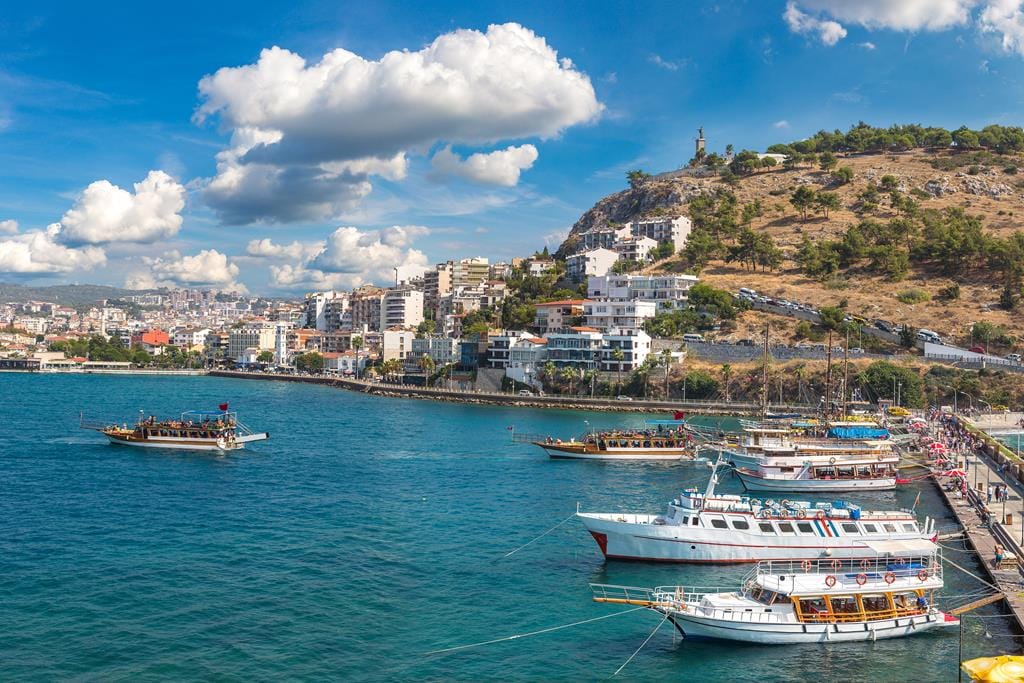 Kusadasi appeals to a wide range of people who want a holiday or buy a property abroad including families, couples, groups of friends and those who want to retire to somewhere close to the sea with super views and abundant sunshine. It's very popular, especially with British and Irish national expats. It's fair to say that Kusadasi caters for all nationalities with its wide range of international dishes served at the restaurants and a wide variety of Turkish cuisine you won't go hungry I can guarantee that. Themed nights are popular with "Turkish Nights" where you can enjoy a huge array of Mezes for dinner, this is similar to having around ten to fifteen starters and it's like having a sampler taste of a wide range of Turkish dishes in smaller amounts all eaten with fresh crusty bread or large flatbreads straight from the oven.
If you love a vibrant and varied nightlife then Kusadasi is definitely for you, it is known for its party life atmosphere with its lively bars, discos and nightclubs all found along "Bar Street" and this is where you can have the best of both worlds. Bar Street is buzzing each and every night of the season and if you want to dance yourself dizzy you can do it there until the early hours of the morning. However, if you want to find a little bar ideal for families or you just prefer a more relaxed evening out there are plenty of them too, located all over Kusadasi with panoramic views of the Aegean and mellow music playing from traditional Turkish love songs to a spot of jazz. There are a plethora of wonderful restaurants, bars and cafes all located on the seafront and if you want to get even closer there are several piers with a wide variety of superb restaurants and bars, yes they may be a tad more expensive but for the views and general ambience it is worth paying that little extra and it comes alive in the evenings with live music.
There is plenty to see and do out and about in Kusadasi with lots of places of interest nearby for you to visit for a day out. The small quiet rural village of Selcuk is a delightful little village ideal for visiting for a traditional village Turkish breakfast called Kahvalti, but make sure you're hungry! To be honest it's a feast and if you're not particularly hungry first thing then go for Brunch or lunch. The breakfast will include eggs (either fried or boiled) a selection of jams, super fresh honey, around 4 varieties of cheese, plain yoghurt, cold meats green olives, black olives, eggs and sujuk (sujuk is a dry spicy sausage and its fried in the pan with the eggs it's delicious) a selection of Borek which is a filo pastry case and they can be filled with a range of fillings from cheese, spinach, meat and spicy potato. A fresh salad, hummus, cooked aubergine, spicy dips all add to the flavour and don't be surprised if you are given a plate of small French fries usually served cold, sounds strange but they do go down a treat with the rest of the dishes. This is all served with fresh crusty bread and simit (a ring of bread covered in sesame seeds) as much as you can eat and an endless supply of Cay (tea) if you prefer coffee you only have to ask.
There is a tiny Island called Pigeon Island (Guvercin Adasi) which is connected to mainland Kusadasi by a causeway. This picturesque setting includes a beautiful flower garden which surrounds the Byzantine castle believed to have been built around the 14th or 15th century. You can stroll around the paths on the eastern side of the Island which gives uninterrupted views of Kusadasi. The island also houses a skeleton of a 14.5m whale and an exhibition of model sailing boats. The restored fortress is home to a restaurant and disco and is a magnet for couples who want the romantic experience or for those on the lookout for love.
Sun worshipers won't be disappointed with the beaches in Kusadasi although they do tend to get busy during the summer months as do most resort beaches. There is a small beach in Kusadasi itself just a short walk from where all the shops are, but most prefer to head to the main beach called "Ladies Beach" or "Ladies Sea" in Turkish it's known as Kadinlar Denizi. Don't be fooled into thinking this beach is only for females, it's a popular family beach just 2.5km from the centre of Kusadasi and easily reached by the many Dolmus (local buses) that run frequently. It's a large expanse of sandy beach with fabulous panoramic views and let's not forget the wonderful beach clubs which are dotted all along the coast of the Aegean here. The beach clubs give superb views of Kusadasi by night and by day you can lie on comfy sunbeds with a never-ending supply of drinks to keep you cool. An ice cold beer in the heat of the sun is just what the doctor ordered and as the sun begins to set its time to ask for the cocktail menu, what a super way to spend a day simply chilling.
Shoppers will love the old Bazaar area where you will find the Grand Bazaar and the Orient Bazaar both are great markets to buy trinkets and gifts to take home. Even if you don't buy anything the colours, sights and sounds of these markets is one you will never forget, however, I think most will come away with at least a box or two of fragrant authentic Turkish Delight it's truly delicious.
For a relaxed day out head to the Dilek Peninsula (National Park) it's a natural beauty spot also locally called the Milli Park. It's about 28km (17 miles) from the centre of Kusadasi and again can easily be reached by the local bus service (Dolmus). This is a scenic area for those who love to walk and during the summer months, you can swim at it's less crowded beaches. You can take a picnic or eat at one of the many restaurants along the bay, don't take a BBQ though it's forbidden to light any fires in the Park. There is another National Park you can visit called Davutlar this is a little further away 34km from the centre of Kusadasi again you can catch the Dolmus. There are four beaches and head to the north shore which is ideal for swimming. If you want thrills and excitement Kusadasi has three Water Parks and two of them are the largest in Europe. They are close to the centre of Kusadasi just a short bus ride away. One of the parks has Dolphin Shows at least a couple of times a week; it's a great day out for the children who will love the thrill of the water slides.
Do you fancy a trip to one of the Greek Islands? There are daily ferries to beautiful Samos where the famous Greek Samos wine is produced. The ferry only takes 75 minutes and you can visit the local Bazaars and marvel at the outstanding Greek architecture. You can visit the Ouzo factory, and the Monastery of Agia Triada and the Roman Baths or simply relax at the beach. Why not visit Turkey's third largest city Izmir only Istanbul and Ankara (the capital) are more populated. It's only 75 minutes away by bus but as Izmir is so large it may be wise to book an organised excursion. Izmir is a large modern city with classical ruins and an archaeology museum which will interest the history buffs. Stunning Ottoman historical houses and buildings are now home to restaurants and cafes. If you feel the need for more shopping there are countless bazaars found in the Konak area.
Hopefully, you now have the flavour of Kusadasi; it's a great holiday location and ideal if you are looking for a holiday home with plenty going on. You can either have a busy or a relaxing day the choice is yours. One thing for sure, you will never get bored and it's a great location for exploring more of Turkey's coastline such as Altinkum, Akbuk, and Bodrum along the Aegean.