If you are an investor looking for the best citizenship by investment programs, know that you have a healthy choice from around the world. Many countries offer what is commonly called a golden visa citizenship scheme. An investor purchases property in return for the same living rights as a country's citizen. The citizenship benefits include business community access, second passport, visa-free travel, and the personal freedom to work and reside.
While the theme is familiar, each country's citizenship investment program differs, so research and due diligence are essential when assessing the best option. In this article, we include information on which countries offer the best citizenship program. We also delve down further into what your new residency investment will provide for you and your family.
Best Citizenship by Investment Programs
1: Invest in Turkey: Low Entry Level
Before 2018, Turkey offered one of the world's most expensive citizenship investment schemes. The minimum entry-level was a staggering 1 million USD. So naturally, there were only a few applicants. Then government dropped the entry-level and investors flooded in from around the world to invest in citizenship. They have recently raised it again but at $400,000, it is still one of the most affordable. Many buy in a development in Istanbul, which is the hub of the housing market. The only condition is that the citizenship applicant keeps the property for three years. However, if you keep it for five years, you don't have to pay capital gains tax when selling. More about investing in Turkey.
2: Golden Opportunity in Portugal
Portugal is another country that openly welcomes foreigners to obtain citizenship and live and work there. However, it is also part of the Schengen zone and the EU meaning additional rights in Europe. The program splits down into two sectors. The first category, 65A-C, requires you to obtain 500,000 euros worth of off-plan, new build or resale real estate. The second involves a spend of 350,000 euros on real estate over 30 years or in a designated rehabilitation area. If you opt for the latter, renovation costs count towards the minimum citizenship investment entry-level. The only downside with this investment program is that any applicant won't get full citizenship with a passport until five years later. Read more here.
3: St Kitts and Nevis
St Kitts and Nevis citizenship is one of the oldest investment programs for citizenship and investors have two choices. The first is to spend $150,000 on the sustainable growth fund. The second is to purchase real estate worth $200,000 and keep it for seven years. Or buy real estate worth $400,000 and keep it for five years. Taking an average of three to six months to complete, citizenship applicants can live outside the country and get visa-free travel to 157 destinations.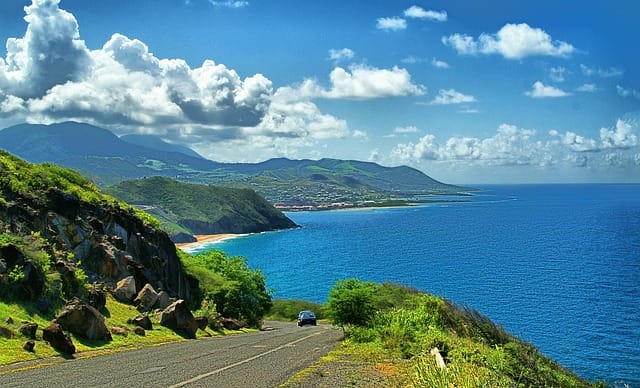 4: Citizenship Program in St Lucia
With an application processing time of three to four months, St Lucia offers numerous investment choices. Purchase property worth at least 300,000 USD in an approved investment development, and keep it for five years. Dual citizenship is allowed, and holders get visa-free travel to 146 destinations. People can also include a spouse, children under 31 and parents over 56.
5: Second Citizenship in Antigua and Barbuda
There is more than one easy way to invest in citizenship in Antigua. For real estate, the minimum entry level is 400,000 USD in a government-approved housing development. The processing time to receive your citizenship is speedy, averaging a short four-month period. However, Antigua's program differs from others in that it allows free movement to Hong Kong, Russia, the UK and the Schengen area. For the first five years, you must live there for at least 35 days. However, given those pretty islands, we are sure this won't be a headache.
6: Consider Dominica
Known for its natural hot springs and tropical rain forests, Alternative Dominica makes it even easier to enjoy by only requesting 90,000 Euros of financial investment into a home for citizenship. The second citizenship can extend to your family, and it has a processing time of roughly three months. The government first opened the good citizenship program in 1983, and since then have changed the investment rules numerous times. Applicants must know basic English, and nationalities like Russians, Pakistanis, North Koreans will face additional checks to the standard application.
7: Attractive Grenada in the Caribbean
Also, sitting in the eastern Caribbean Sea, the island of Grenada can lead the way as a unique citizenship program. It belongs to the USA treaty program, hence allowing you to do business in America. Citizens also have Visa-free travel to China and Russia; therefore, this is a suitable main option and investment for business-minded people. The requirement is a donation of 130,000 Euros or a real estate investment of 300,000 euros. So, as well as offering stunning landscape scenery, the travel benefits are worth it. Furthermore, Grenada is classed as a developing country, so there is also potential for owning real estate as a mid to long term investment.
8: An Investment Option in Malta
For residence and travel, popular Malta stands up to the high podium as one of the best global citizenship choices. Any individual receiving it will gain visa-free access to the Schengen zone and the European Union, the UK, USA, Canada, and Australia. Before applying for citizenship, one requirement is that you have 36 months of residency; therefore, you will need to spend time there. You also need to invest 738,000 euros to be eligible. However, since Malta is a stunning country with much to offer, we are sure three years in the country won't be a chore.
Note: We have not included Austria or Cyprus on the list, although they offer a citizenship investment program. Simply because the required investment amounts are staggering, Austria asks for 3 million, and the application time can take up to three years. Cyprus asks for 1 million. In addition, the citizen must own the home in Cyprus for the rest of your life, so investing is not in your favour.
Also, Read
Best European Countries to Retire To: If you want to start thinking about your retirement, this list will be helpful. We looked at many countries' economic, immigration, and government policy to determine the best place to retire. From Portugal to Spain to Greece and France, we discuss the reason each country stands out. It is also interesting that Portugal stands out for its golden visa program and as a top country to retire to. Find out why.
Our Property Portfolio: To gain an idea of investment property for sale worldwide, browse our portfolio of homes for sale in many countries. Each listing contains everything to know, including price, location, home features, and contact details to find out more or arrange a viewing.
About Us
We are Spot Blue International Property, and we sell real estate around the world to investors and people looking to move and live abroad. We hope we gave lots of information about the best citizenship by Investment Programs. However, if you have any more questions, call us today and speak with a local agent. Additionally, you will find our international real estate blog full of helpful information for investing in property worldwide.