Anyone thinking of buying real estate in Alanya, Turkey is tapping into one of the country's most popular markets. In recent years, the local council has promoted themselves near and far, and the result is a growing tourism and foreign house sales markets. Once overshadowed by nearby Antalya city centre, Alanya now stands alone, and the future has bags of potential.
Whether you want a summer holiday home, to retire to Turkey, a buy-to-let income or to make a sound real estate investment that will grow in value, its portfolio presents many choices. From one-bedroom apartments to large villas with private gardens and swimming pools, it will surprise buyers at what they can get for their cash.
As with any significant purchase though, it helps to know the market you are entering, so what do buyers need to know?
Buying Real Estate in Alanya
9 Reasons to Invest
1: Lifestyle Choices: From shopping, nightlife, dining out, and things to do, Alanya's popularity has ensured everyone will find the lifestyle they seek. The diversity makes it a cosmopolitan destination attracting many nationalities from all around the world, including Russians, Germans, Brits, Middle Eastern, and Asian buyers.
2: Multi-Languages: A big fear, people have when buying property in another country is the language barrier. However, Alanya's long-standing reputation on the tourism and foreign house sales market means locals speak a variety of languages. So, foreigners rarely encounter moments when the language barrier causes a problem.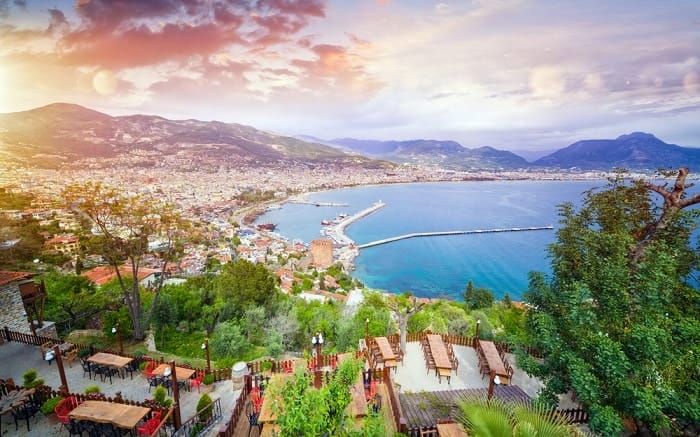 3: Year Round Accessibility: Alanya is just a two-hour drive from Antalya Airport, the top touristic air travel hub of Mediterranean Turkey. Having undergone many renovations and refits, this sophisticated airport serves millions of air travel passengers every year via flights from all around the world.
During summer, house owners also use Gazipasa Airport, 40 minutes' drive away for connecting flights to other places in Turkey. Alanya also sits on the D400 highway running from the east to west of the country and has an ultra-modern marina and seaports for those arriving by sea.
4: Cost of Living and Property Maintenance: One big lure of Turkey's real estate market is that purchasing costs are a fraction of what they are in many other countries. These savings continue to the cost of living and yearly home maintenance.
5: Attractive Entry Prices: Although Alanya does luxury houses in style, the region appeals to budget buyers and investors because of low entry price levels. Also providing much potential for capital appreciation, these prices prove attractive to first-time buyers in Turkey.
6: Choice of Neighbourhoods: Don't underestimate its size. Standing as an official district, buyers can choose from 102 designated neighbourhoods from the coastal seaside resorts to inland locations heading towards the Taurus mountain range.
7: Mediterranean Turkish Life: Turkey's southern coastline, also known as the turquoise coast, or Turkish Riviera is a scenic landscape. Combine this with a gorgeous year-round climate, healthy eating, and a laid-back attitude for a lifestyle most people dream of.
8: High Market Liquidity: The real estate market is fast moving and revolving. Every month, hundreds of houses are bought and sold. Property owners who want a market with high liquidity, should they need to convert bricks and mortar into cash will find it. The bonus is that the market is worldwide because Turks and foreign buyers alike adore the area.
9: Property Types: Such is the property market's liquidity; buyers can choose from a variety of investments. Off-plan homes often appeal to those who want to save cash or have input into the décor and design. Thanks to Turkey's development projects, key ready homes are in abundance; otherwise, to move your suitcase straight in, resale homes offer potential.
Ideal Locations for Real Estate Investment in Alanya
A hard decision is deciding where to buy because the official boundaries cover a vast land area. However, some areas prove to be more popular than others for house sales.
Bektas: This hillside area behind the city focuses on villa sales, of which most have stunning views over the coastline. It is far enough to enjoy peace but close enough to the town for more shopping and nightlife choices.
Yesilyoz: This area sitting between the centre and Gazipasa Airport boasts of a 3-kilometre beach and the best fish restaurants. There is also a regular bus service into the city.
Tosmur: With a reputation for fruit orchards, Tosmur is growing in popularity with foreign house buyers. Four kilometres from the centre, this area will suit buyers who prefer more natural surroundings than an urban landscape. The dim river sits close by, and a long beachside promenade draws in tourists from near and far.
Avsallar: Halfway between the city and Side, Avsallar is for beach lovers. The laid-back atmosphere makes it another thriving town with potential for tourism. A wealth of things to do nearby complement a decent choice of shops and restaurants.
Incekum: The gem of this area is in its name, which translates into fine sand. This long blue flag and surrounding natural beauty landscapes have paved the way to an already established tourism trade and more interest from foreign real estate investors.
Kestel: Sitting 7 kilometres from the city, Kestel is home to Dim Cave, a popular tourist attraction. Buyers looking for a peaceful location should look at buying property in Kestel.
Kargicak Village: 15 kilometres from the centre, and next to Mahmutlar, Kargicak keeps a low-key reputation on the Turkish real estate market, yet offers much potential for those who want a beachside lifestyle.
Cikcilli: Inland and on the city's outskirts, Cikcilli is a shopper's delight because of large malls hosting hundreds of visitors every day. Many lifestyle residences are in construction, making it a popular area for budget buyers.
Oba: Ranking itself as a top place to buy real estate, Oba is home to a large expat population who live there all year round. Investments by the local council, including new roads and park areas, make it an attractive area to buy.
Konakli: Konakli makes a roaring trade in tourism, and its different landscape of flat plains makes it unique from other places. It has received high praise for its preservation of green spaces.
Property in Mahmutlar
By far, the neighbourhood dominating the real estate market is Mahmutlar. Growing from a small town to a large suburb, its population of 40,000 people increases during summer because of incoming tourism and holiday homeowners.
The 4.5-kilometre beach takes partial credit for its success, but the local council did a lot in recent years. Releasing its growing popularity, they modernised the infrastructure and roads to keep its spot as the king of Alanya's property market.
Everything you could want and need is in Mahmutlar, but to step it up a notch, an excellent bus transport system takes you into the centre. Many expats to Turkey choose Mahmutlar for their retirement destination.
Alanya and the Price of Real Estate
Its large size and already established property market ensure a healthy choice of homes for all potential buyers. The market's bottom end, starting between £45,000 to £55,000 for a one-bedroom apartment concentrates in areas like Mahmutlar and Avsallar, that offer lower prices per square meter.
The top end stuns everyone with some large luxury villas fetching six figures. Areas dominating this niche are Kargicak, Yesilyoz, and Konakli. The closer a home is to the beachfront, the higher the price so areas surrounding Cleopatra's beach command higher prices.
The state of the home dictates the payment plan. Off plan properties, are staggered with interest-free credit, and discounted prices while buyers of key-ready and resale homes should have finances already in place.
Buy-to-let Investment and Legalities in Turkey
Anyone looking at a buy-to-let investment has ample choice thanks to its growing tourism trade. By choosing a good location, and with excellent marketing, it is possible to generate an income.
However, as in the cases of all income sources, the tax man wants their cut. It is worth using an accountant to handle the financial side. Turkey also has a legal system for holiday home proprietors to register the details of all people staying in their home, and failure to do so can cause fines.
How to Buy Property in Turkey
The Turkish house buying system is smooth lined and easy to complete. The first step is to find homes to view. Call us if you are already in Alanya and would like to meet with our local estate agent.
Otherwise, browse our portfolio of real estate in Alanya. Each listing includes photos, location details, price, and an enquiry form to learn more about that home. Once you've decided on your dream home, and appointed a lawyer, we guide you through the step by step buying process of which you can find in-depth details here, and answers to frequently asked questions like what documents do you need?
Also of Interest
Property Investment in Turkey: We look at factors driving foreign house sales in Turkey, including the citizenship by investment scheme, housing price indexes, and areas proving more popular with overseas real estate buyers.