When it comes to towns in Majorca, this Mediterranean delight, belonging to the Balearic Islands of Spain, is about much more than coastal resorts geared up for tourism. Although the sandy beaches are a vast lifestyle lure, quaint villages and small towns also make ideal places to retire. No matter where you choose to live in Majorca, expats can expect a life of sunshine, sailing, water sports, countryside retreats and beautiful beaches.
Add to this a promenade stroll, gorgeous sunsets, golf courses, mountainous landscapes to make the perfect picture postcard, winter sun, tranquil vineyards, and culinary delights. Explore numerous sights of interest, and choose summers to make memories. Choose a seaside beachfront town to be in the heart of the action or a secluded and laid-back place for relaxation. The world is your oyster, so let's look at the best places to go in Majorca for a new life overseas.
9 of the Best Places and Towns in Majorca
1: Sa Rapita Town
Sa Rapita, 40km from Palma, seems like a world away from the hustle and bustle of main Majorca places. Sa Rapita is not your typical tourist town but instead offers a quieter pace of life. The roads to and from the area are not the most advanced, but on arrival, everyone loves Sa Rapita. Glorious beaches with shallow water offer a safe and warm welcome, while stunning restaurants promote scenic sea-views.
While the town provides affordable new build developments, Sa Rapita has retained Majorca charm and elegance. The main road hosts traditional bars and restaurants, while lively Sunday afternoons see Majorca residents descending on the town to socialise. To end the week in style, as opposed to a whimper, set up a home in Sa Rapita.
2: Canyamel Pins: Golf and Yachting
Canyamel, one of Majorca's top places, built a reputation for scenic, sporting, and cultural diversity. Anyone keen to explore different influences and lifestyles finds this a stunning town. The beach offers gorgeous white sand in natural surroundings. The yachting community approves the setting, ensuring they set off and return with the finest views. A considerable attraction for Majorca residents is Canyamel Golf, a stunning 18-hole golf course established in 1988. With a nearby five-star hotel offering spa days and a hugely popular restaurant, home buyers enjoy a life of luxury in Canyamel Pins. Palma International Airport is an hour's drive away from Canyamel Pins for those keen to be close to the airport.
3: Cala Vinyes
Cala Vinyes may lie close to Palma Nova and Magaluf but stands tall and proud individually as an ideal place in Majorca. The exquisite beach is rarely full. If your idea of an idyllic day at the beach involves peace without worrying about others ruining your day, choose this place. The hotels are close to the beach, prompting a low-key tourist approach. This is handy for those looking for some resemblance of nightlife and convenience but don't want to feel overwhelmed with noise and people. The local hotels sell dining and drinking options, while the larger towns close-by always offer a warm and pleasant welcome. However, for a straightforward homelife without drama or noise, Cala Vinyes is an excellent town in Majorca.
4: Cala d'Or : The Foodie Place of Majorca
To live in a pretty place of Majorca, Cala D'or is an ideal town. A stylish marina in the town centre creates a perfect setting, while cobbled streets and low-rise whitewash buildings create a traditional view of Majorca, which appeals to many. The pedestrian places in Cala Gran provides all the trappings of a typical tourist town. Enjoy designer boutiques for a more exclusive shopping experience. At night, the entertainment in Cala d'Or is present but low-key. To socialise and converse with friends, this place appeals.
One thing that stands Cala d'Or apart from other smaller towns in Majorca is delicious food. Tuck into fresh seafood and the best Spanish cuisine, but also a fantastic selection of international cuisine. Whether you prefer pizza, pub grub or fast food, tuck into all of it here. While some aspects are typical of tourist places, there are no built-up apartments in the town. You are, therefore, less likely to feel claustrophobic.
Enjoy shopping at local markets within easy reach of Cala d'Or. Felanitx market operates on Sunday while on Wednesday and Saturday, the Santanyi market is a fantastic option. Visit the Inca market on Saturday mornings. Cala d'Or is perfect for people looking for a stylish and sophisticated place to live. The region offers a chance to unwind and is ideal for families looking to spend quality time with each other.
5: Puerto Pollensa: An Inspirational Town
Puerto Pollensa's status as a small fishing village changed when Majorca locals flocked there as the ideal summer retreat destination. Building luxury villas, the reputation developed as affluent members of society and artisans flocked for inspiration and the more delicate side of life. Even Agatha Christie penned one of her novels here. By the time international tourism became the new norm for the Middle class, Puerto Pollensa had attracted a large fanbase of British holidaymakers and expats in later years.
Many says, if beauty and stunning landscape scenery are what you want, Purto Pollensa fits the bill. While the popularity grew over the years, the local council kept true to their traditions, roots and culture, and the town has avoided looking like a concrete jungle, a fate that happened to other places. Winter times are decidedly low-key, but if an exclusive town with pretty scenery beckons, put Puerto Pollensa on your list.
6: Traditional Deia: Luxury in Majorca
For places to stay, everyone says visit Deia, that charms with traditional stone houses. Set inland, its popularity makes it a highly sought-after location, and in turn, this pushes prices up, but worth it for picturesque settings. Given the pricing market, rich celebrities, and affluent business people, including Richard Branson, flock here.
Otherwise, join hordes of daily tourists who flock to find out what all the hype is about. Likewise, if you are an artisan looking for inspiration, you will find an abundance in Deia. Another famous resident, poet Robert Graves is honoured with the local museum named after him. Nightlife is decidedly low-key, but residents have a good selection of restaurants serving up traditional Majorca cuisine, and of course, seafood delights.
7: Alcudia: One of the Best Towns
Alcudia town, a residential area, thrives on Majorca's tourism scene. The 10-kilometre beachfront location offers stunning bays, coves, and beaches, while after dark, it turns into a family-friendly nightlife scene. Well known for its old town part, it sits on the east coast but still offers a typical Mediterranean climate. The small town promotes a family ambience and diversity from the cultural attractions to eating out and is known as one of the best places in Spain.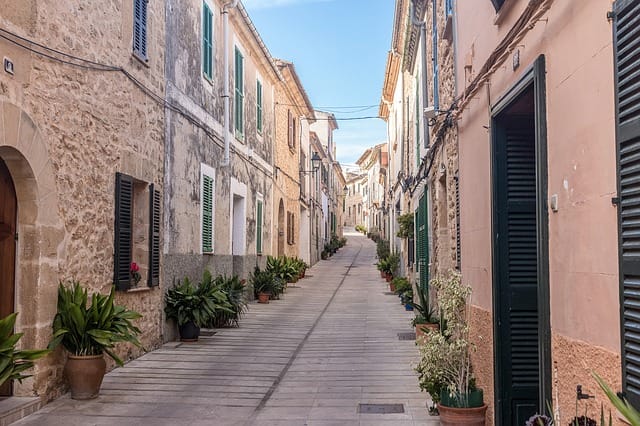 Naturally, given its seaside location, nautical sports like sailing and scuba diving are popular, albeit stopping for times during winters when the crowd's retreat. Every Tuesday and Sunday, the famous open-air market is the social highlight, but 15 minutes drive away, golfing fans will enjoy Alcanda, one of Europe's best courses. Otherwise, there is plenty to do inland, including mountain biking and trekking routes. Alcudia is an all-rounder.
8: Portals Nous: Cosmopolitan Vibes in Majorca
Portals nous, a coastline town sitting just 12 kilometres from Palma, the capital, offers the perfect Mediterranean-sea ambience. More cosmopolitan than traditional, both holidaymakers and expats living here enjoy the laid-back feel. Cala Portals Nous, the main sandy beach, also connects to the main marina, making this town a sailing hub of excellence. Although tourism thrives here, expats keep a society vibe throughout the year, and settling in is quickly done.
The town isn't even 100 years, but considerable investment has turned it into a desirable place to live. Although the town's central theme is days at the beach, residents also enjoy a healthy choice of restaurants and shopping delights. Families looking for somewhere to live would do well to choose Portals Nous since it offers Majorca's most extensive international private school.
9: Santa Ponsa: A Lively Tourist Town
On Majorca's south-west coast, Santa Ponsa sits just 20 kilometres from Palma and every year hosts a steady stream of British and Irish tourists, some of whom own property in the area. As to be expected from a place popular with tourist, the main beach becomes the focal point during the day, and at night, even though it offers a lively ambience, there is still family-friendly entertainment. Although summers are when the crowds flock, Santa Ponsa dials down a notch during winter to accommodate those who want a slower pace of life from towns in Majorca.
About Us
We are Spot Blue International, and our portfolio of properties for sale in Majorca includes apartments and villas dotted around the island. Each listing contains everything to know, including price, town location, and home features like terrace, sea-view, balcony, bedrooms, bathrooms, or swimming pool. Also listed are contact details to find out more via email or arrange a viewing. Whether you want a holiday home, traditional Spanish villa, country-house, luxury villa, or are looking at an apartment for sale, contact us to find out more about other towns in Majorca and the best places to live.