Whether you are planning a holiday, want to buy a property, or your interest is just out of curiosity, learning about the regions of Spain is an exciting journey into a diverse and famous country. Each autonomous community shines through with individuality and collectively, their interesting quirks and facts promote Spain to an international audience.
While some are more heard of than others, do not neglect the lesser famous regions because they too offer something unique. The 17 regions break down further into official provinces, and in this article, we look at why foreigners love each one and what they offer house buyers and holidaymakers.
17 Regions of Spain: Autonomous Communities from North to South
1: Andalusia: The Southern Autonomous Community
Spelt Andalucia in Spanish, this southern region is probably the most famous because of enormous cities, stone white village houses, beachside resorts, and fantastic weather climate. Seville, the capital, holds some of Spain's most popular tourist attractions and an interesting cultural heritage that has absorbed many worldly influences over the centuries.
Andalusia embodies a traditional theme as seen in flamenco dances and controversial bullfighting arenas. Brits love the Costa Del Sol part, especially Malaga, boosting of sandy beaches and an ambience that feels like home. Some popular places where tourists and expats flock to are Nerja, Marbella and Fuengirola. Other regions to consider within Andalucía include Costa Del La Luz, Costa Tropical, and Costa Almeria. Aside from relaxation, Andalucía is also one of Spain's most notorious golfing destinations.
2: Valencia: Continuing Spain's Costa Theme
Swinging around to Spain's southeast coast, the stretch of Costas continues with gorgeous Costa Blanca, home to popular places for ex-pats living in Spain like Alicante, Javea and Benidorm. Also encompassing Spain's third-largest city with the same name, visitors can expect diversity in abundance, but a must try is the local paella. Invented in Valencia, it is the original version, and about as tasty as you will get. Whether you want sandy beaches, historical sights, gastronomy delights, arts and culture or fashion, Valencia delivers it all with style and finesse. Like its counterpart, Andalusia, Valencia ideal year-round climates makes it a popular destination for winter tourism and expats living in Spain all year round.
3: Catalonia: Home to Barcelona
Catalonia's crown jewel is multicultural Barcelona, Spain's most visited city that draws in people from all around the world. Its diversity of tourism includes cruising, beach holidays and short city breaks and it boasts of the Costa Brava, covering a large stretch of the north-eastern coastline. Catalonia is known all over the world because of its independence ambition and recognised as a separate country, hence steer away from conflicting discussions of politics. Instead enjoy the local traditions, and food, which keeps people coming back year after year.
4: Balearic Islands: Eastern Spain
Sitting in the famed Mediterranean Sea, the Balearic Islands garner fame because of holiday and oversea property hotspots like Ibiza, Menorca, and Mallorca. While Ibiza's reputation revolves around no stop partying, Menorca opts for a more quiet, slow-paced lifestyle. Lesser heard Formenta should not be overlooked either. The complete collection of islands highlight diversity in abundance, and, like islands, beaches are gigantic business, as is seafood cuisine that shines through in time-honoured local dishes. All islands offer everything you want from the coastal lifestyle to traditional harbour points to inland sites of natural beauty. (More about the Balearic Islands.)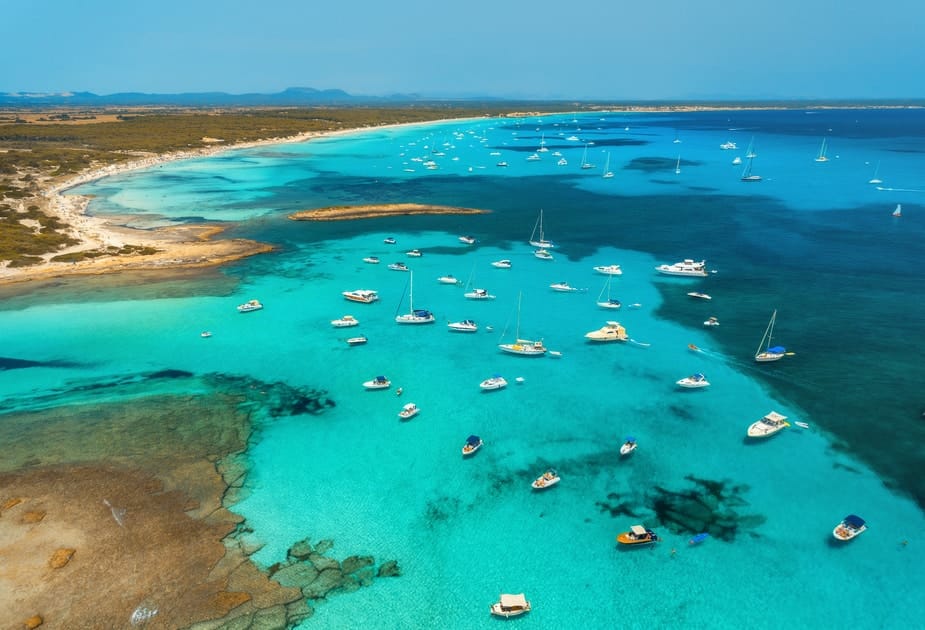 5: Canary Islands
Staying on the island theme but swinging around to the Atlantic Ocean, the collection of Canary Islands includes the hotspots of Lanzarote, La Plama, Tenerife, Fuerteventura, La Gomera, El Hirro, and Gran Caria. Their geographical position makes them the perfect spot for year-round sunshine and a popular winter getaway. Each island offers something special. For example, the most popular tourist attraction in Tenerife is Mount Teide, while Fuerteventura is a windsurfing hotspot thanks to strong Atlantic winds. Once again, expect a diversity of landscapes because the islands, alongside beautiful beaches, are incredibly scenic when heading inland.
6: Galicia: The Green Region
This region doesn't attract as many tourists as the above mentioned, yet don't underestimate what it offers. Once again, seafood is an integral part of its local cuisine, and it offers some decent Spanish wine varieties. Of course, it earns it nickname Green Galicia from its scenic landscape, boosted by its geographical weather climate. Sitting on the north-west coast, temperatures are lower than its counterparts in eastern and southern Spain yet, for many people, this is a welcome relief and ideal conditions for outdoor explorers.
7: Basque Country
This is when understanding Spain's autonomous communities can get a little confusing. The Basque country, sitting on the border with France, has its own language and is fiercely independent. Hence, expect a unique culture, and tradition from the mainstream Spanish stereotype. its most prominent city is San Sebastian, boasting of an excellent gastronomy scene in Spain. Make a mental note to enjoy pincos served in local bars. Bilbao also offers the esteemed Guggenheim museum.
8: Madrid City and Province
Ah, who hasn't heard of Madrid. Sitting in central Spain, it is where everything and anything happens, including politics, tourism trade, economy, industry, and education. As Spain's busiest city, visitors tap into a variety of lifestyle choices from vibrant, after dark dining and partying to shopping, fashion, and an international cultural scene. Madrid, a popular choice for many working ex-pats who move there, also has good transport networks to the rest of Spain and an impressive airport, making it an ideal first stop for road trippers and backpackers. As well as being the city's name, Madrid refers to the large province and getting to know it all would take a lifetime.
9: Asturias: Northern Spain
Expect lower temperatures in Asturias because this delightful region sits on the northern coast. The bonus is wonderful scenic landscapes that are a delight to explore, and the selective, Costa Verde that in recent years is rising in popularity among discerning holidaymakers and overseas property buyers. Naturally, given it shines of Mother Nature's power, it attracts all outdoor lovers, who mainly flock to the nationally protected park yet don't underestimate the sandy beaches of Costa Verde either.
10: Cantabria: Northern Coast
Once you arrive in Cantabria, drop your bags and head to a restaurant for the sumptuous local dish of deep-fried squid, alongside other seafood delights. Cantabria's other claim to fame is that Santander in the Bay of Biscay that attracts the royal family during summer. For us normal members of society, Santander, is a major ferry port, hence getting around to other places is easy. While in Cantabria, see the amazing Altamira cave painting. An abundance of nature parks makes this a great outdoor region.
11: Murcia: South-Eastern Spain
As another region where the name refers to the city and larger province, Murcia has two major claims to fame. The first is the impressive Baroque and Gothic architecture like the city's impressive cathedral called Plaza Cardenal Belluga. The second is gorgeous beaches in places like Costa Calida. Rising in popularity with holidaymakers, it is gaining traction on the overseas property market as more international buyers flock to find out what the hype is all about. The most popular community for foreigners who live there is Mar Menor, who enjoy great golfing, outdoor activities, and perfect temperatures to enjoy the beachside lifestyle.
12: Navarre
With this autonomous community, don't think so much about the beaches but more of remote inland villages screaming of authentic traditions and culture. Controversy surrounds it because of the annual bull-running tradition, that is part of the Sanfermines festival. Aside from that, being an inland region, it attracts people who love the great outdoors and rambling over the green hills and mountains. Unlike other places in Spain, mainstream tourism is not an enormous factor in Navarree, and locals rely on more traditional farming methods for sources of income.
13: La Rioja: Culture and Wine
The Spanish love for wine is notorious, and no region encourages it more than La Rioja and its hundreds of top-class wineries. Local agencies offer tours around the most prominent, otherwise other ways to get around them all include a 4 x 4. When you are not indulging in wine tasting sessions, explore Harro old town, walk the Saint James pilgrim route, and the esteemed World Heritage sites of Yuso monasteries, San Millan de la Cogolla, and the cathedral of Santo Domingo.
14: Landlocked Aragon
Sitting inland, Aragon's fame is limited compared to other places in Spain because it does not have those gorgeous sandy beaches, yet independent, curious travellers will be intrigued by what it has to offer. Bordering Spain and as part of the Pyrenees, this includes several ski resorts. The hotspot to stay and explore here is the capital city, Zaragoza, which screams of history.
15: Castile and Leon: Spain's Largest Region
As another inland region, the focus of Castile and Leon surrounds history and culture. Sitting in north-western Spain, it is a high plateau region, hosting many World Heritages sites. Salamanca, boasting of old churches, and a centuries-old university, is also home to Baroque Plaza Mayor. While many people also flock to Segovia's Roman aqueduct, and the 11th century Avila castle.
16: Castilla La Mancha
As one of Spain's largest regions, you would expect an enormous population, yet Castilla La Mancha has vast open landscapes, and stunning Toledo, a place to explore Jewish, Muslim, and Christian heritage. In case, the name ring rings a bell, think delicious Manchego cheese which is a regional speciality, when paired with wine. Castilla La Mancha sits close to Madrid, and together they evoke a well-rounded sense of Spanish culture and traditions.
17: Extremadura: Western Spain
Last on our list of regions of Spain, Extremadura that sits on the border with Portugal holds major cities like Caceres, whose reputation for stunning beauty is known all over Spain. Roman remains make Merida popular, while the Badajoz Castle is the major tourist attraction there. Rather than thinking urban landscapes, Extremadura stays true to its roots with many landscape plains, and one claim to fame is the pig used to make the delicious Spanish ham.
Also, Read
Things Spain is Famous For: Although Spain is diverse, some common themes run throughout the entire country and in this article, we explore them, give hints, tips, and advice on social faux pas, and must-dos.
Living in Spain: Alongside a thriving tourism industry, many foreigners move to Spain for the sun, beaches, Spanish food like tapas, and those cultural quirks. We have also looked at reasons people choose Spain and tips on making a smooth move.