Whether you plan to just travel, or buy property and live here, the seven geographical regions of Turkey are a perfect introduction to the country's diversity. The world stereotypes the country, yet it cannot be labelled, nor packaged into a tidy cliché, and for good reasons. A quick look at its geographical facts explains why.
Turkey covers more than 783,000 square kilometres
Due to its enormous size, the Koppen climate classification systems says 8 different climate zones are happening at any one time.
It borders eight countries including Iran, Iraq, Syria, Azerbaijan, Armenian, Georgia, Greece and Bulgaria.
The staggering 5000 miles of coastline sit next to the Aegean, Mediterranean, Black and Marmara seas
95% of Turkey sits on the western Asian continent, while 5% is in southeast Europe.
In 1941, the government classified the seven regions and the 81 provinces that they break down into. It wasn't a case of just sticking pins in maps though, because much discussion went into the topography, population, climate zones, agricultural trade of each area.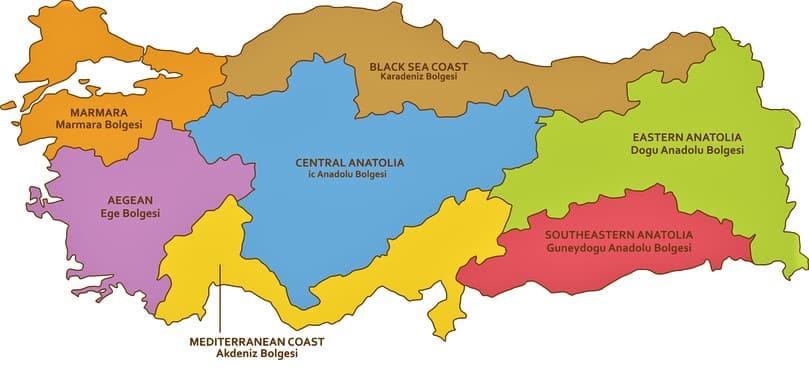 Four regions cover coastal areas, and three are inner Anatolian. To understand Turkey, each region is worth visiting, but if you lack time or money, our brief guide below explores typical characteristics, traditions, history, culture, and looks at the tourism and foreign property market for each area.
Seven Regions of Turkey from East to West
1: Marmara Region
Sitting in north-west Turkey, the Marmara region includes Istanbul, the country's largest, most populated and busiest city. Neighboured by the Aegean region to the south, black sea to the east and bordered by Greece and Bulgaria, residents also enjoy the gorgeous Aegean and Marmara seas.
Istanbul is the hub of real estate, business, education, economy and tourism, but in recent years, the Bursa province on the outskirts has gained popularity. As the Ottoman empire's former capital and ruling centre before they conquered Constantinople, it's home to their ancient buildings and landmarks. Uludag mountain, a popular skiing destination in winter also gains fame as a jet-setting hub. The low price of property in Bursa has attracted many foreigners to invest in real estate, apartments.
Despite being home to Turkey's most populated city, don't assume the Marmara region is all about an urban lifestyle because the Bolu Province promotes natural living and Mother Nature. This scenic area with blue lakes and green landscapes is a favourite weekend getaway destination for Turks living in big cities like Istanbul and Ankara.
The other notable area on the outskirts is the Gallipoli peninsula, home of World War One's most crucial battle when the Ottoman army fought off invading allies. In nearby Canakkale, excavations also uncovered foundations of Troy, an ancient city, thought to be just a Greek mythological myth. In 1998, UNESCO added it to their World Heritage list.
2: Aegean Region
With the longest coastline, this region garners its name from the Aegean Sea. Three central provinces; Aydin, Izmir and Mugla stand out as strong performers for travellers and expats living and buying property in Turkey.
Notable districts include Kusadasi that does a roaring trade from cruise ship liners docking in to see the nearby ancient ruins of Ephesus city, another UNESCO World Heritage Site and top visited attraction.While, every day, hundreds of tourists also descend on Inland Denizli to see its natural landmark of Pamukkale, also called the cotton castle travertine pools.
Didim, a small resort is home to the ancient Apollo temple and nicknamed little Britain because a large British expat population live there all year round. Izmir; often labelled as the pearl of the Aegean is Turkey's third largest city, a significant export/import industry hub, and centre of medical and university excellence.
Lastly, the Bodrum peninsula, a pioneer of the Turkish Riviera, is a hub of creative inspiration for artisans and also a thriving part of Turkey's tourism industry. Favoured by foreigners, and Turks, the peninsula includes smaller resorts like Gumusluk, Turgutreis and Yalikavak, that shot to international fame when they constructed the large ultramodern mega yacht marina.
Also read….
3: Mediterranean Region
Covering the entire southern coast, the Mediterranean region is Turkey's success story. Excelling in all areas of life, it makes a roaring trade in tourism, foreign real estate, education, and general business.
Backed by the Taurus mountain range, during summer, locals and holidaymakers flock to coastal regions to bask on sandy beaches fronted by the gorgeous blue Mediterranean Sea. The mass amounts of things to do in Antalya, make it a hotspot, alongside smaller, well-performing districts like Kemer, Belek, Side and Alanya, the fastest growing tourism hub in Turkey.
Further west, Fethiye that includes the city centre, and smaller resorts like Oludeniz, Calis, Ovacik and Hisaronu has also become an expat hub favoured by Brits. Marmaris, sitting on the edge with the Aegean province is another crucial tourism and property destination.
The Mediterranean coast also includes the Lycian way, a 516-kilometre trekking path exploring the Lycian Kingdom's historical cities and ancient ruins. Let's not forget the Riviera, of which this stretch is known as the Turquoise coast because of the blue sea, sandy beaches, and many inlets and islands.
Attracted by the laid-back lifestyle, gorgeous weather and low property prices, thousands of foreigners of various nationalities have bought property here, therefore securing its crown as a multicultural destination.
Also read….

4: Black Sea
Covering the entire north coast, the Black Sea region is Turkey's rising star. For decades, while the south and west of the country developed thriving tourism and real estate industries, the Black Sea stayed off the grid. However, in recent years, Middle Eastern nationalities who find great cultural similarities, and undying interest in gorgeous landscapes have travelled there.
The North-East provinces are enjoying celebrity-like fame including Trabzon, the focus of many Kuwaitis, Iraqis and other nationalities who want to buy property there. The benefit of a coastal life for a small property investment is hard to resist while the scenic landscapes of places like Ayder plateau and Uzungol boost the tourism trade.
The green landscape mountains, flowing waterfalls and ancient Sumela Monastery makes this a unique destination. Other notable areas include Rize, the tea capital, and further west, Amasya, a UNESCO World Heritage Site because of its Pontic tombs and old Ottoman houses.
5: Central Anatolian
In the heart of the country, the central Anatolian region has many attributes to boast about. First, the government reigns supreme from Ankara, the capital. Secondly many Turks highly respect the Anitkabir, holding the tomb of Mustafa Kemal Ataturk who founded the Republic.
Three hours away, Kayseri city is a major business hub, while sitting west, Konya city oozes spiritual ambience as the home of Rumi, one of history's most celebrated poets. However, it is the Cappadocia region that garners all the fame as a top three touristic destination of Turkey.
The surreal fairy chimney landscape, Christian history, ancient underground cities and diverse flora and fauna attracts hundreds of thousands of visitors every year. During the year, hot-air balloons rising above the Cappadocia plains, early in the morning, are a photographic sight worthy of gracing the pages of the National Geographic.
The unique wind stream makes it the perfect location for balloon rides while its distinct landscape also attracts trekkers. Although foreigners buy property in Cappadocia, prices of homes in Goreme, a central district, are higher because many are under protection status.
6: Eastern Anatolian
Consisting of most of eastern Turkey, this region isn't popular on the mainstream foreign travel industry, yet over the last decade, Turks have taken a more substantial interest in exploring the flat plains bordering Iraq, Iran, Azerbaijan, Armenian and Georgia.
Notable provinces include Erzurum, a university hub and Kars, a city with distinct Russian architecture in its old quarter and home to Ani, the city of 1001 churches. The Van province has two claims to fame; it produces Turkey's best version of breakfast, and its lake is the largest in the country.
Eastern Anatolian makes up of 18% of Turkey's land mass, and has a population of 6,500,000 yet most of this is rural rather than urban settlement. The different climate occurs because of its high altitude, so winters are longer and colder, while a distinct lack of coastline makes beach tourism an impossibility. However, the region's strong culture, history and food traditions, still make it an exciting area to explore.
7: Southern Anatolian Region
Covering just over 59,000 square kilometres, in history, the southern Anatolian region sat on the edge of Mesopotamia, of which some say was the birthplace of civilisations. These days, it encompasses the provinces of Diyarbakir, Mardin, Sanliurfa and Gaziantep, among some other smaller ones.
They have a remarkable history, rich cultural background and fantastic cuisines, that worldly travellers would find interesting. However, while tourism to the area was increasing around 2013, it shares a border with Syrian, hence these days, tourists do not go there, and foreign governments have labelled it as unsafe for travel.
Two other notable provinces include Batman, for its name and the ancient city of Hasankeyf which will be submerged when a new dam is built.
The south-eastern region's hotter summer climate leads it to produce different agricultural exports, but they excel at what they do. Gaziantep grows the best quality pistachios nuts, and the reputation of bakers from the region is that they make the best baklava.
Sanliurfa is home of Ibrahim (Abraham), a prophet of Islam, while the old centre of Mardin displays extraordinary ancient architecture. The famous beehive houses sit in Harran, and other attractions to see include Gobeklitepe, the oldest human settlement ever found, and the statue heads of Mount Nemrut.
Further Reading
Together the seven regions of Turkey make up an extraordinary country that foreigners adore. Many people after travelling here, have settled and bought property in the country, so they can learn more about the diversity, colourful history, and cultural backgrounds.
Best Beaches of Turkey: Every year, Trip Advisor lists their favourite beaches as reviewed by visitors. Many of Turkey's 700+ beaches, are Blue Flag appointed, explaining why it is a top beach holiday destination of the world.
Guide to Visiting Turkey in Winter: The official summer travel season is when Turkey comes alive, yet the country is investing to make itself a year-round tourism destination. Find out what to do and where to go from November to April.
Favourite Turkish Coastal Resorts: When the tourism season kicks into action, Aegean and Mediterranean coastal resorts become hives of activity, but which are more popular than others and why?
Provinces of Turkey