To answer the question of should I buy a holiday home in Turkey, our answer is always going to be yes. Of course, you might accuse us of biases, which is natural considering we are an estate agent. But we can also point to any of the holiday and touristic resorts to show thousands of foreigners who have purchased a home there. Some bought initially for holidays and eventually moved out to live in Turkey because the lure was great.
Every year, foreigners purchase roughly between 40,000 to 50,000 houses in Turkey. Given that on an average year, when COVID was not about, Turkey was one of the top ten holiday destinations in the world, it now ranks alongside places like Spain and Greece. If that does not prove the attraction alone, let's look at more reasons why Turkey is an excellent place to buy a holiday home.
Why You Should Buy a Holiday Home in Turkey
1: Ideal Holiday Weather
So, anyone on holiday wants to be active, not stuck indoors. They want beaches, and poolside, and al fresco dining. Although Turkey has several different weather climates, the Aegean and Mediterranean coasts provide the perfect setting to do this for 300 days of the year. February and March are the rainy months, but temperatures start to heat up before peaking 40 degrees in August. In fact, in some places like Antalya, people even swim in the sea on Christmas day.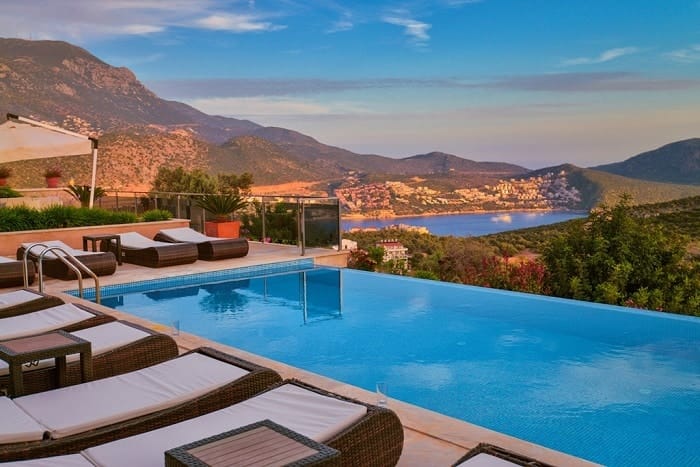 2: Property Prices in Turkey
There is absolutely no way you can get property in Spain for the same price as in Turkey. This is one of the biggest lures because people do not have to refinance to become a homeowner. Some areas like Altinkum or Alanya stand up to the podium as bargain districts. In contrast, others like Kalkan and Yalikavak on the Bodrum coast are known for their large, luxury villas. In some areas, mass development has taken place so you can buy a new build home and be the first to put your keys in the door. See the range of property for sale in Turkey here, and contact us if you want more details about any home.
3: Running and Home Maintenance Costs
So, once you have purchased your property, you still need to pay bills and carry out maintenance. This is where Turkey delivers with low household bills. Water is not even £5 per month, and there is no TV licence to pay. Our yearly council tax is just 100 lira a year, which at today's rate works out to be less than £10—nothing like the amount that UK residents must pay. Many homeowners employ a cleaner to go through the house before they arrive for their holiday because they charge reasonable prices and do an excellent job. Owning a second home in Turkey does not have to break the bank.
4: Nightlife While on Holiday
Most people on holiday enjoy the beach or pool during the day and then want to head out at night for a hearty, delicious meal. This is where all tourist resorts deliver their version of what should happen after dark. For example, Antalya city centre has a pulsating nightlife scene that carries on well into the early morning while places like Yalikavak on the Bodrum peninsula focuses on sit dine dining, with fine food and good conversation. If you are a family, choose one of the kid-friendly resorts that are home to sit down bars hosting entertainment. You will find a tourist town to suit your version of night-time.
5: Airports and Transfers
We can all agree that when arriving for a holiday, we want good airports and short transfer times. Turkey's holiday towns are all serviced by Antalya, Dalaman and Bodrum international airports that count themselves as award-winning air travel hubs. From there, you have short transfer times to most tourist towns. Additionally, Turkey has invested billions into upgrading their sea ports, marinas, and roads if you plan to arrive by road or sea. So, for sure, your holiday in Turkey will never be hampered by an inadequate transport network.
6: Things to Do and Places to Go
So, when on holiday, you might be a person who likes to explore, and this is where Turkey delivers with oodles to do. Let's start with the obscene number of historical places. It would take a lifetime to explore them all because Turkey's varied and colourful history includes many civilizations. Maybe you like places of natural beauty, in which case, the Fethiye region delivers with sites like Saklikent Gorge, Butterfly Valley, and the Blue Lagoon. Pursue a passion for photography, indulge in adventure sports, or visit small towns and villages; regardless, you will never be bored.
7: Ideal Investment
Experts say one of the best investments you can make is bricks and mortar, and owning a holiday home in Turkey diversifies your portfolio. Many areas present ideal potential for capital growth with low property prices if you keep the property for roughly 5 to 10 years. Some homeowners also let their holiday home out when they are not using it. This can provide an additional source of income, but do remember there are rules and regulations to follow.
8: Large Choice of Places in Turkey
The holiday home property market centres itself around the Aegean and Mediterranean coasts. This is where all the top touristic towns are, and homebuyers have hundreds of cities and villages to choose from. Starting at the Aegean coast, the Bodrum peninsula includes premier destinations like Turkbuku and Torba, while Gumbet and Turgutreis receive praise for their bargain prices.
Then, heading around to the Mediterranean, the Fethiye region includes Calis beach, the town centre, Hisaronu and Ovacik, and mountainous Uzumlu. It is a favourite destination for many British holiday home buyers. Further along, we reach the Antalya region, which breaks down into smaller coastal resorts like golfing Belek, beachy Kemer, historical Side and the city centre. Find out more about the best places here.
9: Easy Buying Process for Homes
Of course, making the decision to buy holiday property in Turkey, and going through with it, is two different things. We understand that many foreign house buyers get nervous about the process, but this is normal. The good news is the home buying process is easier and quicker than in many other countries. There are also many ways to protect your investment and make it safe. In this article, we outline the home buying process.
10: Turkish Lifestyle, Culture and Traditions
One of the biggest lures is the lifestyle, culture, and traditions in Turkey. Good old-fashioned manners and welcoming hospitality make everyone feel at home while on their first holiday. This is what keeps foreigners coming back year after year. Twin this with the laidback lifestyle of beachfront locations, and it is easy to understand why many foreigners own holiday homes in Turkey.
About Us: We are Spot Blue international real estate agent, and we sell property in many touristic towns and villages of Turkey. We hope we proved to you why you should buy a holiday home in Turkey, but if you have any further questions, call today and speak with an agent. Additionally, follow us on Facebook to stay up to date with international property news and developments.