Expats of all nationalities who seek a dream life in the sun often end up living in towns on the Bodrum peninsula of Turkey. The lure is not hard to explain, and anyone who has visited the region will testify about the laidback, cosmopolitan lifestyle that the Bodrum peninsula wholeheartedly indulges in.
Many call it hedonistic, a reflection of local's pursuit of self-indulgent pleasure and for decades, Bodrum has been home to sailors, authors, musicians, artisan and artists. Indeed, if you want to pursue a life worth living, the Bodrum peninsula will accommodate your every whim and offer so much more.
But which towns are more popular than others and for expats seeking a secluded life, are there any small, discreet and secluded villages?
Villages and Towns on the Bodrum Peninsula
1: Yalikavak: The Star Performer
For many decades, Bodrum town centre kept the title as king of the peninsula, but around 2010, Yalikavak slowly kicked into action and is now the most talked about town. The crucial turning point in its success was the construction of Palmarina, an ultramodern marina with stellar ability to hold mega yachts.
This boosted its Turkish Riviera reputation and attracted the eyes of wealthy, international yacht owners. The marina had a knock-on effect on other industries as constructors built more luxurious homes to accommodate the new guys in town.
Despite Yalikavak's international fame, the old part of town still lives on and old and new have pleasantly blended together to become a hip place to hang out. Prices of property start roughly at £120,000 and go right up to your millionaire villas that epitomise luxurious living.
2: Gumusluk: Quaint and Traditional
To be cliché, Gumusluk really is a destination that time forgot. Some travel books call it off the beaten track, but for locals and expats, the low-key summer vibes are the perfect remedy for stress and a welcome break from modern day hustle and bustle.
Its seaside restaurants specialising in fresh fish, and seafood dishes have earned it a stellar reputation as the ideal al fresco dining destination, but certain restaurants are more popular with locals than others.
High in the hills above Gumusluk, the Limon bohemian café's remote location mean passing trade is hardly seen, but word of mouth advertising has made it a roaring success. Prices of property in Gumusluk are higher per square meter because there is a lack of land available for building as well as supply, but if you have the budget and want a quiet, secluded location, Gumusluk is for you.
3: Turgutreis: Beautiful Sunsets
Sitting on the western part of the Bodrum peninsula, Turgutreis is the second largest town and perfect for expats who want to be in the heart of the action. For many decades, British holidaymakers have descended on the resort that has earned an honourable reputation for its seafront locations that give front row seats to a marvellous sunset.
For flexibility and convenience, it ticks all the boxes with a wide range of shops, two weekly markets, a long beach and cheap, easy transport network to the rest of the peninsula. While it doesn't have an upmarket ambience like its neighbour Yalikavak, it is a hub with everything and anything on your doorstep.
4: Gundogan: Traditionally Turkish
Gundogan is a place rarely talked about by foreign expats, yet for many decades Turks from around the country have chosen it for their summer residential and retirement homes. While places like Yalikavak and Bodrum town centre have embraced a cosmopolitan, multi-cultural atmosphere, Gundogan has kept its traditional Turkish outlook.
Given its small size, the property portfolio is not as extensive as in surrounding coastal resorts, yet it offers all the benefits of seaside living, just on a smaller scale.
5: Gokcebel: The Doorstep of Yalikavak
Over the last ten years, increasingly more eyes have turned towards Gokcebel, sitting on the doorstep of Yalikavak. The advantage is that a short bus ride takes you into Yalikavak for everything you might need, but Gokcebel offers secluded living.
The town has separated into two parts, the old section boosting of many traditional stone-built villas and the new that focuses on new, modern builds. Unspoilt by tourism, houses in the top part of Gokcebel offer fantastic sea views and surrounding green hills that are perfect for nature lovers and hikers.
6: Bodrum Town Centre
Although Yalikavak has overtaken the town centre, as the place to hang it, it still deserves a mention, because out of all the towns on the Bodrum peninsula, it will always be the hub, as well as heart and soul.
Its central bus station connects the peninsula, to the rest of Turkey and the airport with many international flight schedules is just 40 minutes away. Restaurants excel in international cuisine, and sailing experts, and famous celebrities like Kate Moss often choose the town centre for its year-round ambience.
Naturally, because it has always been the heart and soul of the peninsula, property prices are higher, but it still offers an extensive portfolio that accommodates both luxury and budget buyers.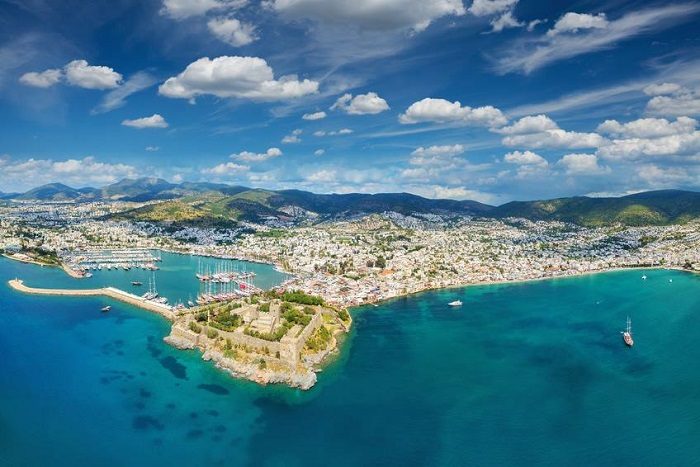 You Might Also Like to Read….