Cosmopolitan Bodrum in Turkey sits on the west coast and is a thriving destination for both holidaymakers and ex-pats looking to move and live abroad permanently. Having long promoted a hedonistic lifestyle, it attracts all levels of society from budget backpackers to world-renowned millionaires. Known for windmills, and whitewashed houses dotted over the hillside, the name refers to the town centre and the peninsula which is what we will talk about in this article.
Bodrum's diversity ranges from luxury sauna resort and spa centres to delicious Turkish cuisine, and of course, that famous carefree lifestyle which makes it a top holiday destination for any visit to Turkey. Getting here is easy via Bodrum International airport with its many flights to and from other countries. The bus terminal offers cheap tickets to different destinations around Turkey, and if coming in by sea, Bodrum is an official sea entry port. So, as one of the major cities in Turkey, and a famous peninsula for vacations, what is there to know when visiting?
About Bodrum in Turkey
1: Reasons to Visit
Easy access via nearby Miles Airport
Active shopping and nightlife scenes
Sandy beaches, beach club and marina lifestyle
Impressive transport network to the rest of Turkey
Unique architectural styles
Wide choice of places to stay
Accommodates everyone from budget to deluxe
Wide range of things to do
Varied bars and restaurants
2: About Bodrum Castle
The number one sightseeing attraction, Bodrum Fortress, has an exciting story to tell. Sitting near the harbour overlooking the Aegean Sea, and built by the knights of St John in the 15th-century, it came under Ottoman possession in the 16th century. Sitting on the tentative list for UNESCO world heritage sites, its dramatic coastline position puts it on the face of picture postcards and travel magazines to represent the area.
Over the years, it was used for many purposes, but in the 1960s, the local council set up the Underwater Archaeology Museum there. These days, treasures and shipwrecks on display include the famous Uluburun from the 14th century BC. Find out more fun facts about Bodrum.
3: Halicarnassus Mausoleum
Did you know Turkey was home to two of the seven wonders of the ancient world? One was the temple of Artemis in Selcuk, and the other was the Mausoleum of Halicarnassus in Bodrum. Unfortunately, nothing remains of the famous tomb built in 350 BC, but remains can be seen in the castle because soldiers used stones from the Mausoleum to fortify and strengthen it in later years. Bodrum museum displays a model replica of what it would have looked like, and the British Museum displays three statues uncovered during excavation works.
4: Bodrum Peninsula Towns and Coastal Resorts
Where to stay or move to will depend on lifestyle and location preferences, like do you want peace in a secluded spot, a picturesque beachfront location or prefer inland with fantastic landscape views. Some tourists stay in apartment complexes with facilities and amenities on their doorstep, while others rent private villas for privacy.
Certain areas are more popular than others for a variety of reasons.
Yalikavak: Without a doubt, the rising star is Yalikavak, on the peninsula's north-west side. For decades, it was a quiet fishing village, turned holiday resort. When laws changed to allow foreigners to buy real estate, it became a favourite expat destination. The Palmarina opening boosted it to international fame though, and it is now a jet-setting location, with millionaire houses for sale. However, anyone with a middle-class budget will enjoy getting to know the town. Find out more in this guide to Yalikavak.
Gumusluk: This small idyllic village, stuck in time, attracts outsiders because of its different worldly ambience. The centre, a splattering of restaurants, bars, a few hotels, and a central bus station is where all the low-key action happens. Backing the beachfront, the land elevates as it goes inwards, to give off fabulous Aegean-sea and Rabbit Island views. (Why people love Gumusluk.)
Bodrum Town: The time-honoured town centre is where Bodrum's journey to fame began and even though other towns have risen to popularity, it is still a time-honoured hotspot. Separating into the new and old parts of town, life is as traditional or as modern as people like. The marina is one of Turkey's best, and shopping malls and an excellent bus network make it ideal for first-time visitors. Within walking distance from the waterfront, the cobbled old town streets hold many treasures and are home to Bar street and its lively nightlife scene.
Gokcebel: Much focus is on Gokcebel, on the outskirts. The old part, a traditional village with stone houses, promotes a quiet way of life. Expansion in the new region focuses on modern and luxury villas with an ideal location close to the seafront. For somewhere off the beaten track, but within close distance to shops, bars, and restaurants, Gokcebel could be the ideal destination.
Turgutreis: As another coastal resort sprung from the roots of a tiny fishing village, Turgutreis does well with British fans, who find connections in the existing ex-pat community. Its varied portfolio encompasses a wide range of apartments and villas to stay. Sitting near other towns, it offers seclusion yet easy access via local minibuses opens it up to the peninsula. More about Turgutreis.
Gundogan: For a day-trip or overnight stay, peaceful Gundogan is a Turkish-delight. Book into traditional family hotels or rent a private villa to enjoy a seaside resort favoured by Turks. While there isn't much to do in Gundogan apart from swimming, sunbathing and yachting, buses to and from the town centre are frequent. Any foreigner would do well to visit the cafes, and just people watch, for an insight into the hedonistic vibes Bodrum is famous for.
5: Beautiful Beaches of Turkey
If swimming, sunbathing, and sands are your idea of fun, the peninsula delivers with a range of gorgeous stretches of sand, alongside beach hotels to wake up to a perfect sea-view. Also consider staying in a beach resort, a famous concept in Bodrum. These resorts offer five-star luxury service in self-catering apartments but a wide range of onsite facilities and activities. Families enjoy them because the kids are never bored, and onsite restaurants offer the best in international cuisine.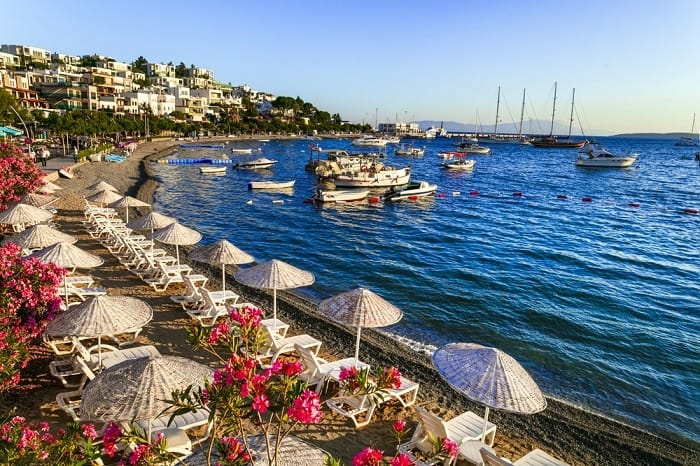 Other than that, to enjoy the sunshine on beaches where local Turks visit, options include…
Yahsi in Ortakent
Gumbet, which is ideal for water sports
Kumbahce and Belediyesi Halk in the town centre
Yali public beach 30 minutes from the town
Yalikavak
Turgutreis
Aspat in Akyarlar
Cleopatra in Bitez
Camel Beach
6: Sailing in Bodrum
Bodrum's claims to fame include being a yachting and sailing hub. It was the pioneering town for the traditional gulet cruise, forming part of the Turkish riviera, running from the Aegean to the Mediterranean. Alongside the conventional sail vessels, during summers, yachts from around the world dock into the world-class marinas. It is not unheard of for a mega-yacht owned by Saudi royalty, or wealthy business people like Jeff Bezos to stop by. Passengers can book pre-set yacht charter itineraries or if they have the cash, hire their boat for all-inclusive, tailor-made cruising.
The core theme is relaxation, and to break up the day, indulge in swimming and snorkelling spots along the way. If you book onto a pre-set blue cruise trip, expect to stop by off-the-grid seaside villages, bays and coves. Some routes travel across to the Dodecanese Greek islands, to indulge in two cultures on one holiday. Thanks to the tranquil atmosphere, these cruises are ideal for any honeymoon couple, but if you don't want to stay overnight on a boat, opt for the touristic boat trips, leaving harbours every morning during summer.
7: Day Tours and Attractions
Eager explorers and travellers will be delighted with the vast range of things to do. After visiting the castle, these options include ferries across to Greek islands, scuba diving, a jeep safari to visit remote villages, a Turkish Hamam known as Turkish baths, the amphitheatre overlooking the town, water slides at the aqua park, daily boat trips, and windsurfing in Kadikalesi. We recommend day tours to the famous attractions of Turkey, including Pamukkale in Denizli, and the ruined city of Ephesus and Virgin-Mary's house near Kusadasi. However, to relax, stroll the promenade, and enjoy the famous sunsets of Bodrum.
About Us: Our news and information, including the latest developments and local discussions for Bodrum. Follow us on Facebook to stay updated or sign up for our monthly newsletter. You might also be interested in our Turkey blog, which features more articles about Bodrum in Turkey.