Sometimes, market conditions influence house buyers, but when deciding where to buy property in Fethiye, the only things you need to match are your budget and lifestyle preference. Overall, Fethiye's real estate market is stable with a healthy flow of Turkish and foreign buyers and sellers. House prices remain stable, and Fethiye's Mediterranean position will always ensure its future popularity.
A varied portfolio from budget to luxury apartment and villas also presents buyers with lots of choices, whether they want an off plan, resale, or key ready, new build home. So it's better to define what you want out of your Turkish home and then look for a property suiting that.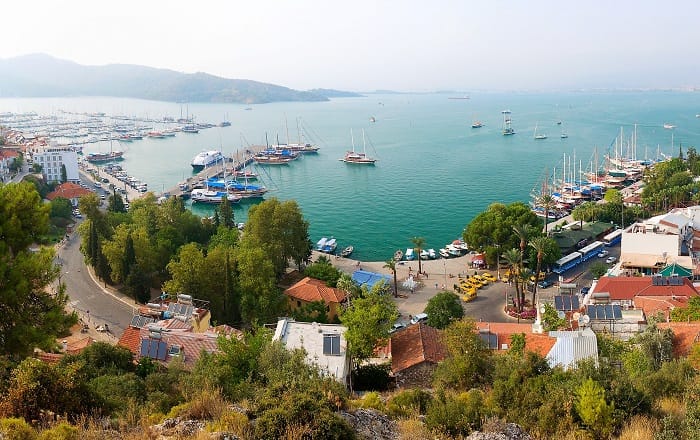 Do you want a mountain or sea view? Is an off-the-beaten-track better for your well being or do you want to be in the action's heart? Do you intend to drive a car or will you rely on public transport? Are you looking for a spacious year-round home with a private garden, or do you want an all-inclusive complex with on-site swimming pool, for those two-week getaway breaks?
The list goes on, so in this article, we will describe prominent areas of Fethiye's property market, their environment and what attracts house buyers to them. Before, we start, it's worth talking about Oludeniz. Many foreign house hunters visiting it for the first time, fall in love with it. This is understandable. The backing mountain view, the blue Mediterranean Sea and sandy beaches are too hard to ignore.
However its protected status means property rarely comes on the market. Instead, buyers often opt for an individual district of nearby Ovacik that gives off incredible views of Oludeniz bay, and this villais a perfect example of one home doing that.
Where to Buy Property in Fethiye
Calis Beach and Turkey's Famous Sunsets
The Turkish word Calis means "work," but this doesn't resemble the laid-back lifestyle of Calis Beach, that British buyers adore. Lured by the long promenade that has had a facelift, it's also known as an ideal place to grab an ice-cold beer and watch one of Turkey's famous sunsets. Daily life revolves around the beachfront whether it is sunbathing, swimming, or indulging in water sports like Jet skis, windsurfing, banana boats or parasailing.
Sitting on the outskirts of Fethiye centre, such are the range of shops, bars, and restaurants; it is a convenient lifestyle for everyone. Anyone looking for a buy-to-let income from holidaymakers will do well to look at Calis beach, because of its popularity in summer.
Fethiye Town: Hub of the Region
Fethiye town centre is for buyers who want a central location. As home to the marina, central bus station, old town, and many other establishments, this is where it all happens. Its popularity over the last decade has caused it to grow into a fully-fledged city centre, but don't assume, it's an urban lifestyle.
Much activity happens around the harbour district, that paves the way to stunning views found no-where else in Turkey. Despite being the centre, house buyers can still tap into affordable prices per square meter, enabling them to find the property that suits their lifestyle best.
Property in Ovacik and Hisaronu
The two resorts sitting side by side grew as an overspill from Oludeniz when there wasn't any more room to build hotels and housing. Ovacik is lower key than Hisaronu, but both are firm favourites of British holidaymakers and expats.
Sitting at the foot of the Babadag mountain, stunning views are available from most neighbourhoods, and for buyers who want a residential rather than urban or touristic environment, they are worth looking at. Dolmus buses run between both, and to the gorgeous beaches and blue lagoon of nearby Oludeniz.
Uzumlu: A Mountain Retreat
Sitting close to the ancient ruins of Cadianda, Uzumlu village is for those who want a peaceful mountain retreat, away from the beaches. It is a tale of two stories. The centre is traditionally Turkish, and scattered around are large, modern villas with private swimming pools and gardens. Most property buyers in Uzumlu own a car or hire one if they are here on holiday because the town centre is 20 minutes' drive away.
Tasyaka: An Up and Coming District
Sitting on the outskirts of Fethiye town, Tasyaka is unheard of on the mainstream real estate market, because development has only happened in recent years, yet for the first time and budget, buyers present an ideal lifestyle. Maintaining a more traditional outlook, it also has a peaceful ambience, yet should property owners want to step it up a notch, they can reach Fethiye's heart within ten minutes, and Oludeniz's gorgeous beach within 20 minutes. Plans for the area include a new shopping centre.
Also Read…
To help you decide where to buy property in Fethiye, browse our real estate portfolio, that is full of apartments and villas for sale. Each listing includes photos, map locations, critical features of that home and why it stands out.
If any home grabs your attention, fill in the enquiry form to receive more details, including how to buy property in Turkey. Also use the chat messaging feature, if you are already in Fethiye and want to arrange a viewing trip of neighbourhoods and homes suiting your budget.
Reasons to Buy Property in Fethiye: If you are still undecided about investing in the Turkish property market, this article lists 9 reasons on why buying is a wise financial move.