Quite a few people who have not visited the country often ask why is Spain so popular. With a tourism industry that welcomes roughly 80 million people, the fame the country earns worldwide is undeniable, and Spain ranked as the second most visited destination before Coronavirus struck.  Yet, answering the question is not so simple because many reasons exist for why Spain ranks as a global tourism destination and for foreign homeownership. In some places, foreign ex-pats make up much of the population, and many foreigners own holiday homes in Spain. Collectively, the national identity for everything Spanish is a prized gem, so let's look at what sets Spain up as a global hub.
Why is Spain so Popular?
1: Famous Costas of Spain
Since the 1970s, Spain's Costas has hosted holidaymakers eager for beaches and life by the sea. Costa means coast, a reference to Spain's long coastline, which is home to Europe's best blue flag beaches. The southern and east coasts are the best beaches and resorts simply because they twin with ideal weather conditions. Think clear waters and sand stretching for miles. Some beaches attract all occupations, while others are exclusively dependent on wallet sizes; however, all are delightful.
More about the Spanish Costas: If you want to know the best Spanish Costas because you dream of expat Mediterranean lifestyles, get ready for an avalanche of choices. Annually, they host millions of foreigners worldwide who soak up everything Spanish.
2: Traditional Food and Drink
Spanish cuisine, wine and beverages feature originality, tastes, and flavours. Most visitors know about tapas, sangria, and paella yet look deeper beyond traditional foods to discover regional delights. In addition, Spanish chefs push boundaries to dream up delicious food using Spanish produce, and the result is award-winning Michelin star restaurants. However, one thing is sure: moving or just travelling around Spain will increase your waistline.
3: Local Festivals in Spain
Spaniards look forward to festivals, a reason to stop everything. While most have historical or religious roots, some celebrate regional flowers or produce. Examples include La Tomatina, which is just one big food fight. Others like the Matador season, some see communities divided despite it being part of Spain cultural heritage, while others, like the famous three kings, are celebrated across the country.
4: Flamenco Dance and Culture
For oodles of passion, watch an expressive traditional Flamenco performance. Often training for years, flamenco dancers, and accompanying guitar music put on a worthy show considered by many to be more artistic rather than dance. Dating from the 19th century and twinned with traditional dress, this dance puts Spain on the map.
5: Afternoon Siestas and Late Dinners
Granted, in some parts, local siestas are not as widely practised as they used to be, thanks to modern-day living, however for an excuse to down tools and take a nap, participate in time-honoured siesta traditions. Lasting for three hours, Spaniards then go back about their day before eating a late dinner. The tradition started because of mid-day temperatures, but every day can be a siesta for tourists if you don't travel.
6: Small Spanish Villages and Towns
Hire a car and hit the open road to visit old, traditional Spanish villages in remote mountain areas that offer everything Mediterranean. From whitewash houses with wooden shutters to quaint street flower pots, they indeed are off the beaten track, making them even more special for travel experiences. To glimpse Spain in bygone eras, explore the villages because most are stuck in time and live in their little utopia.
7: Hot Summers and Mild Winters
Spain is a top tourist destination and expat haven of Europe because of 300 days or more of sunshine a year. No wonder people flock there, and given that the sun provides our bodies with natural vitamin D, doctors will agree that Spain is also suitable for visitors. The plus side is we do not compensate with cold winters either, because even from November to March, places on the east and south coast are still warm enough to get active to explore.
8: Famous Cities of Spain
Every country has their famous cities, from Istanbul in Turkey to Paris in France. In Spain, notable cities including Madrid, Seville and Barcelona that combine everything to form a metropolis of unique delights. From large shopping malls to traditional stalls to nightlife, architecture, art galleries and historical buildings. The unique and individual tale of all presents a different face to Spain and Europe away from tourism.
Related Reading: Best Cities in Spain: From Spanish history to nightlife to food and beaches, there is a wide choice whether you visit or move to Spain. We look at which cities feature the best places visitors travel and live.
9: The Alhambra Palace
The Moorish Alhambra palace, Spain's top visited attraction, is a perfect architectural genius with landscaped gardens and red brick walls. Sitting high on a hill in Granada and giving off fantastic landscape views, the palace is a World Heritage site and for good reasons. First, the palace depicts Islam and Muslim rule. In Arabic, the name meaning red castle reflects a cultural part of Spain's history everyone should know about.
10: UNESCO World Heritage Sites
Speaking of UNESCO World places, whereas other countries like Turkey feature 20 odd historical and cultural gems, Spain boasts of a staggering 45. This makes the country the third in the world for the most significant number of additions to the exclusive list. However, do not think famous UNESCO World Heritage sites are all about numbers and quantities because each has a unique tale to tell.
11: Arts Galore
Forget about Banksy because Spain delivers with a multitude of time-honoured artists, all renowned for exceptional pieces of art. Notable names in history books include Pablo Picasso, Joan Miro, and Salvador Dali. Picasso was born in Malaga, and the museum dedicated to him features 285 pieces of his work donated by the family.
12: Travel to Stunning Islands
Most people think mainland Spain, yet stunning Spanish islands deserve admiration. Separating into the Balearics and Canary Islands, places like Majorca and party Ibiza and Tenerife attract their share of tourists to experience island life. With most reached by ferry, some are also expat havens, especially with Brits who swap one island for another hotter one!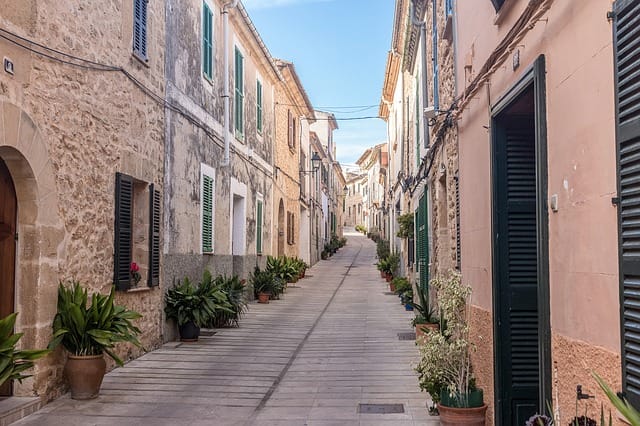 Also About Spain
Regions of Spain: Whether planning a vacation, buying a property, or your interest is just out of curiosity, learning about the areas of Spain is an exciting journey into a diverse and famous country. Each autonomous community shines through with individuality, and collectively, their exciting quirks and facts promote Spain to an international audience.
Valuable Things to Know When Visiting Spain: Our list of things to know when visiting Spain will help when planning a quick city break or a two-week beach holiday. From must-know essentials to tips and snippets of advice, learning about a country before arriving will help you avoid the social faux pas. First, however, get stereotypes of paella, sangria, and afternoon siestas, out of your head because there are many more reasons why Spain is so popular.