The vast range of places to visit in Turkey is the perfect way for any expat to get to know their new country. Whether for a weekend break or just a day-trip excursion, visit these unique places to learn more about each region's culture and heritage. To be clear, Turkey is a vast country, stretching for thousands of miles and hundreds of places scattered from east to west, display diversity and different local history.
Therefore, we always recommend every expat moving to Turkey embraces travel. Whether you start locally or jump on board a plane to visit the other side of Turkey, the places make settling in easier. Including areas of natural beauty, famous historical sites and towns and villages that stand out for specific reasons, let us look at what places to put on your bucket list.
Places to Visit in Turkey
1: Majestic Istanbul
Even though Istanbul ISN'T the capital of Turkey, it is still the country's most popular touristic place, and it joins the ranks of iconic world cities. Hosting millions of visitors every year, most visit Sultanahmet, home to majestic byzantine and ottoman landmarks. Places include the Blue Mosque, Hagia Sophia, Hippodrome, and basilica cistern. However, the jewel is the Topkapi Palace, former home to the Ottoman sultans when they first captured Constantinople and from where they ruled their massive empire. Don't forget to visit the Grand Bazaar for your souvenirs.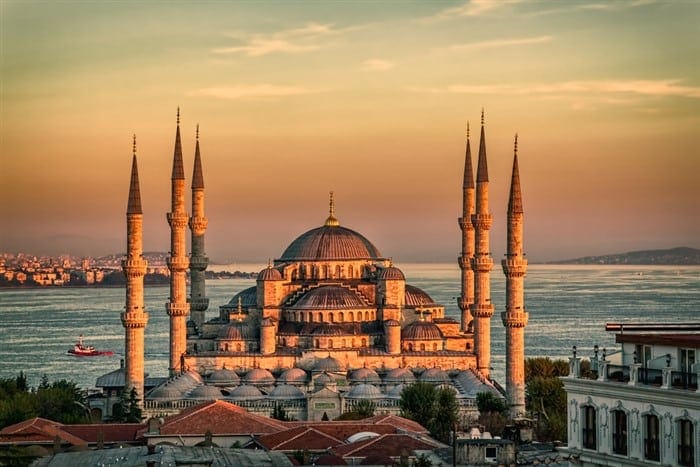 2: Ephesus City Ruins
Often ranking as Turkey's top visited tourist attraction, Ephesus city ruins in Selcuk, near Kusadasi, introduce an old city that nearly rivalled Rome in terms of importance. As one of the Seven Churches of Revelation, the famous Artemis riots in the New Testament took place here. Famous landmark buildings to visit within the city boundaries include the Celsus library, roman terrace houses and amphitheatre. Other landmark buildings outside the city boundaries include the temple of Artemis and Saint John's Basilica.
3: Pamukkale Cotton Castle in Turkey
Sitting inland from the Aegean coast, this place must rank as Turkey's prettiest natural landmark. Solidified calcium water trickling down the hillside has formed white pools that, from a distance, resemble a cotton castle, hence its name. The entrance fee to this place gets access to the calcium pools and Hierapolis ancient city ruins nearby. For an additional fee, visit the museum, holding many statues and artefacts and swim in Cleopatra's pool, full of healing spring waters over fallen columns of Hierapolis city.
4: Places in  Cappadocia
As another place that needs to be seen to be believed, Cappadocia in central Anatolian is a mass collection of fairy rock chimneys, cave churches and houses, and the Goreme open-air museum. The unique landscape formed by wind erosion resembles a lunar-like destination. At the same time, cave churches, many of which date from the 14th and 15th-century showcase restored biblical frescos depicting Cappadocia's history as an early centre of Christianity. The number one thing to do here is a sunrise hot air balloon trip to see Cappadocia from up high. Also, stay in an authentic cave hotel.
5: Antalya City Centre
Sitting on the Mediterranean coast, this place counts itself as Turkey's most famous beach holiday destination. The two main city beaches, Lara and Konyaalti, often rank as Turkey's best beaches. The main attraction to visit here is Kaleici old city part marked by Hadrian's gate at the entrance. Narrow cobbled paths reveal ancient mosques and Ottoman houses, some of which are now boutique hotels and fine dining restaurants. Also, visit the museum, aquarium and the dramatic Duden waterfalls falling over the hillside into the Mediterranean.
6: Visit Bodrum Town
As a place that strongly believes in non-conformity, Bodrum town is the place to visit if your main aim is to pursue pleasure. During summer, it offers an excellent nightlife scene and numerous beaches to relax and swim in during the day. However, Bodrum's fame stems from sailing. Bodrum was where the Turkish riviera and blue cruise routes were born, hence their dedication to the fisherman of Halicarnassus, Cevat Sakir Kabaagacli, who first introduced tourism to the area. While there, visit Bodrum castle, the prominent landmark sitting on the coastline.
7: Kayakoy Ghost Village
Within the Fethiye region, this place is Turkey's most famous deserted village. Once a thriving community of Turks and Greeks, the treaty of Lausanne in 1923 changed the history when the Greeks were forced to go back to Greece and Turks, living there had to return here. They could not settle, and bit by bit began to leave the village. Now, cobbled streets are home to shells of houses, churches, and schools. While there, visit nearby restaurants for the famous lamb tandir, a juicy dish of tender meat cooked in the traditional tandir way.
8: The Blue Lagoon of Turkey
While in Fethiye, visit the Blue lagoon accessed via the main beach in Oludeniz. This iconic place often features in mainstream travel magazines as one of Turkey's places of natural beauty. Rent a sunbed or go for a swim and ride a pedalo. Enjoy the views and top up your tan. The blue lagoon is not so much about things to do. Just enjoying a day out at the beach.
9: Beautiful Butterfly Valley
Also belonging to Fethiye, Butterfly Valley is like another world, a small utopia disconnected from Turkey. Catch a water taxi from Oludeniz main beach and enjoy the leisure ride to Butterfly valley, aptly named because of butterflies breeding here. Some visitors like snorkelling; others take in beautiful views, while others want a small hike to the back of the canyon to see the hidden waterfalls.
10: Patara Beach and Ancient Ruins
Counting itself as Turkey's longest beach, Patara is nothing short of spectacular. A popular excursion is to ride horses at sunset, but if visiting during the day, visit the nearby ancient ruins sitting inland. This ancient city belonged to the Lycian League and was a famous sea trading port. To stay overnight, book into a pansion in the village of the same name that has maintained its traditional quaint status.
11: Visit Famous Safranbolu
Listed as a UNESCO world heritage site, Safranbolu is an iconic place depicting old ottoman architecture. White box houses with narrow windows and orange roofs line the old cobbled streets, a reminder of days when Safranbolu's position on the ancient silk road bought in travellers from near and far. Alongside the three historical districts, put the 14th-century mosque on your list of places to visit. The other thing Safranbolu is famous for its authentic Turkish delight. Do stop by a souvenir shop to sample and buy some for a cultural piece of Turkey.
12: Datca Peninsula
Over on the Aegean coast, this place maintains an upmarket reputation hence hotels and restaurants command steep prices, but it is famous as one of Turkey's prettiest places. Separating into old and new parts, visit the local landmarks of windmills and Knidos ancient ruins. In addition, Datca's position between the Gokova and Hisaronu gulfs make it a prime spotting point for private yachts sailing the Turkish riviera.
13: Alacati in Izmir
For decades, Alacati has been an upmarket destination for the summer holidays. As a result, Turks buy many holiday homes there. In addition, Alacati is the most famous place in Turkey for windsurfing, often holding a yearly festival that brings in participants from all over the world. Yet the thing that puts it on the map is the whitewashed cottages with blue shutters. Reflecting its former Greek history, many houses have been renovated and now take pride in Turkey's housing market. Enjoy the local cuisine and a relaxed evening scene while during the day, exploring surrounding towns like Cesme.
14: Historic Mardin
Mardin separates into new and old parts. The first is an average city with nothing to shout about, but the old part is a historic place reflecting Artuqid architecture. Old houses and mosques situated all over the hillside make a striking picture postcard. Old Mardin is famous for stuffed lamb ribs. Due to Mardin's southeast position, few tourists venture there, but it is a must-visit for people living here to understand Turkey's cultural diversity.
15: Dalyan Mud Baths
Sitting within the Mugla region, Dalyan mud baths is a popular day trip excursion from many surrounding coastal resorts. Start with a boat trip up the reed-lined Dalyan delta. Keep an eye out for the hillside ancient Lycian rock tombs that belong to Kaunos ancient ruins. Next, visit the baths to cover yourself from head to toe in mud. The sulphur has healing qualities for the skin. Wash off the mud in nearby spring showers, and then visit Iztuzu beach, protected by law because of the endangered Caretta turtle, nesting eggs there.
16: Kas and Kalkan
These two villages sitting side by side couldn't be any different but visit both. Kas maintains a quaint and traditional ambience, while Kalkan is where many foreigners and expats have bought large, luxury villas boasting private swimming pools and amazing Mediterranean Sea views. The nightlife scene in both is low key yet enjoyable as people dine by the seaside and on rooftop terraces. So naturally, given their coastal positions, visitors indulge in delicious fish and seafood dishes.
17:  Pretty Uzungol
Heading to Northeast Turkey, specifically the Kackar mountains, this place highlights Turkey's cultural diversity. As home to Laz and Hemsin communities, there are many places of natural beauty to see, yet one must-visit destination is Uzungol. Nestled in between two valleys, this lake is a great place to hang out or rent a bike. Also, visit a mountain restaurant to enjoy a traditional black sea breakfast with amazing views.
18: Visit Sumela Monastery
Also, in the northeast, near Trabzon city, Sumela monastery gives off a striking appearance thanks to a position on a cliff face in Macka national park. Dating from the 4th century, monks built Sumela after finding a Virgin Mary statue there. Even during ottoman times, they enjoyed a good life despite catholic foundlings. However, for a brief period after World War one, Russians ruled the area, and then monks deserted the monastery after the Turkish War of Independence.
Also, Read
So, as you can see, there are many places of interest, whether historic or natural landmarks. Each sits within a different area, and our article about the seven geographical regions of Turkey talks about each one in-depth and suggests more places to visit in Turkey. Also, read about famous coastal resorts in Turkey, hosting many tourists and expats who live here all year round.