To list all the famous things in Turkey would take a complete book. Including history, food, science, production, exports, traditions, and culture, together they display an incredibly diverse country that deserves more praise and recognition. Of course, the best way to get to know Turkey is to visit for yourself.
Tourists discover a nation that welcomes everyone with open arms, hence the reputation of Turkish hospitality. You will realise some myths and stereotypes aren't true, like women have to cover up all the time, or camels are a frequent sight. But for an introduction, we list nine famous places and things below to get started.
 Famous Things in Turkey
1: Istanbul: Most Famous City in Turkey
Once named Constantinople, Istanbul is the number one tourist destination in the Republic of Turkey. Famously sitting on two continents, it is not hard to understand why either. Surrounded by the Golden Horn, Sea of Marmara, and Bosphorus Strait, sightseeing all major monuments would take months. They include places like the Grand Bazaar, Dolmabahce Palace, Galata Tower, Taksim Square, Galata Bridge, and Spice Bazaar. Most travellers head to Sultanahmet square though, also known as the old city. From here, the Byzantine kings and Ottoman-empire sultans ruled over their lands. Landmarks to see include the Blue Mosque, Topkapi Palace, Basilica cistern, underground cistern, and hippodrome.
2: Hot Air Balloon Rides in Cappadocia
Sitting in the central Anatolian region, Cappadocia is mainly recognised in travel magazines by the views of many hot air balloons rising into the air just as the sun comes up. But there is much more for every traveller to see and do. They include visiting the UNESCO World Heritage site of Goreme open-air museum, consisting of 14th and 15th-century ancient churches. The underground cities are also fun to explore. Inhabitants built them hundreds of years ago to protect themselves against invading forces like the Persian army. Also delight in the vast valleys that resemble a lunar land landscape with fairy rock chimneys.
3: Traditional Gulet Boat and Sailing
If you visit an Aegean or Mediterranean holiday resort, do check out the sailing scene.This stretch of coastline from west to south, sometimes called the Turkish riviera, or Turquoise coast, is a sailor's delight. Traditionally, Turks used a gulet boat to sail around, but these days, significant marinas also host international mega and millionaire yachts. Some people sign up for day tours on harbour boats. In contrast, others opt for Blue cruises to take in significant destinations like Antalya, Bodrum, Marmaris, Kalkan, Kusadasi, fronting the Aegean-sea, and Fethiye.
4: Ephesus Ancient City
When you travel to Turkey, locals always say visit Ephesus Greco Roman ruins in Selcuk of the Izmir region. This archaeological delight was once one of the world's most prominent cities that nearly reviled Rome. A stroll around the ancient ruins these days reveals restored landmarks, including the statues, Roman terrace houses, Celsius library, agora, temples, and the famous gladiator theatre. Occasionally, a foreign tourist will also explore surrounding attractions, including the temple of Artemis and the house of the Virgin Mary.
5: Pamukkale and Hierapolis in Turkey
Travel to Pamukkale and Hierapolis to see the mind-blowing natural beauty and achievements of humankind. Hierapolis, another one of Turkey's famous ancient cities, used to host Roman soldiers recovering from battle by providing thermal spa waters. Landmarks include the amazingly well-preserved theatre. Meanwhile, sitting nearby are the natural calcium pools of Pamukkale overlooking the village of the same name. They are formed by solidified calcium water trickling down the hillside and are Turkey's most famous landmark of natural beauty. Book a day trip from many surrounding resorts or sign up for a guided walking tour to fully appreciate this landmark.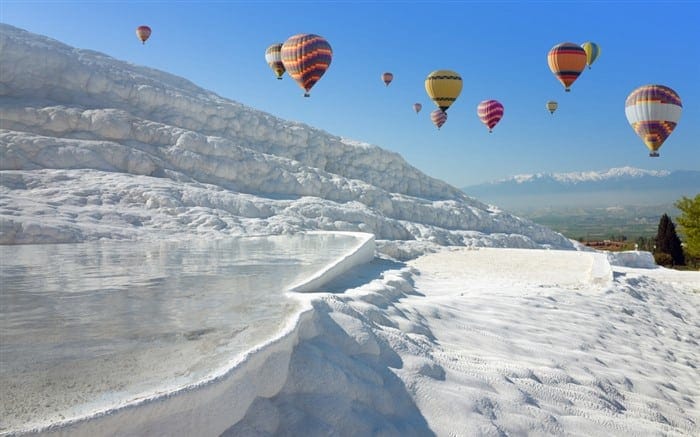 6: The Famous Lycian Way Tombs
The Lycian civilisation once ruled a large section of southern Turkey. They left behind many a monument and ruined cities that are now major archaeological sites. Historians pay much interest to the Lycian tombs appearing in places like Fethiye, Myra, Simena, Kas and Tlos. Built for royalty on top of hillsides, the Lycians believed it was easier for the wing creature to take them to the afterlife. Therefore, they are not only a famous touristic thing but also a time-honoured piece of history. The stretch of coastline they cover is also the Lycian way, a world-famous trekking route.
7: Turkish Cuisine and Beverages
Any good travel guide says Turks love their food, and it is about so much more than the stereotypical kebab and Turkish coffee. Culinary delights vary from region to region, but every recipe is an integral part of Turkish culture. When you travel to Turkey, do taste as much food as possible, from the soups and mazes to the main dishes and desserts like baklava. Also, head to garden cafes to understand why Turkish tea is prominent in social life. During summer, sample nightlife in a different way, but dining out alfresco style on Mediterranean cuisine.
8: The Tulip
Many people associate the humble tulip with Holland, but it originated from Turkey, where the Ottoman sultans held it in high regard. Look at any iconic mosque to see it in mosaic tiles. Likewise, many a souvenir features it. Turks still honour their importance today, where every April, the Istanbul tulip festival lasting for one month turns the city into a vibrant array of colours.
9: Turkish Baths
When you visit Turkey, do take time to indulge in a traditional Turkish bath. This time-honoured tradition started with the Romans, but the Ottomans adapted it to suit their cultural lifestyle. One walk around the Topkapi Palace in Istanbul reveals the private baths used by sultans. Otherwise, in the city-centre, original baths dating from 500 years ago still open their doors to the public. The process, which begins with steaming to open the pores, followed by a soap suds massage with a loafer, is the ultimate thing to relax, destress and clean your skin. All around Turkey, Turks still love a good old-fashioned bath.
What Else is Turkey Famous For?
To find out more about things Turkey is associated with, browse our blog that talks more about places and aspects, or see our infographic below. One last fact, though. Did you know given Turkey's vast size, it breaks down into seven geographical regions, each with its weather climate? Our article about areas talks more about those and highlights more famous things in Turkey that ensure everyone falls in love with the country.