Fethiye's real estate market is once again in the limelight as Turkey reports record house sales to foreigners. Fethiye has always been a favourite expat and property haven, but as foreigners flock to take advantage of a lucrative exchange rate, citizenship investment scheme and developers deals, more buyers are looking at the area for a possible financial investment that will boost their capital. However, is it that easy and what do foreign buyers entering the Turkish housing market for the first time need to know?
The Fethiye Real Estate Market
Advantages of Buying Property in Fethiye
Sitting on the Mediterranean coast, Fethiye is an all-encompassing region offering house owners everything and anything on their doorstep. As part of the Turkish Riviera, mainstream package tourism is another income booster, and this alone accounts for a large part of its fame.
As the trade grew over the last decade, local businesses strived to keep up, so residents and holidaymakers can tap into a vibrant shopping, dining, and nightlife scene. A big lure is that Fethiye is easy to get to via Dalaman Airport, a top touristic air travel hub in Turkey and the D400 highway. The top-notch marina also commands fame as one of the best in the country, attracting yachts from all over the world.
Perhaps two prominent strengths in its favour though are the weather and lifestyle. Combining to form an alternative way of life devoid of stress and anxiety, social activities revolve around the beachfront, swimming, and sunbathing.
Further Reading: Nine good reasons to buy property in Fethiye.
How much is Property in Fethiye?
Fethiye's real estate portfolio ranges from budget studio apartments to luxury, six-bedroom villas with a private swimming pool and landscaped gardens, so it is impossible to ballpark an average figure. The good news is that for a prominent seaside location, it offers affordable prices per square meter, especially compared to other property hotspots like Bodrum.
The closer you get to the shoreline, the higher the prices are, but places like Uzumlu, high in the mountains enable buyers to get twice as much for their money compared with other countries like Spain or Portugal. Portfolio prices range from £50,000 to £500,000 depending on what and whereabouts you buy.
Best Area to Buy Real Estate in Fethiye
The region separates into many distinct neighbourhoods, all with unique characteristics suiting different buyers. The city centre hub never stops, but many buyers look to Calis, a surrounding resort famous for its promenade, vibrant sunset, and a holiday atmosphere. Most holidaymakers visiting Oludeniz for the first time often dream of buying a house there, but its protected status means real estate rarely comes on the market. Hence, they buy in Ovacik, and Hisaronu, two nearby resorts.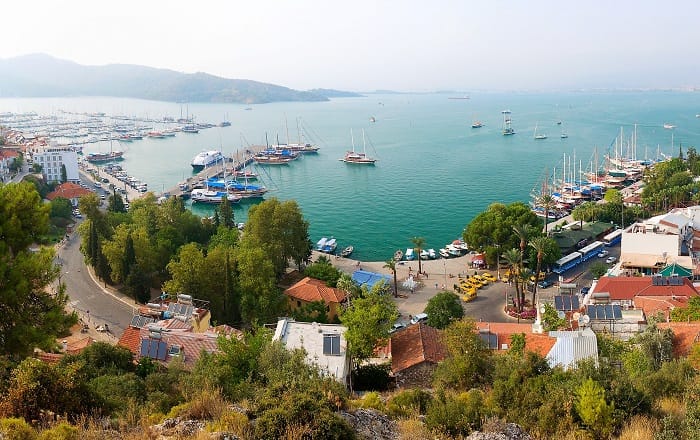 Buyers with a higher budget, who seek a secluded lifestyle should consider Faralya. Otherwise, Uzumlu is the perfect place to design and build your villa. If you are unsure where to buy, our viewing trips will come in handy.
Visiting each district, we point out significant advantages like schools, shops, bars, restaurants, banks, and transport links to ensure you buy in an area suiting your lifestyle. Also read our article, which talks more in-depth about each area of Fethiye.
Is Fethiye's Housing Market a Good Investment?
Without a doubt, the current exchange rate between the Turkish lira and other world currencies makes Fethiye's housing market, an investment worth looking at. With financial experts predicting a rebound of the Turkish lira, there is much potential when looking at house prices in currencies other than the lira.
However, buyers should prepare to wait it out if their main reason for buying is an investment. Over the last ten years, Turkey embarked on a project to modernise and upgrade its property market. Hence a surplus supply of new builds is keeping prices stable. Experts say this trend will continue, so for a viable return on investment; buyers should keep real estate for 5 to 10 years.
Is it Safe to Buy Property in Turkey?
Yes, it is safe to buy property in Turkey. The country has shed its haphazard procedures from the last decade and tightened up regulations to ensure buyers are investing in expert workmanship and getting their title deeds.They have also abolished military searches, that lengthened the buying process and caused unneeded stress, and introduced real estate valuation reports to ensure foreign buyers are paying inline market prices. Find out more about the property buying process here, or contact us to speak with an experienced real estate agent, who can answer any further questions you may have.
Start your Property Search
To search for Fethiye real estate, browse our portfolio of apartments and villas on the market. Each listing includes photos, additional details, selling price, and an enquiry form to fill in to receive more information via email.
Also, Read
Turkish Property Investment: We look at the citizenship investment program, what's driving house sales, and the most popular areas where foreigners are buying.