Real estate in Antalya wears a gold crown as a top hotspot for property buyers and investors. Sitting on the eastern Mediterranean coastline of Turkey, the province stretches from Alanya to Kas. Comprising a bustling city centre, and smaller coastal resorts, it always surprises newcomers, both foreigners and Turks alike, and offers the ideal opportunity for a healthy real estate investment.
Backed by the green Taurus mountain range and fronted by sandy beaches and the crystal blue Mediterranean Sea, it is the second most popular holiday destination in Turkey. Covering over 20,000 square kilometres, business, investment property, travel, education, food, culture, and arts thrive in the area.
One major reason for its international success and why people look to invest in it is an award-winning, ultramodern airport. Otherwise, its central position on the main D400 highway makes getting there by bus or car easy. From April to November, many yacht owners flock because of its status on the Turkish Riviera. Such is its success; the province hosts approximately 15 million tourists a year.
Buying Real estate in Antalya
Thousands of ex-pats living in the region, enjoy a laid-back lifestyle that far outranks life in their home countries. Hot summers with 40-degree temperatures in July and August bring out beach lovers from all four corners of the world. While in Spring, Autumn and Winter, people with other interests take advantage of cool days, to see popular touristic attractions and historical tour sites.
Other than that, it offers everything a worthy destination should. Including a vibrant nightlife and shopping scene, many touristic attractions, an excellent hospitality industry, unrivalled arts, and cultural opportunities, it is an all-rounder accommodating everyone regardless of nationality or social status. Its cosmopolitan, multi-cultural feel is proven in the region's diversity of spoken languages including English, Arabic, German, Russian and Turkish, and a varied, international array of international cuisines sold by restaurants.
Antalya is not about the budget versus luxury property because it accommodates all income brackets. For many retired European expats moving and buying their next home, the cost of living is lower than in their home countries. They can also tap into an effective transport network running from all districts, meaning owning a car is not an essential part of life.
14 Reasons Property Owners Like Antalya
Affordable yearly running costs
Massive potential for rental property because of a strong tourism industry
The simple home-buying process takes as little as a week to complete.
Low purchasing expenses
Easy to get year-round residency permits for those looking at relocation
Freehold ownership
Mass potential for appreciation
Ideal candidate for diversifying a capital investment portfolio
Excellent value per square-foot
Choice of modern or traditional architecture
A diverse portfolio of new home listings including budget, middle class, and luxury homes for sale
Read about why Antalya is so popular
Popular Places in Antalya to Buy Real Estate
Central Konyaalti: In the heart of the city centre, this residential neighbourhood is, without a doubt, the most active sector of the property market. The 7-kilometre beach often ranks on Trip Advisor as one of the best in Turkey, and with all amenities, and a good transport network, it is easy to understand why it is so popular with homebuyers. Konyaalti is the ideal place to look for penthouses with panoramic sea-view. A flat for sale at the new marina will suit those who like to sail.
Delightful Side: Those who want to live in a smaller district would do well to look at Side. Famous for its ancient Greco-Roman ruins and the Temple of Apollo, the town keeps a discreet reputation, and the best real estate market caters for middle-class and luxury buyers. Most property is residential real estate with luxury apartments and villas for sale.
Golfing Villas in Belek: As the golfing capital of Turkey, the world-class courses have hosted famous players like Tiger Woods. Belek's other niche of expertise is 5-star spa and wellness hotels. Despite its fame, apartment and villa prices are affordable. Many people also build custom-made luxury villas for easy access to swing their clubs. Read more about Belek here.
Bustling Alanya: This town, on the verge of becoming a city, is Turkey's rising star. Tourism is showing massive increases in visitor figures, and investors, attracted by affordable property prices, particularly like the Mahmutlar district. Many property listings are open-plan, single-family apartments and ideal for first-time buyers in Turkey.
Upmarket Kalkan: Sitting on the outskirts of the province, Kalkan's reputation as a luxury villa destination, has attracted many foreign home buyers looking for an exclusive lifestyle. As part of the Turkish Riviera, it offers style, indulgence, and prestigious luxury in abundance. More about why buyers and sellers love the Kalkan local market.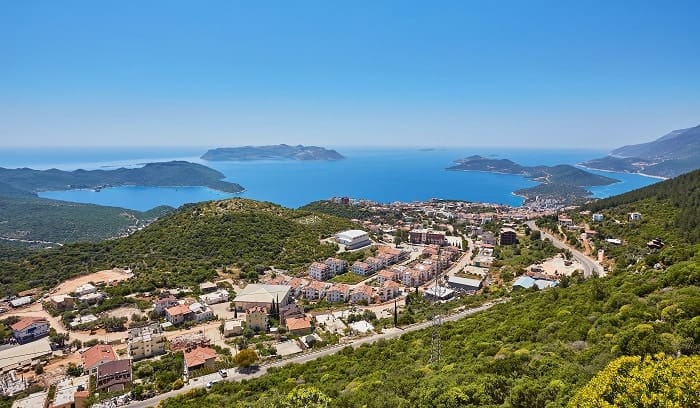 The buying process doesn't take long at all.  Before we advertise properties, we check their legal documents to make sure everything is in order, so as soon as you pay a deposit on the dream home you want to buy, the process completes in as little as a week. If you are still undecided where to look for properties for sale, our complete guide to the districts of Antalya will help.
Find your dream home by browsing our portfolio of property for sale here. The real estate listings include fully furnished, new build, countryside, semi-detached, resale, waterfront, beachfront, bargain, townhouse, and luxury properties for sale including townhouses and flats. Whether you want a duplex, holiday home, renovation project, detached house, penthouse, single-family home or new construction, you will find it. If any home catches your eye, call us or use the enquiry form to receive more details. Newcomers to local real estate will also enjoy a viewing trip, so you can not only see properties for yourself but also get to know neighbourhoods.
Renting out your Property
Some buyers look to rent out their new home as a way of passive income or to recoup the running costs. It is legal in Turkey; however; you must declare long-term tenants or holiday renters who stay in your property and pay tax on leasing income over a certain amount. If this is your plan, we advise to research each neighbourhood separately to gauge the potential rental yield and see the existing market, which will be your competition. Currently, the area achieving the highest rental profits is Kalkan on the outskirts, which has a solid reputation for luxury.
Further Reading
Best Areas to Live in Antalya: If you are looking at real estate for sale, because you want to live in Antalya, our guide to the best areas will help you find your ideal destination. Buying property is not an everyday transaction, so start your perfect home search in the best suburbs to match your lifestyle preferences and budget.
About Us: We are Spot Blue, a real estate agent with many homes for sale in Antalya. Start your property search by browsing our portfolio, or read more about the region in our area blog. Alternatively, call us if you want to speak with an agent about investing in real estate in Antalya. Also follow us on Facebook to stay updated with property news from Turkey.