The best resort destination in Bodrum
Bodrum is one of the most popular resort destinations in Turkey. This port city in southwestern Turkey boasts an array of world-class beaches, spectacular views and natural attractions. Its charming mix of historical sites, culinary delights, and even yacht charters make Bodrum a popular tourist destination.
The district is well known for its amazing resorts, shopping and nightlife and also has a great choice of properties for sale. If you are looking to invest in real estate in a resort destination, Bodrum is the perfect place.
Whether you want to buy luxury property for holidays and yacht mooring or an investment portfolio of residential, holiday villas and apartments that will provide you with a regular income stream, our Bodrum property experts can help you find the perfect investment.
With views over the Aegean Sea, outdoor pools, sandy beaches and private beaches, as well as plenty of facilities on offer including an outdoor children's playground and world-class restaurants for your dining pleasure, this is a spot you don't want to miss!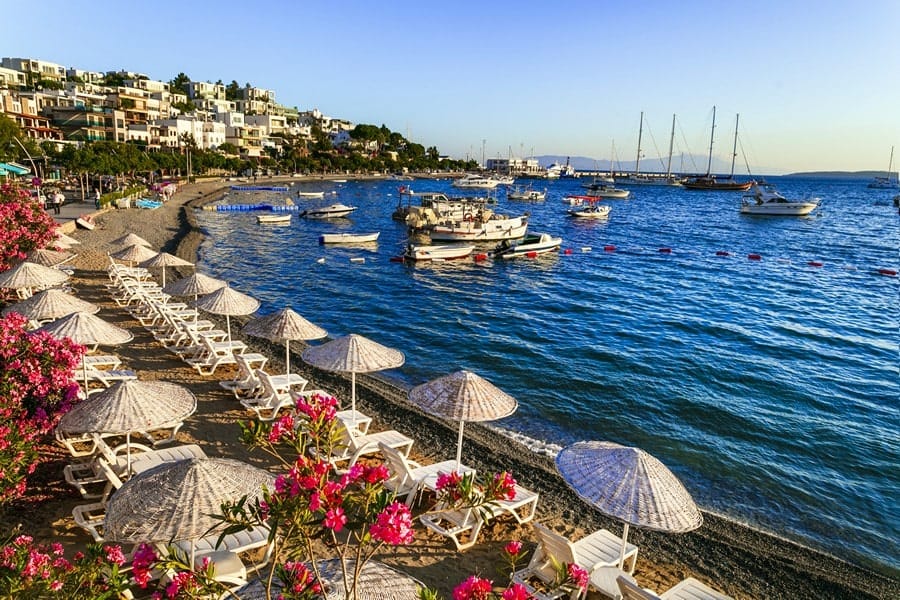 Brief history of Bodrum
According to the 2012 census, the city has a population of 36,317, making it one of the most populous cities in the Muğla province of Turkey's south-western Aegean Region. A tranquil coastal town with sandy beaches and stunning views, it remains one of Turkey's top resort destinations for its beauty, variety of activities, and excellent accommodation options.
Home to some of the country's best beaches and attracting thousands of tourists each year, it also offers a relaxed Mediterranean lifestyle and modern infrastructure.
In addition to its archaeological heritage, There are numerous historical sites in and around Bodrum including ancient cities, castles, churches, and ruins. For instance, the Castle of St Peter (Bodrum Castle) was built in 1402 by the Knights Hospitaller (St John's Order) as a defence against pirates, later becoming an Ottoman fortress. The castle plays host to many cultural festivals and has been the home of the Bodrum Museum of Underwater Archaeology since the early 1960s.
Types of Property in Bodrum
Where are the Top Resort Destinations in Bodrum?
A city known as a place for relaxation and beautiful seaside properties, Bodrum attracts vacationers from across the globe. Visitors can take advantage of all resort facilities, including water sports at outdoor and indoor pools. There are also numerous restaurants, as well as family-friendly activities such as miniature golf and paddle boats.
The best resorts in Bodrum vary depending on what you want from your holiday. If you're looking to party whilst indulging in the finest food and wine, then Bodrum City is the destination for you. Luxury properties found here tend to focus on offering guests a combination of facilities and activities, to ensure that there's something for everyone.
On the other hand, if relaxation is more what you're after, then a resort situated on one of the peninsula's solitary beaches will be the perfect location for you. Whether you're travelling as a family, celebrating a special occasion or just need some alone time, there is a spot for you.
Some of the most popular resorts are clustered around Göltürkbükü, Gümüslük, Turgutreis, Bitez and Gumbet- with all their services only a stone's throw from the resort centres. There are lots of activities you can do in Bodrum ranging from scuba diving off secluded bays to water sports and hiking along winding country paths.
On the peninsula, you will find a lovely selection of outdoor swimming pools with complex facilities (children's pools, waterslides, etc.) and intimate, open-air pools– exclusively for adults.
For those wishing to relax, there are lounges, private sunbeds as well as beach bars and restaurants where you can enjoy delicious snacks and refreshing cool drinks. Summer evenings frequently see the performance of live music at these outdoor venues.
Plus, with daily houseboat rental options at your fingertips, you can take advantage of some of Turkey's best attractions or just settle back for a break from it all.
Why Invest in Real Estate in Bodrum?
Real estate in Bodrum offers numerous benefits. The property market in Bodrum has seen tremendous growth recently, so market value is increasing. Luxury real estate in Bodrum shares Turkey's reputation as a safe place to invest money, and it's a major hub for international visitors due to its mild climate.
There are many properties for sale in Bodrum, which have been designed exceptionally well and offer leisure facilities that you would not expect to find in a typical beach town. Over the years, Bodrum has grown into a lively centre for business creativity, mixed with the charms of its old-world architecture.
The peninsula is a reputable holiday destination and is home to many luxury Turkish hotels and some of Europe's most exclusive resorts. Its stunning sandy beaches, inviting bay waters and breath-taking views make it an ideal location for property investment and Bodrum waterfront properties are highly sought after by buyers seeking the ultimate luxury retreat.
Investment opportunities also exist in properties offering space for residential purposes as well as commercial properties such as restaurants, bars and boutiques.
Property for sale in Bodrum
Whether you are looking for a vacation home or an investment opportunity, Bodrum has a lot on offer for everyone. The Bodrum peninsula offers a diverse range of property for sale and includes an exciting collection of real estate ranging from mountain retreats to luxury mansions set along its beautiful coastline, all within close proximity to the best of resorts in the city.
No matter which area you choose, you'll have vast choices for your next Bodrum property purchase. Yalikavak and Gumugluk are convenient regions that offer great beachfront properties. Properties in Bodrum Town Centre offer stunning views of the Aegean Sea – plus, there are many restaurants and shopping opportunities to be found near your new property.
Choose from our selection of properties for sale in Bodrum and explore this magnificent place. With the endless options available, now is a great time to start searching for your dream property in Bodrum.
Ready to buy your dream home?
If you are looking for the perfect resort property then look no further than Bodrum. For the ultimate luxury home, there are tons of villas and apartments for sale, whether, for couples or a family, Bodrum is a great choice all round!
The picturesque houses, the panoramic views and the sandy beaches will cut out the noise and demands of everyday life allowing you to live your dream life.
The choice is yours. Browse through our listings of properties for sale in Bodrum and reach out to us for more information when you see what you like.
Call +44 (0) 208 339 6036 to speak to one of our real estate experts today.