Whether you are planning to live in Turkey or just holiday here, many international airlines fly to Turkey from the UK, so you can find direct or connecting flights no matter what time of the year.   Most major UK airports offer flights to Turkey, including London Heathrow Airport, Manchester Airport and London Stansted Airport. Istanbul Airport, Antalya Airport and Dalaman Airport are popular airports to fly into when travelling from the UK.
With an average flight time of four hours, you can easily reach your destination in no time. So, to get you familiarised with air travel between the UK and Turkey, this article looks at airlines that fly in between the two countries, major airports in Turkey and the destinations they service, transportation from Turkish airports, as well as hints and tips on flying.
International Airlines Flying from the United Kingdom to Turkey
Turkish Airlines – Pride of Turkey
Turkish Airlines stands out as a true industry leader with flights from London Stanstead and Gatwick to places like Antalya and Bodrum. As the flagship carrier of Turkey, Turkish Airline's reputation revolves around passenger satisfaction, innovation, and world-class hospitality.
This national airline boasts of an attentive and friendly cabin crew who meet your every need. Whether travelling in Economy Class, Business Class, or their award-winning Business Class called "Turkish Airlines Business Class," expect exceptional service throughout your flight.
Turkish Airlines' global reach is vast, connecting travellers to over 300 destinations in more than 120 countries. Whether planning business trips, family vacations, or solo adventures, Turkish Airlines provides convenient connections and comprehensive networks to make air travel to Turkey easy.
Fly with British Airways
Departing from all significant London airports, British Airways embodies premium travel, consistently delivering remarkable flying experiences to passengers. From boarding their aircraft, be immersed in timeless British charm with modern luxury.
One hallmark of British Airways is the exceptional fleet. Comprising modern and technologically advanced aircraft, the airline prioritizes comfort and safety. From ergonomically designed seats to spacious cabins, every aspect of the aircraft provides relaxing environments. With British Airways, unwind comfortably and arrive in Turkey feeling refreshed.
British Airways boasts an extensive network that connects travellers to destinations around the globe through indirect flights and one-way flights. From its hub at London Heathrow, the airline offers convenient connections to major cities in Turkey, including Istanbul. With British Airways, explore Turkey's enchanting landscapes, rich history, and vibrant culture, all while experiencing the utmost luxury.
Passenger well-being is a top priority for British Airways. The airline promises seamless travel experiences, offering services like online check-in, dedicated lounges, and priority boarding. British Airways commitment to customer satisfaction extends beyond the flight, with a strong focus on exceptional service at every stage of your journey to Turkey.
Book Flights with Pegasus Airlines
As Turkey's leading low-cost carrier, Pegasus Airlines has revolutionized how people travel, offering seamless experiences without compromising quality. Pegasus Airlines makes accessible air travel offering competitive fares and options to suit different budgets and needs.
Pegasus Airline's dynamic fleet of aircraft features the latest technology and amenities. The airline commits to safety, ensuring smooth flight experiences. Whether travelling in Economy Class or their upgraded Pegasus Plus package, Pegasus Airlines believes that good food is essential to any travel experience.
Onboard, be treated to delicious and satisfying meal options with local and international flavours. Keeping passengers entertained is also top priority. Their in-flight entertainment system offers movies, TV shows, music, and games to keep you engaged throughout your flight to Turkey.
Pegasus Airlines' extensive network of destinations covers numerous cities within Turkey. Whether planning beach getaways to Antalya, cultural explorations of Istanbul, or visits to historical sites of Izmir, Pegasus Airlines makes it easy to reach Turkey.
Beyond the flight experience, Pegasus Airlines commits to providing hassle-free journeys from start to finish. With user-friendly online booking systems, efficient check-in processes, and excellent customer service, the airline ensures your travel experience is smooth and stress-free.
EasyJet for Low-Cost Air Travel
EasyJet is a prominent low-cost airline headquartered in London, United Kingdom. Established in 1995, the airline has become one of Europe's largest and most recognized carriers. Known for its orange livery and affordable fares, easyJet provides convenient and cost-effective air travel options for leisure and business travellers.
EasyJet connects with numerous destinations across Turkey, including popular cities, holiday resorts, and business hubs. They offer domestic and international routes, serving over 150 airports in more than 30 countries. As a low-cost carrier, easyJet offers affordable fares by implementing no-frills approaches.
At an extra cost, passengers can customize their travel experience by choosing additional services, like seat selection, baggage allowance, and onboard meals. Although easyJet is a low-cost airline, they have tried to enhance their cabin experience. The seats are designed to maximize space and comfort, ensuring pleasant journeys to Turkey for passengers.
While easyJet does not provide complimentary in-flight meals or entertainment, passengers can purchase food, snacks, and beverages from the onboard café. The airline offers vegetarian and gluten-free options to cater to different dietary preferences. EasyJet operates the easyJet Plus program, offering additional benefits and perks to frequent flyers, including free seat selection, dedicated bag drop, and expedited security processes.
Flights with TUI Airways
TUI Airways, formerly known as Thomson Airways, is the UK's largest charter airline and part of the TUI Group. TUI Airways primarily operates charter flights, which are scheduled flights arranged by tour operators for package holiday customers. They provide air transportation for holidaymakers booked on TUI package holidays.
TUI Airways serves several holiday destinations, including popular beach resorts in Europe, the Caribbean, Africa, Asia, and North America. They connect major UK airports, like London Gatwick, Manchester, Birmingham, and Bristol, to worldwide leisure hotspots.
TUI Airways offers services and amenities to enhance the in-flight experience for its passengers. Depending on the flight duration and aircraft type, amenities may include complimentary meals, snacks, and beverages. Passengers enjoy entertainment options, like movies, TV shows, and music.
Fly Jet2 to Turkey
Jet2 is a famous UK-based leisure airline that offers flights to various destinations, including Turkey. Jet2 operates flights from several UK airports, including Manchester, London Stansted, Birmingham, Glasgow, and East Midlands, to various Turkish destinations. Routes include flights to popular Turkish cities like Antalya, Dalaman, and Bodrum.
Jet2 is known for its leisure-focused approach, catering to holidaymakers seeking beach vacations and package holidays. They provide flights that align with the holiday season, making it convenient for travellers planning their trips to Turkey. Jet2 provides in-flight services and amenities. Complimentary meals, snacks, and beverages may be available depending on the flight duration and time of day. They also offer entertainment options, including movies and TV shows, to keep passengers entertained during the flight.
Jet2 schedules flights to Turkey with convenient departure and arrival times, allowing travellers to make the most of their holiday. They aim to minimize travel disruptions and ensure timely departures and arrivals. Jet2 offers attractive holiday packages to Turkey, including flights, accommodations, and other services. These packages can provide cost-effective ways to plan and book your trip to Turkey.
Flights with Ryanair Airlines
Ryanair is a prominent low-cost airline based in Ireland. Ryanair operates flights across Europe, serving over 40 countries and connecting numerous destinations. They fly to regional airports and popular tourist destinations, making it popular for leisure and business travellers.
Ryanair is renowned for its low-cost business model, offering affordable fares by focusing on cost-saving measures and ancillary revenue streams. At an extra cost, passengers can customize travel experiences with additional services, like seat selection, baggage allowance, and priority boarding.
Ryanair often operates flights to secondary airports outside major cities, offering cost advantages and increased access to different regions. This approach can allow travellers to explore lesser-known destinations or access nearby cities via convenient ground transportation.
Ryanair provides user-friendly online booking systems, enabling passengers to easily search for flights, manage bookings, and check in online. This emphasis on digital services helps streamline travel and minimize unnecessary paperwork.
How long is the Flight to Turkey from the UK?
The flight duration from the UK to Turkey depends on the UK and Turkish airports. Generally speaking, direct flights from the UK to Turkish airports typically take between 3-4 hours. If connecting through another airport, then flight times may be longer. Finally, don't forget the two-hour time difference between the UK and Turkey. So adjust your watch accordingly when you arrive!
Booking Cheap Flight Deals to Turkey
When booking cheap flights to Turkey, timing is everything! Plan ahead and book your flights as soon as you can. The earlier you book, the better deal. However, wait until closer to your departure date for the last-minute flights for last-minute bargains. The best time of year to find cheap flights is usually during the winter or spring when there isn't such high tourist demand. Also, watch for special airline offers, often discounted during certain months.
Main Airports in Turkey
Milas-Bodrum Airport (BJV)
Bodrum Airport (BJV) on the Aegean, western coast of Turkey, is the best airport to access Altinkum resorts and the larger Bodrum Peninsula. It can also be used as an alternative airport for Kusadasi. Direct flights from many UK airports like London Stansted, Manchester and Birmingham to your destination easily exist. Flight times are three hours or more, depending on which airport you fly from.
The airport's modern terminal building features various amenities, including duty-free shops, cafes, restaurants, car rental services, currency exchange, and ATMs. There are also facilities for disabled passengers, like ramps and accessible toilets.
Some airlines that operate flights there include Turkish Airlines, Pegasus Airlines, Sun Express, and TUI Airways. Milas-Bodrum Airport has significant passenger traffic during the summer because the airport services popular holiday resorts and beaches in the region. The airport experiences surges in tourist arrivals between May and September.
Dalaman Airport (DLM)
On Turkey's southwestern coast, Dalaman is served by many international airlines flying, including Thomas Cook and Pegasus Airlines. Flight times are usually around four hours or more, depending on which UK airport you fly from. Dalaman is one of Turkey's three top touristic airports and is used by holidaymakers to get to the resorts of Marmaris, Dalyan, and the large Fethiye region. The flight schedule is the busiest during the tourism season from May to October.
Antalya Airport (AYT)
Antalya airport, also on the Mediterranean coast, is the top tourist airport servicing all holiday resorts of the large Antalya region like Side, Alanya, Kemer, Kas, Kalkan, Belek and Antalya city centre. This award-winning airport receives most air traffic during summer, but in winter is ideal for connecting flights to Istanbul.
Istanbul Sabiha Airport (SAW)
Named after Turkey's first female combat pilot, Sabiha Gokcen Airport offers seamless travel experiences, world-class facilities, and a strategic location that connects travellers to domestic and international destinations.
Discover amenities designed to cater to every traveller's needs as you explore the airport. Shops, including duty-free outlets, fashion boutiques, and souvenir stores, provide retail therapy experiences. Treat yourself to local delicacies, international cuisine, or fast-food options at restaurants and cafes scattered throughout the terminal, ensuring plenty of choices to satisfy your appetite.
Istanbul Sabiha Gokcen Airport offers comfortable lounges with modern amenities for those seeking relaxation or business facilities. Whether you want to unwind with beverages, catch up on work, or enjoy peaceful moments before your flight, these lounges provide welcoming environments.
The airport's commitment to passenger convenience is evident in its excellent connectivity options. Istanbul Sabiha Gokcen International Airport serves various domestic and international airlines, offering flight options to destinations worldwide. With numerous airlines operating from SAW, you'll have ample choices to find the most suitable flights for your travel plans.
Transportation from Istanbul Sabiha Gokcen International Airport is well-established, ensuring seamless connectivity to Istanbul's city centre. Taxis, shuttles, and car rental services are readily available, allowing you to easily reach your desired destination with convenience and ease. Public transportation options, like buses and dedicated airport shuttles, also provide cost-effective alternatives to explore Istanbul.
New Istanbul International Airport for City Breaks
Symbolising Turkey's ambitious vision and its thriving aviation industry, the New Istanbul Airport highlights excellent engineering and architecture. Situated on the European side of Istanbul, this state-of-the-art airport represents the next chapter in Istanbul's rich aviation history. With its vast size, advanced technology, and world-class facilities, the New Istanbul Airport redefined international and domestic flights for passengers from around the globe.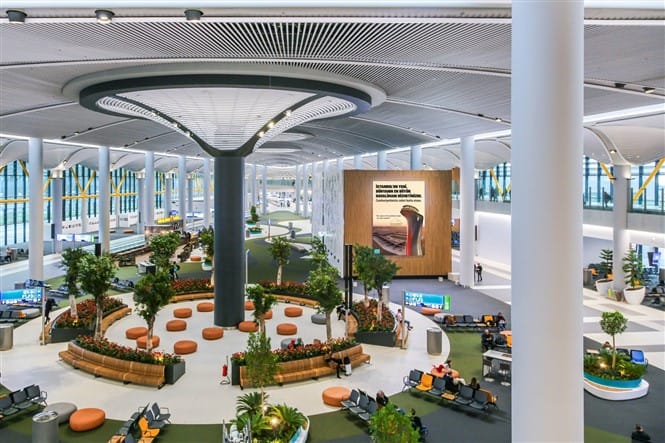 Spanning an impressive area of over 76.5 million square meters, the New Istanbul Airport is the largest airport in Turkey and the world. Its scale allows it to accommodate an immense number of passengers and aircraft.
Passengers traversing through the airport are treated to various amenities. The terminal boasts impressive retail outlets, ranging from high-end boutiques to global brands, allowing travellers to enjoy world-class shopping experiences. Numerous restaurants, cafes, and food outlets cater to diverse tastes, offering culinary delights that reflect local and international flavours.
Travellers will find that the New Istanbul International Airport exceeds convenience and passenger comfort expectations. The airport's numerous lounges provide peaceful havens for relaxation or work.
The airport features cutting-edge technology, with state-of-the-art systems ensuring seamless check-in, baggage handling, and security processes. With several gates and aircraft stand, the airport accommodates high volumes of flights, allowing for smooth and efficient operations. Transportation is well-organized.
Public Transport from the Airport to Your Chosen Destination in Turkey
Turkey offers various transportation options from airports, catering to both domestic and international travellers. Here are some standard airport transport options in Turkey:
Taxis: Taxis are readily available at most airports in Turkey. They provide convenient and door-to-door transport options. Taxi stands are usually outside the airport terminals, and licensed taxis operate on fixed rates or metered fares. Confirming the fare or asking for an estimated cost before starting the journey is advisable.
Shuttle Services: Many Turkish airports offer shuttle services to popular tourist destinations and transportation hubs. These shared, or private shuttles operate on fixed routes and schedules, providing cost-effective options.
Public Buses: Public buses are common transportation from Turkish airports. Municipal or private bus companies operate regular bus services connecting the airports to nearby cities or destinations. Bus stops are usually near the airport terminals, and route information and schedules can be found at the airport or online.
Metro and Tram: In major cities like Istanbul, Ankara, and Izmir, airports are often connected to the city's metro or tram systems. These rapid transit options provide efficient and affordable transportation, especially for travellers heading to city centres or other locations accessible via the metro or tram lines.
Car Rental: Many airports in Turkey have car rental services available for travellers who prefer to drive themselves. Several international and local car rental companies have counters at the airports, allowing passengers to rent a vehicle for their desired duration.
Private Transfers: Private transfer services provide personalized transport options. Travellers can pre-book private cars or vans to be greeted by a driver upon arrival at the airport. Private transfers offer comfort, flexibility, and the convenience of being picked up and dropped off at specific locations.
Also About Turkey
Introduction Guide: Welcome to the country of Turkey. Despite growing popularity in tourism and foreign house sales, some still don't understand why the Republic of Turkey is essential to Western Asia and Europe. Let's put aside the typical East meets West slogan, which only describes fractions of daily life and geographical locations. Because Turkey is about much more.
Most Popular Tourist Destinations: When looking at tourism in Turkey, don't underestimate this powerful destination. So far this year, 39.1 million people have visited Turkey to enjoy various touristic delights. With the government expecting to host 50 million tourist arrivals before the year-end, tourism has bounced back to pre-covid figures, proving that in this sector, Turkey is unbeatable and a significant player for tourism in western Asia.
Blue Flag Beaches in Turkey: Turkey now has 519 Blue Flag beaches, putting it ahead of other world-famous countries like France and Portugal. Ahead of Turkey are Greece and Spain with the highest number. The steadily increasing number of Blue Flag beaches along Turkey's Aegean and Mediterranean coastlines promote much of Turkey's beach package holiday industry.