The most popular Turkish cities in 2018 have been revealed as Mastercard released their annual Global Destinations City Index. Istanbul ranked the 8th most visited city in the world, followed by Mediterranean Antalya at number 10.
Since first beginning the index in 2009, over the last nine years, international overnight visitors grew a staggering 76% when the world embraced independent travel trends boosted by the advancement of the Internet. Turkey has tapped into this growing market by transforming an out-of-date travel industry with an advanced advertising and market campaigns.
With tourist stats for the country reaching 40 million people in 2018, it's no wonder that Turkish cities are also increasing their international stardom. Istanbul hosted 13.4 million overnight visitors, while Antalya hosted 12.41.
However, they still have work to do if they are to match Bangkok, Thailand's capital, which hosted 22.7 million tourists. Turkish officials say watch this space because the completion date for its international marketing plan is not until 2023. In 2019, they also introduced a new marketing campaign hoping to increase tourism to the country overall to 50 million visitors every year.
About the 2 Most Popular Turkish Cities
Istanbul: The Queen of Turkey
Istanbul does everything with finesse and style. As the main hub of tourism, real estate, business, education and the health and medical industries, it is no wonder that it leads the way as Turkey's most visited city.
Many people arrive to see the Sultanahmet area's iconic buildings. The former ruling district of both the Byzantine and Ottoman empires is home to landmarks like the Blue Mosque, Hagia Sophia, and Topkapi palace that hosts thousands of visitors every day.
Independent travel trends have also led other places to benefit including the Balat and Fener districts, and Bosphorus shorelines villages. The popularity of tourism impacts the real estate market making Istanbul the number one destination for foreign house buyers. Many are purchasing in fast-expanding districts with modernised infrastructure and housing.
Antalya: A Mediterranean Gem
Antalya city belongs to the larger region with the same name that covers much of the Mediterranean coast. As a popular holiday destination for Europeans, Middle-easterns and Asian tourists, its prominence has risen over the last ten years but it has always been a tourism leader since the 1970s and the hippie trail, an overland travelling journey stretching from Europe to South Asia.
The city centre's many jewels attract tourists from near and far. They include the Konyaalti and Lara beach districts, two of the best beaches in Turkey and Kaleici, the old town part marked by the historical ruins of Hadrian's gate.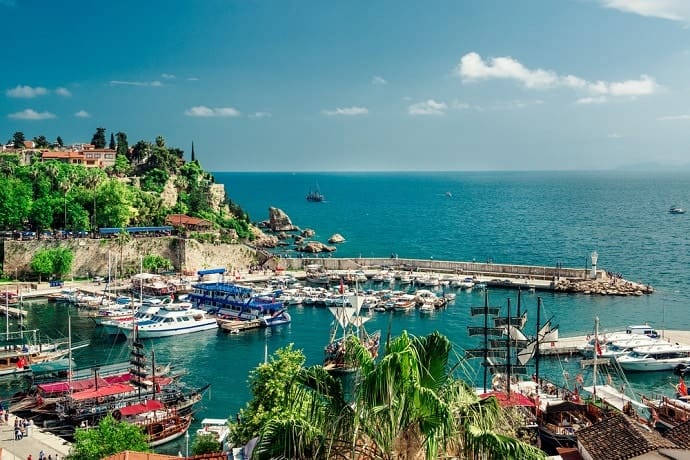 Like Istanbul, Antalya's real estate market has also enjoyed being one of the most popular Turkish cities, as foreign house sales are at an all-time high. Other places within the region and sitting near the city centre include…
Beautiful Alanya: This growing destination sits at the Antalya region's far eastern tip and is fast becoming a travel hub to be reckoned with.
Golfing Belek: As the 2016 G20 summit host, Belek is Turkey's golfing capital having hosted prominent players like Tiger Woods.
Luxury Kalkan: This small coastal resort has earned its fame as a luxury destination and Turkish Riviera hub.