This list of popular Turkish cities to visit will lead the way for you to enjoy your time in the country. All portray the life of cities in Turkey from different perspectives. They give great worldly insights into modern and traditional architecture, the best urban landscapes, rich dining scenes of Turkey, and daily life for millions of Turks. From small back streets to highways to the best surrounding summer locations of natural beauty, two to three nights is ideal to see the best highlights. Although for more in-depth experiences, stay longer. This list guide talks about the best cities to visit in Turkey, like Antalya and Istanbul and what to see while there.
The Best and Most Popular Turkish Cities to Visit
1: Istanbul: The Best Destination in Turkey
Istanbul in North-West Turkey does everything with finesse and style. As the hub of travel, real estate, business, education and the health and medical industries, Istanbul leads as Turkey's most visited city. Many visitors arrive to see the UNESCO Sultanahmet area's iconic buildings and streets. The former ruling district of both the Byzantine and Ottoman empires features the best Istanbul landmarks like the Blue Mosque, Hagia Sophia, and Topkapi Palace, which hosts thousands of visitors every day. Independent travel trends of Turkey also made other places in Istanbul, like Balat, Fener and Bosphorus shorelines villages, the best attractions to visit. Other highlights include the Dolmabahce Palace, Rumeli castle, the Byzantine city walls, New Istanbul featuring Istiklal Avenue, the Princes Islands of Istanbul, and many more museums. More about Istanbul.
2: Beautiful Antalya: Turkey's Mediterranean Gem
Antalya city belongs to the larger region with the same name, which covers the eastern Mediterranean Sea coast and offers the best Mediterranean views. As a popular holiday destination in Turkey for Europeans, Middle-eastern and Asian visitors, Antalya's prominence in Turkey has risen over the last ten years. Still, the city has led travel trends since the 1970s and the hippie trail, an overland travelling journey stretching from Europe to South Asia. Antalya's city centre's many jewels attract tourists from near and far. They include the Konyaalti and Lara beach districts and parks, two of Turkey's best beaches and Kaleici, and Antalya's old town part marked by the historic Roman ruins of Hadrian's gate. Antalya is a year-round travel scene and a great trip after visiting places like Istanbul. About the districts of Antalya.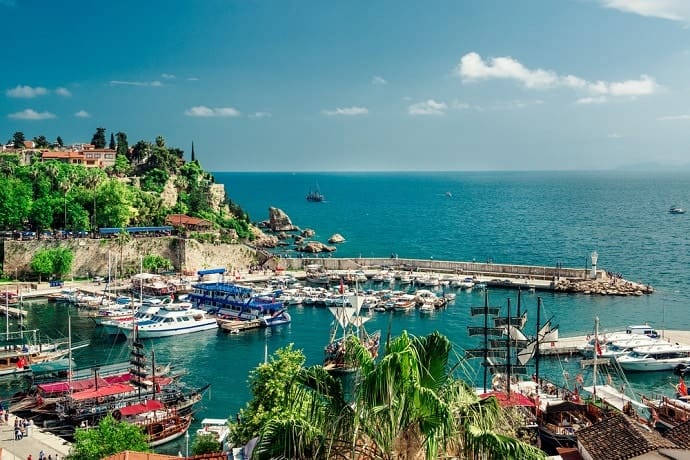 3: Bursa: The Ottoman Capital
Bursa, the Ottoman Empire's first capital, sits in North-western Anatolian Turkey, close to the Marmara Sea. The area includes Uludag Mountain, one of Turkey's best skiing centres. Silk production markets made Bursa a prominent city in Turkish history. The other claim to fame is hot water springs, especially thermal spa baths west of Bursa city centre in Cekirge. Bursa's nickname, green Bursa, stems from many stunning green park areas, but numerous UNESCO World Heritage sites are the highlight. The ancient 14th century Ulu Camii which means Great Mosque features 20 impressive domes and Seljuk style arches. The other prominent mosque, Yesil Camii, which means Green Mosque, was built between 1412 and 1419 and features beautifully carved marble. The name derives from interior walls decorated with greenish-blue tiles. Bursa, a modern city in Turkey, retains historical buildings, including mosques and mausoleums, to celebrate the city as the first Ottoman capital destination.
4: Seaside Places in Fethiye
This Mediterranean Sea region encompassing the city centre and smaller coastal resorts, accommodates everyone from budget holidaymakers to luxury property hunters. Fethiye thrives on Turkey's beach tourism scene and maintains prestigious status on the Turkish riviera. While Paspatur, the old town, features narrow, cobbled lanes brimming with souvenir shops, bars, and restaurants. Other major attractions of Fethiye include the town park, paragliding, the city centre museum, the Lycian rock tombs over the city, the Blue Lagoon, Kayakoy ghost village, Saklikent Gorge, Tlos ruins, and Yakapark, an ideal place to have lunch. In addition, we always enjoy the 12 islands boat tours visiting Gemiler island. Fethiye also starts the Lycian way, stretching to Antalya, 500 kilometres away. This famous walk takes in ruined ancient Lycian empire cities like Xanthos and Letoon. More about Fethiye.
5: Trabzon – The Black Sea of Turkey
Although few western tourists visit Trabzon people from the Middle East frequently do. On Turkey's northeast coastline, Trabzon, near the Georgian border, is close to Rize, Turkey's tea-producing capital. Some people from Trabzon describe themselves as belonging to the Laz ethnic group. Throughout history, Trabzon's strategic position on the Black Sea coast boosted the trading port status, especially on the old Silk Road. Trabzon was the birthplace of Suleiman the Magnificent, a famous Ottoman sultan. But also claims fame as Turkey's number one producer of hazelnuts. Naturally, being close to the sea, Trabzon thrives from fishing, and this shines through in regional dishes, of which many include anchovies. Prominent places to visit include the 13th century Hagia Sophia, Ataturk Pavilion, and 16th-century Gulbahar Mosque and tomb, but the best sights are Uzungol and Sumela monastery.
6: Ankara: Capital of Turkey
Ankara, Turkey's capital ruling city, sits inland, smack bang in the country's beating heart. So naturally, sea and beach tourism don't exist. Still, Ankara does well with Asian and middle eastern tourists who arrive to see the cultural sights including the main castle and Anitkabir, the mausoleum of Mustafa Kemal Ataturk, the Turkish Republic founder father. In addition, Ankara features many museums and arts and culture attractions. As Turkey's second-largest city after Istanbul, shopping and nightlife scenes are also prominent. From Ankara, many people also head to Cappadocia for weekend breaks. Such is Ankara's prominence; the city gave its name to the Angora rabbit, goat, and cat. The urban areas also earn fame for producing grapes, honey, and pears. So expect everything from Ankara that makes an ideal city break destination in Turkey.
7: Konya
This is another city in Turkey near the Cappadocia region and is ideal for visiting the Mevlana Museum of Rumi, a Sufi poet engrained into Turkish culture. Wherever you go in Turkey, you will probably see the whirling dervish dances, and Konya is the Sufism centre. Between the road from Konya to Cappadocia, many old caravansaries make for exciting exploration to understand the historical importance of trading on the ancient silk road. Turkey's seventh most populated city, Konya, is known for its conservative views. Take a slight detour to see Lake Tuz, Turkey's largest saline lake, boasting immense natural beauty.
8: Aegean Izmir
Over on Turkey's western coast, Aegean Izmir commands fame as Turkey's third-largest city. Yet, this great location offers more than just an urban landscape. We think the best place to stay in Izmir is Konak, the old city part with an ancient bazaar, clock tower and old houses. Alsancak is a prominent place to shop and dine, while the Kordon area features the best fish restaurants. Do catch a bus to outskirt coastal districts like Alacati and Cesme, two communities of Turkey famed for their old Greek cottages. In addition, Izmir is a great stopping site to visit the nearby Roman Ephesus ancient ruins. Ephesus city nearly rivalled Rome in terms of importance. An overnight trip is enough time to see them.
Also About Turkey
Famous Things in Turkey: To list all the famous things in Turkey would take a complete book. Including history, food, science, production, exports, traditions, and culture, together they display an incredibly diverse country that deserves more praise and recognition. Tourists discover a nation that welcomes everyone with open arms, hence the reputation of Turkish hospitality. You will realise some myths and stereotypes aren't true, like women have to cover up all the time, or camels are a frequent sight. But for an introduction, we list nine famous places and things to start.
Regions of Turkey: As you can see, cities in Turkey to visit, like Antalya and Istanbul, highlight the country's value to the world. But whether you plan to travel or live here, Turkey's seven geographical regions ideally introduce the country's diversity. The world stereotypes the country, yet Turkey cannot be labelled nor packaged into tidy clichés, and for good reasons. In addition, to popular Turkish cities, these areas feature many more towns and villages for fascinating exploration to understand the country of Turkey well.